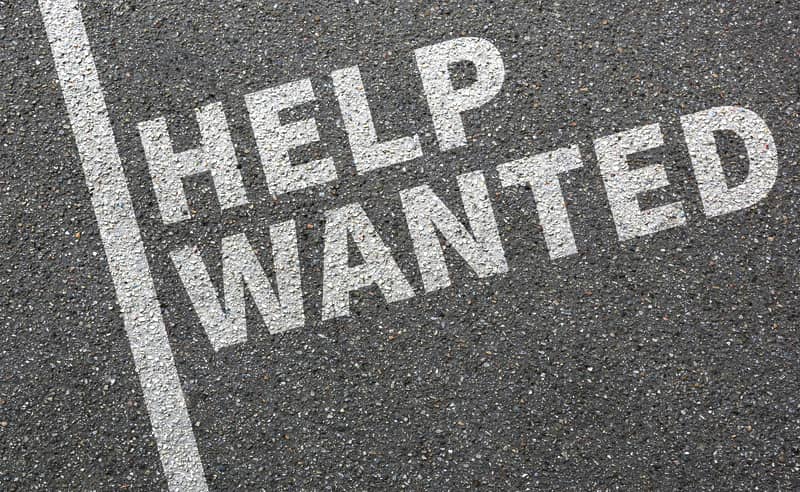 Taylor Prestidge of Soulard's Cafe & Bakery in downtown Coloma is approaching wits end as her business struggles to find the critical help she needs heading into the busy summer season, which is also typically a major time for her wedding cake business. She's not alone. In fact, she joined half a dozen other representatives from a cross section of businesses at a special press conference this afternoon where they all shared horror stories of trying to lure people back to work as the pandemic conditions give way to more and more people headed to Michigan's Great Southwest.
Prestidge says that she and her husband actually play a game of "Where's the Help Wanted Sign" in the window of virtually every business they travel to or even simply pass by. You cannot venture more than a few yards these days without seeing the Help Wanted shingles displayed in business after business.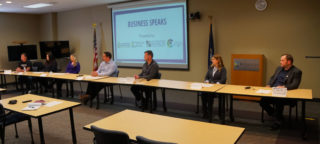 Prestidge was joined at the Benton Harbor offices of Michigan Works! this afternoon by Cameron Downey from Cameron's Restaurant in Buchanan, Mazi Heppler from Lana's Boutique in downtown St. Joseph, Luke Barber from Barber Packaging in Bangor, David Thompson from Gaishin Manufacturing in Benton Harbor, and both Elizabeth Hacker and Brady Cohen from the Inn at Harbor Shores on a panel hosted by Kinexus Group, the Southwest Michigan Regional Chamber, the Southwestern Michigan Tourist Council and Cornerstone Alliance.
The event was called Business Speaks: Time to Get Back to Work Safely.
Kinexus Group Vice President Al Pscholka characterized the current atmosphere across the region as "Help Wanted on steroids," adding, "There are thousands of jobs open in Southwest Michigan on the website MIWorks.org that is published every Monday, and it has jumped from about 1,200 to 2,000 positions that are open every week." It's not just here, but the impact could be more devastating here because of the importance of both tourism and manufacturing in our region. Pscholka says that nationally, "42-percent of small businesses are reporting they're having problems hiring, including a McDonald's in Tampa Bay that is paying people $50 just to sit down for a job interview. An interview, not a signing bonus! I've never seen employment look like a timeshare presentation!"
Arthur Havlicek, CEO of the SW Michigan Regional Chamber says, "There are a number of policy issues at play, and right now the major one is the federal pandemic unemployment assistance. The extra $300 that folks receive on top of their state benefits are essentially resulting in a situation where they make more money on unemployment than they would in many of the jobs that are available in the marketplace right now. You couple that with relaxed requirements to look for work, requirements to receive unemployment and benefit extensions that allow you to receive unemployment for longer and you create a perfect storm where businesses are in a position to compete with the unemployment agency for talent and that is a competition that they will lose every time."
Cameron's situation in Buchanan is further exacerbated by his proximity to Indiana where restaurants face far fewer restrictions and not only took customers when he was forced to close down, but then ended up losing part of his workforce to Indiana businesses because they were laid off in Michigan. His restaurant is less than five miles from the state border, and he says the real impact struck between Thanksgiving and Christmas, "when everyone was headed to Granger, Indiana to the University Park Mall getting their shopping done and saying, 'hey, let's grab a burger and a beer while we can do it inside in Indiana."
Cameron was blunt in his assessment, saying, "Paying these people to sit at home on the couch is not helping us up here at all. We have to find out a way to pay people who are coming to work rather than sitting at home."
Prestidge worried for some time that maybe they were doing something wrong in their pitch for help, wondering what they could do differently, and trying to find out why people didn't want to come and work at Soulard's only to realize that several much larger restaurants in the Stevensville area were posting the same sentiments online and discovering that virtually everyone is starving for workers, noting, "They can't find dishwashers, or cooks at every level of job in the industry." She warned, "We can't find people to fill open jobs and we're entering our busy season with tourism and the wedding industry, but if we don't have the bodies to help us, what could be our most profitable time may fall well short."
The Chamber's Havlicek says she's right, "There's a lot of pent-up demand in the marketplace and I think Southwest Michigan specifically stands to benefit from this by welcoming probably a record number of visitors to our area. The problem is, if our businesses — particularly within the hospitality industry — are not staffed to be able to receive that influx as much as they need those consumers, they have to be ready to serve them and serve them to the high standard that they want to be known for providing and that consumers are asking for, it could get rough."
Mazi Heppler has worked with Lana's Boutique for 10 years now, but says, "This is the first year that we've had an issue trying to find people to apply to work, and it's hard because we're working with a very small staff right now and I'm afraid that I'm going to burn-out the employees that I already have as we head into the busy season."
Luke Barber, President of Barber Packaging Company of Bangor converted his manufacturing facility into a producer of personal protective equipment during the pandemic, but is still concerned noting, "At the end of the day we need people to put hands on parts to get those products out the door, and while you wouldn't think that the impact could ripple to your own day-to-day life, we literally have situations where customers can't get their products out the door because they can't get supplies because their suppliers can't get things, and it ripples all the way through. You can see it even on new car lots where inventory is the lowest in history because of supply chain issues." He too cautioned, "These are big problems and very real, if it's between working or getting paid to be at home, people would rather be home, so we have to figure out ways to stop incentivizing people to sit on the sidelines, or these are going to become permanent losses."
David Thompson is Chief Operating Officer of Gaishin Manufacturing in Benton Harbor, and he voiced concerns over the difficulties of keeping employees that they have invested in for years, and noted even with a major signing bonus nobody responded to the offer.
Elizabeth Hacker, Director of Sales at the Inn at Harbor Shores and her General Manager Brady Cohen shared their own stories of lost banquets, meetings, weddings and more due to the pandemic, but are more worried about the fact that as those things begin to return, many of the people who were doing those jobs have gone elsewhere for work and Cohen even had to fill in as a bartender for one of the events due to short staffing issues. They even purchased a $70,000 tent so they could provide outdoor event opportunities for those afraid to congregate indoors, but finding staff members to fill positions necessary to host things to the standards they have established is making things extremely difficult. Cohen says he recently had a day in which nine people were scheduled to come and interview and not one of them even showed up. Not one.
Add in to the equation that paper product costs alone have soared by 60-percent at the Inn to accommodate take-out meals due to capacity restrictions and state shutdowns, and the picture gets increasingly bleak.
Havlicek reminds everyone that while the problems are unprecedented, "There is nothing fundamentally wrong with the market. The reason it is affecting so many different employers across such a broad set of industries is because it is a macro policy problem, and the federal pandemic unemployment assistance of the extra $300 on top of state benefits coupled with relaxed requirements to look for work, and extended benefit weeks create an untenable situation for these companies."
Several people on the panel pointed out that about the time that unemployment does run out for them in September and they decide maybe they do need to go back to work, especially in the hospitality industry, they'll be heading into their slow season when they don't need as many people and they're not going to be able to get a job, to which Havlicek concurs, saying, "That's right, and I think it speaks to one of the fundamental misunderstandings that policymakers have about all of this, is that to make the unemployment benefits — the extra $300 — expire on September 4th while you're putting that past the point of the hospitality season, that is going to mean that when they do have to come and look for work when that money dries up, there will not be as many jobs waiting for them. So right now folks need to re-enter the market because they have their choice across industries with competitive benefits and it's a buyer's market."
Looking at state and federal policies, Kinexus VP Pscholka says, "I think sometimes policymakers think it's compassionate to extend unemployment benefits and be compassionate during the pandemic without understanding that the long-range impact is slower economic growth, businesses closing, less opportunities for young people and our kids in the future and I think that came across pretty loud and clear here this afternoon."
Asked if the situation can be reversed, Pscholka says, "I think it can be turned around but we need to change the policy. We need to promote the fact that it is safe to go back to work. I think these companies today did a great job saying look, we follow all the protocols, we do everything we can to keep people safe. It's safe to come into our businesses. It's safe to work in these manufacturing facilities. We've got to continue to pound that message home so that people can get back to get back to work and get back to normal."
The impact has already been deep. Mary Morphey from Kinexus Group says that as of February about 800 businesses have closed their doors in the Tri-County area and 410 of them were in Berrien County alone.
Millicent Huminsky from the Southwestern Michigan Tourist Council summed up the employment issue following a year of COVID in five words: "It has been absolutely devastating." She adds, "I didn't think we'd ever go through anything like this in our lifetimes. People traveled like crazy last summer when they could get out, because they wanted desperately to get out. We were busy and we did well, but I'm afraid these businesses need to make money in the summertime because right now there is no meeting or wedding business to speak of due to the state's gathering restrictions issue. So they need summer in order to survive and people are going to come and we've got to treat them right if we want them to return."
Havlicek warns that it is not an issue that can be resolved overnight, admitting, "I think the ripple effects of this are going to extend well beyond our fight with the coronavirus. Specifically the longer that people remain out of the workforce — the longer that they are incentivized to remain out of the workforce — the more difficult it will be for individual businesses to recover, the more crippled our economy as a whole will be, and the more difficult it will be for those specific individuals to re-enter the workforce and ultimately put themselves on a career path where they can make a meaningful living for the rest of their life."
Pscholka, as a former policymaker himself, recognizes that "Nobody wanted to be the guy to stand up and say 'Get your butts back to work, we're going to cut off your unemployment benefits,' politically that can be really hard. But there's a better question here. How compassionate is it to destroy the future economy and not have opportunities for your community, because I think that's where we're at."
To quote the mantra of  Kinexus CEO Todd Gustafson, "The longer you wait to get back into the workforce, the harder it will be, and the less choices you may have." Certainly food for thought when that world comes crashing down for lots of people in September and the gravy train grinds to a halt.