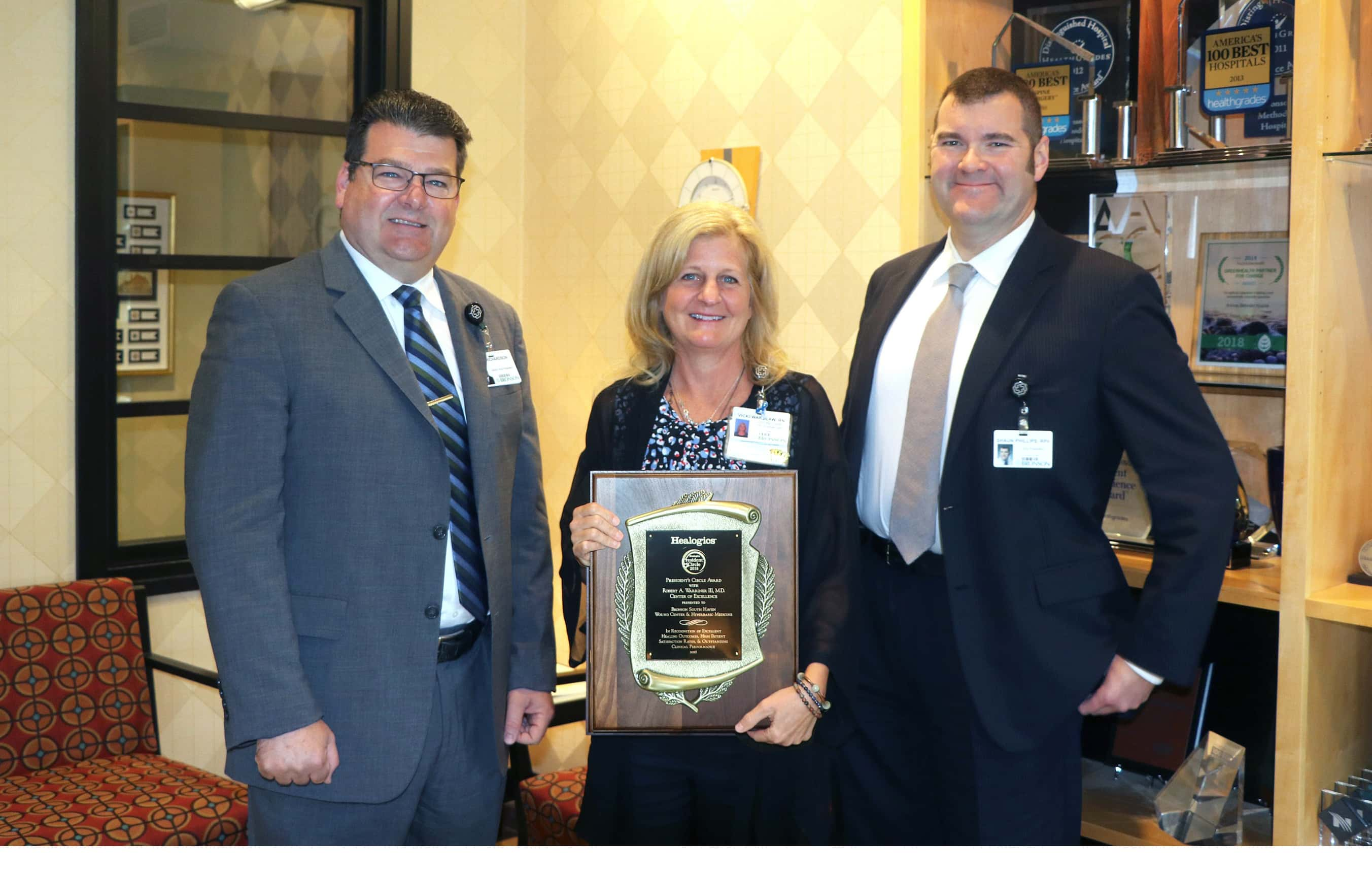 There is only one like it anywhere in the state of Michigan, and we have it right here in Michigan's Great Southwest. In fact, there are only 28 in the nation to garner the award, and one of those is that one here in Southwest Michigan.
The Bronson Wound & Hyperbaric Medicine program at Bronson South Haven has been designated a President's Circle Center of Excellence by Healogics, the nation's largest provider of advanced wound care services. Bronson South Haven is one of only 28 centers in the nation and the only one in Michigan to receive that award.
The President's Circle Center of Excellence award is based on achieving outstanding clinical and operational results for at least two consecutive years. The award is named for Dr. Robert A. Warriner III, a pioneer in wound care and the former Chief Medical Officer for Healogics.
Kirk Richardson is Chief Operating Officer at Bronson South Haven Hospital. He says, "This recognition is due to the dedicated work of our expert wound team in collaboration with Bronson South Haven staff and providers," and adds, "This higher level of care is the result of a team that is always focused on treating the whole person by addressing all underlying medical conditions that complicate effective wound healing."
Shirley Hooper is a patient and volunteer at the wound center. She says, "The wound center is a wonderful gift to the South Haven community," and notes, "The staff and providers are all wonderful, talented people. This award is well earned. It speaks to their expertise."
Dr. Allan Caudill, a general surgeon and certified wound specialist with the American Board of Wound Management (ABWM), and medical director of Bronson Wound & Hyperbaric Medicine says that the care providers in the wound program are always searching out the latest information about chronic wound healing, and says, "I am honored to lead such a dedicated team."
Dr. Caudill says, "Our wound center offers highly specialized wound care to patients suffering from diabetic ulcers, pressure ulcers, infections and other chronic wounds," and reminds the community, "Our program is able to offer patients leading-edge treatments for wound healing and I think that shows in the outcomes we have achieved. We are thrilled that our many accomplishments for our patients has been recognized with this top designation."
Bronson Wound & Hyperbaric Medicine is a member of the Healogics network with access to benchmarking data and proven experience treating approximately 2.5-million chronic wounds at more than 800 hospitals in 46 states. Additionally, the center offers hyperbaric oxygen therapy, which works by surrounding the patient with 100-percent oxygen under pressure to help progress the healing of the wound. This type of treatment has also proven valuable in reducing associated symptoms in patients with radiation injury as an acute non-wound condition.
To learn more about the wound program at Bronson, you can click this link:
http://bronsonhealth.com/wound
Bronson South Haven Hospital is a 49-bed nonprofit community hospital. It offers a wide range of inpatient and outpatient services including emergency care, medical services, wound care, specialty clinics, testing and diagnostics, and rehabilitation. Bronson South Haven has several primary care medical practices in South Haven and Bangor and offers walk-in immediate care services at Bronson FastCare. It's wellness center offers rehabilitation services, group exercise classes, personal trainers, massage therapy, and wellness programs. Bronson South Haven is part of the Bronson Healthcare system.
In the photo accompanying this story on Moody on the Market are, left to right: Kirk Richardson, Bronson South Haven Hospital Chief Operating Officer/Chief Nursing Officer; Vicki Wardlaw, Bronson Wound Center & Hyperbaric Medicine – South Haven Director; Shaun Phillips, Bronson Vice President of Clinical Services.