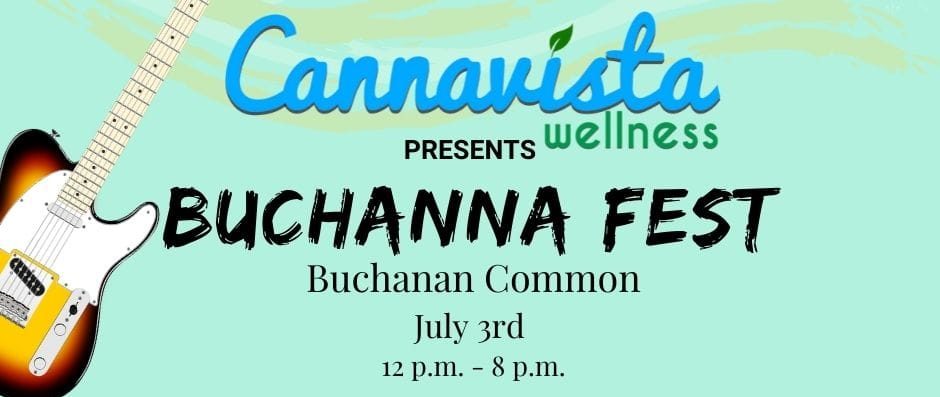 Come one, come all! The Common in Buchanan will be alive with community, entertainment, and fundraising, as Cannavista Wellness and the Lyla Grace Corporation presents Buchanna Fest, on Sunday, July 3rd, in the heart of Buchanan. From 12 p.m to 8 p.m, enjoy live music, food trucks, and delicious craft beer, as this event works toward strengthening the community in a plethora of  ways.
The Lyla Grace Corporation is a local non-profit organization that was established to provide community charitable funds for establishments in need of community resources. Founded by Buchanan residents Rick Paniagua, Monroe Lemay, and Anthony Houser, and named after their daughters, this group "simply wants to improve the lives of those in our community". Your $10 suggested donation entry fee (per family) will go directly towards improving Buchanan's public parks.
Anthems of community and kinship will fill the air throughout the day, as the stage will act as a revolving door of fabulous musicians performing for this event. Expect tunes from: That's What She Said, Hour Glass, The Sypian Family, Tre Marquis, RiverRats, Wolf Ticket, and The Erly. Master of Ceremonies, Freddie Miller, will anoint the celebration, inaugurating the first-ever Buchanna Fest.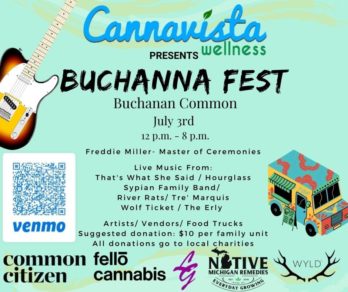 "This is our first fundraising event, and while it is great to raise some serious funds to improve public spaces in Buchanan, we also want to show our appreciation to Buchanan by hosting this party for the community," says Lyla Grace Cofounder Rick Paniagua.
Food and beverages available for purchase will be provided by Volkswagen-smoked BBQ joint Wood, Stock, & Grill, La Chula Mobile of Watervliet, and a beer garden by grain-to-glass brewery River St. Joe.
Cannavista Wellness is a Buchanan dispensary, located at 120 Front Street, that opened in the Spring of 2020. They are one of five dispensaries within the community, and are "a highly-focused cannabis provisioner that provides a compassionate, patient-focused approach to marijuana provisioning." Follow the Buchanna Fest event page on Facebook, and plan to gather at The Common this Sunday!
By Jocelyne Tuszynski, MOTM Contributor