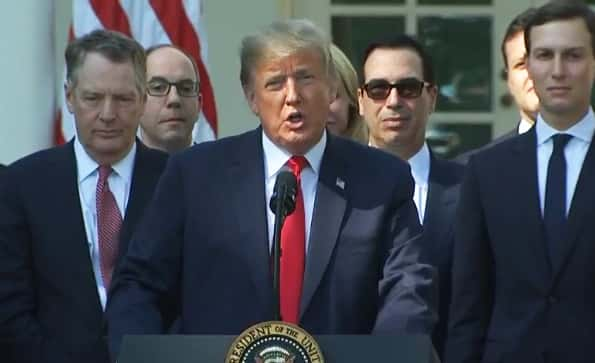 If the business community embraces the trade deal struck today between President Donald Trump and House Democrats on Capitol Hill, the Santa Claus Rally could strengthen in the final two weeks before Christmas.
House Speaker Nancy Pelosi was the first to announce the new trade deal with Mexico and Canada, calling it "a victory for America's workers." There was no immediate word on when the U.S. House of Representatives might vote on the revised agreement, but Pelosi did suggest that it could happen before the end of the year.
Being referred to as the USMCA — United States-Mexico-Canada Agreement — the deal replaces the old North American Free Trade Agreement — NAFTA — is being called "infinitely better" than what had been proposed earlier by the President when he dispatched his plan to Congress.
Nevertheless, the President immediately took to Twitter to say that the deal had "very good Democrat support," and added, "That would be great for our Country!"
Michigan Congressman Bill Huizenga concurs that it certainly is good for Michigan. He released a statement shortly after the announcement saying, "Today's announcement of a bipartisan agreement on the USMCA is good news for Michigan manufacturers, agriculture, and more importantly our workers." He adds, "For the past year, I have consistently called on Speaker Pelosi to schedule a vote on the USMCA because it will strengthen our economy, create jobs, and provide new opportunities for families across Michigan. By modernizing and strengthening our trading partnership with Mexico and Canada it also puts the United States in a stronger position to complete trade negotiations with China. I look forward to supporting the USMCA when it comes up for a vote because it will lead to greater prosperity for Michigan and our nation."
One of the first business trade groups to add applause to the news today was the Edge Dairy Farmer Cooperative, one of the largest dairy co-ops in the country. Leaders there today applauded the progress made by the Trump administration and Democratic leaders in the House of Representatives on the new trade deal with Canada and Mexico.
Brody Stapel, President of Edge and himself a dairy farmer in eastern Wisconsin says, "Dairy farmers across the Midwest appreciate the commitment and work of the administration and lawmakers to secure a better trade deal for U.S. dairy farmers." He adds, "Our farmers have been waiting in uncertainty for more than a year for USMCA to get done. So, it's certainly good news to see the deal take this significant step forward. There are more steps to be taken, however, so we are not breathing a full sigh of relief."
Stapel contends, "USMCA is critical to the long-term success of the U.S. dairy community. Mexico is our number one dairy foods export market and Canada is third. Combined they account for more than $2 billion each year. This agreement would protect those longtime trading relationships and allow for growth in market share. That means economic certainty for businesses, families, employees and rural communities."
In conclusion the dairyman says, "We call upon House leadership to swiftly bring USMCA to the floor and for representatives to pass it. There is too much at stake to wait any longer."
Trump has been pushing for action by the end of the year, urging Congress to ratify a new trade agreement. The collaborative revisions apparently clear the way for action to be taken soon seeking full Congressional approval.
It has been 15 months since the President revealed plans to replace NAFTA which had been in place for nearly 25-years. It had essentially wiped out tariffs on most goods between the U.S., Canada and Mexico.
The new agreement, if approved, would have a 16-year lifespan with a six-year review provision, and the option to renew or extend it for an additional 16-year run.