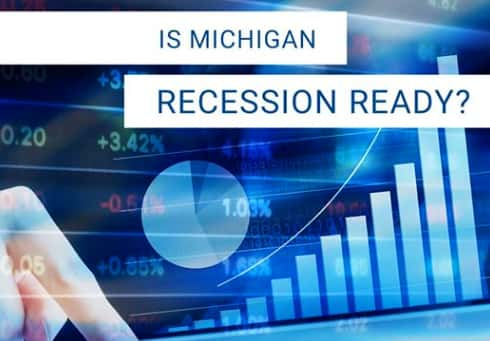 Is Michigan recession ready? If you'd like to know the answer to that question from the point of view of a high level panel, and learn a whole lot more about the current state of affairs in Michigan's drive to return to the status of a Top 10 State to do business in, make plans now to join the Business Leaders for Michigan at their 2019 Michigan CEO Summit this fall in Detroit. Registration is now open.
Business Leaders for Michigan point to tremendous economic gains since the Great Recession, but they also wonder if the many fiscal and policy changes being made will be sufficient to help the Great Lakes State weather future downturns, and what more can be done to safeguard Michigan's economy.
That will be a prime focus at the November 5th Michigan CEO Summit hosted by Business Leaders for Michigan at the Westin Book Cadillac Hotel in downtown Detroit.
Aditya Bhave, Vice President & Global Economist at Bank of America will be joined by Gabe Ehrlich, Director of Research Seminar in Quantitative Economics at the University of Michigan and Michigan State Treasurer Rachael Eubanks in a roundtable discussion that asks, "Is Michigan Recession Ready? at the upcoming CEO Summit.
Also on the agenda is a keynote address by Domino's Pizza CEO Ritch Allison on "The Pizza (R)evolution." The largest pizza chain in the world is approaching its 60th anniversary year in business, and Allison says that the velocity of change has been unstoppable. From robot deliveries to competitors new, old and unknown, you can hear directly from the man who has been at the helm for just over a year now as he shares how a legacy company stays fresh and competitive, and why he's decided that robots will never make his pizza.
Elsewhere in the line-up, Whitney Eichinger, the Vice President of Communications at Bedrock & Rock Ventures will be joined in a panel discussion by Ford Motor Company's Chief Talent Officer Julie Lodge-Jarret and Wolverine Worldwide's Senior VP of Global HR Amy Klimek for a session called "Here Come the Zs: Effective Multigenerational Communications in the Workplace."
The docket also includes Heidi Washington, the Director of the Michigan Department of Corrections in a session on The Untapped Workforce, as she addresses returning citizens who offer a strong labor pool thanks to rehabilitation programs in Michigan's correctional facilities. She'll tell you how you can recruit and work with that underutilized population of workers.
Another panel contending that "The Future is in Your Hands — And Your Voice," will address how artificial intelligence is changing how we live and how business is done. You can learn what's possible and how you can capitalize on the future of the powerful technology of AI with Dr. David Allard, the Chief Medical Informatics Officer at the Henry Ford Health System alongside Comcast VP of Technology & Product Jeanine Heck and Rich Pople who serves as AI/ML & Platform Server Director for the Artificial Intelligence & Machine Learning Center, IT Global Data, AI & Analytics Services for General Motors Company.
The summit is rounded out by "The Reality of Retail,"as Home Depot Chairman, CEO & President Craig Menear takes a peek behind the curtain. He says, "As customers, we want what we want, and we want it now." With the retail landscape changing rapidly, the question is how does a consumer giant adapt to buyer demands while competing digitally and retaining an authentic corporate culture? Menear returns home to Michigan to reflect on more than 20-years at Home Depot and how his Michigan roots help guide the company's leadership.
The Business Leaders for Michigan 2019 CEO Summit is underwritten by Presenting Sponsor the Michigan Economic Development Corporation, Platinum Sponsor Nexteer Automotive, Gold Sponsor DEE Foundation, Connectivity & Social Media Sponsor Delta Dengal, Silver Sponsors ITC Holdings, Magna, MSX International, University Research Corridor including MSU, U-of-M, and Wayne State University, Vistage Michigan, Walker Miller Energy Services and Wolverine Worldwide, as well as Media Sponsor Detroit Public TV.
The event runs from 8am until 2pm on Tuesday, November 5th and the Westin Book Cadillac at 1114 Washington Boulevard in Detroit. To register your attendance, click the link below:
https://businessleadersformichigan.com/event/2019-michigan-ceo-summit/