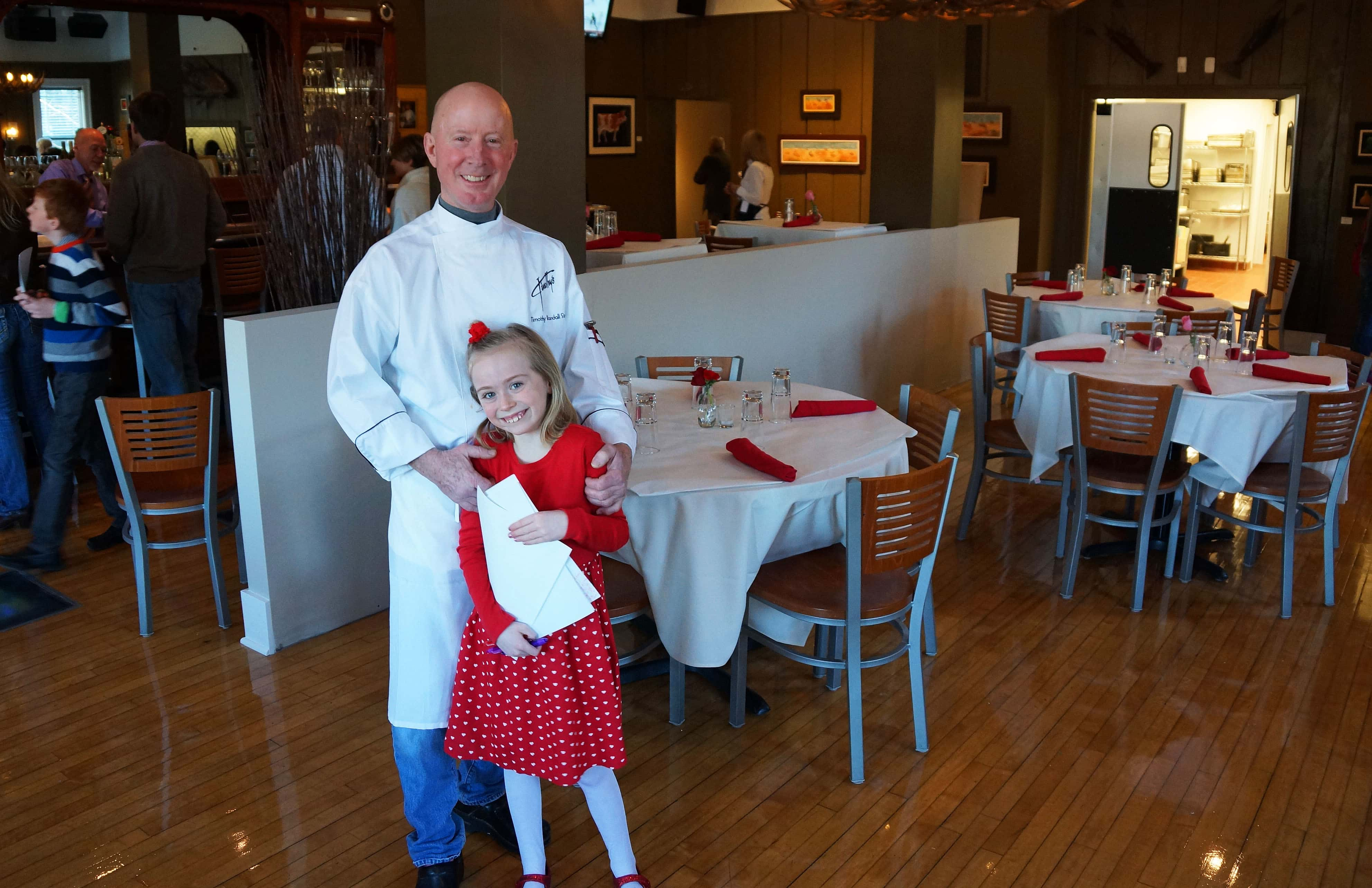 Any fear that the faithful followers of Timothy's of Union Pier might lose their way, or that new adventurers might not discover the new place on Red Arrow Highway when Timothy Sizer relocated to his new digs have rapidly evaporated, almost as quickly as outstanding cuisine disappears from hungry diner's plates.
Customers who are discovering Timothy's for the first place are stunned by the awesome makeover that Mr. Sizer and company have given to the former Miller's Country House which was most recently home to a sports bar, but sat vacant for several years until he rescued it and resurrected the great roadhouse feel that Ron & Trisha Miller shared with the community for a number of years before the turn of the century.
Regulars who have known and loved Timothy's over the 17-year run he provided inside the Gordon Beach Inn are ecstatic for Tim, his family and his crew and haven't missed a beat in welcoming the new place into their hearts. Long time friends and perpetual party companions Erica Mantei and Kelly Nate are prime examples. They were on hand in a packed house Saturday night to celebrate Kelly's birthday for about the tenth time this month and Erica says, "I'm so excited for Tim and everyone that is a part of his team at the new location. It is beautiful, and now more people are able to enjoy the delicious food and drinks!"
Tim clearly has the capability to make substantially more people happy at any one moment in time now, inasmuch as he has moved from a 3,000 square foot facility off the lobby of the Gordon Beach Inn to a 7,000 square foot building, with a markedly larger front of the house bar room called The Grill Room, which people are gravitating to not only for the great mixology coming from world class bartenders, but also the panoramic window view into the working kitchen where Tim and the crew craft their magic, and the TVs still embedded in the bar room floor from the days when the place was home to Mickey's Sports Bar.
Kelly Nate's birthday gathering was in the Grill Room and she tells me, "I'm delighted that the place was so busy and the energy is so high. The new location has such a great vibe with the same amazing food and delicious drinks we have all come to love. It was packed!"
Timothy's is now located at 16409 Red Arrow Highway in Union Pier, and as I pointed out in my story last fall telling you about Tim's move after his final hurrah at the Gordon Beach Inn on New Year's Eve, it has become kind of like old home week for Tim, inasmuch as he was a chef for Miller's Country House in the year leading up to his decision to launch his own restaurant business.
Tim purchased not only the restaurant, but the Wine Seller property next door, and a total of more than 2 and a half acres of land which provides a large parking lot, a beautiful stand of trees behind the restaurant which will be highlighted by new lights coming, along with Tim's new backyard Tiki Bar which will likely be a hit in warmer weather to come.
Tim's noteworthy menu of eclectic offerings is very much in place at the new Timothy's, but he's also added some new things, especially in the Grill Room and for outdoor diners to enjoy.
As he undertook the substantive makeover in the last couple of months after buying the building, Tim was delighted to find stored away the antler chandelier that was successfully put back into place in the Grill Room to go along with the massive, wall-to-wall antique bar that is a welcoming centerpiece.
In the main, white table cloth dining room and elsewhere around the house Tim has placed beautiful glass figurines of fish and other beachfront artwork to catch the eye of diners. His touch and flair are evident throughout the house, and everyone on hand last night was thoroughly enjoying the food, drink and atmosphere.
After officially opening the new place on Valentine's Day, and for the balance of the winter season you will find Timothy's up and running Wednesdays and Thursdays from 5 to 9pm, Fridays and Saturdays from 5pm until 10:30pm…and Sundays from 5pm until 9pm. You can call for reservations at 269-469-0900.
Be prepared for a great night out, and Tim says "Don't be a stranger!" He hopes people will make the trek regularly, not just for special occasions. I'm betting he won't have to worry about that, because while this may be considered Timothy's 2.0 — he's very deserving of a 10 in every category in my book.
I captured the photo above of Tim during his sneak preview for family and friends a couple of nights before he opened on Valentine's Day.