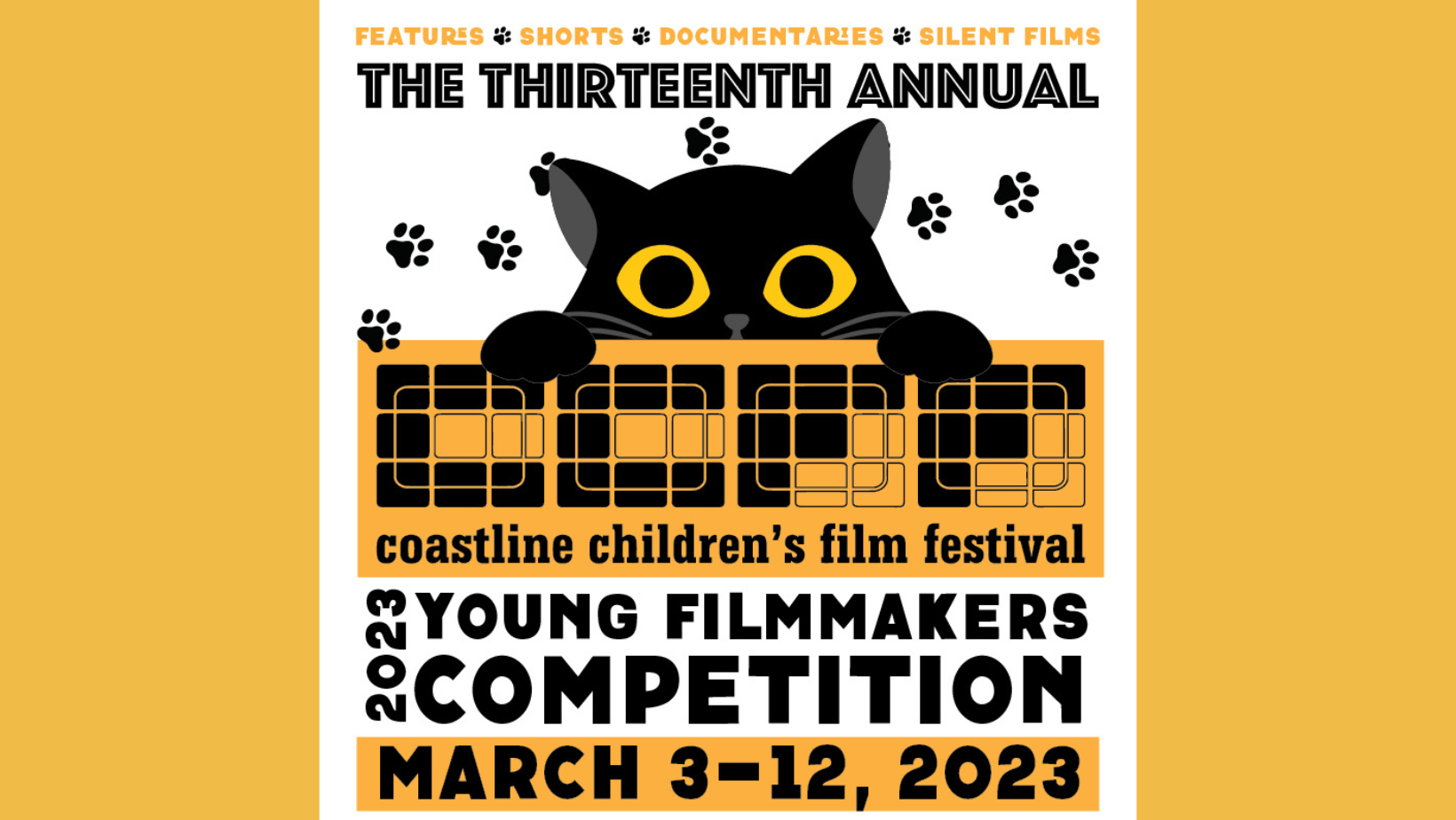 March into creativity and imagination, with ten days of fantastic films and extraordinary talent during the Coastline Children's Film Festival, beginning this Friday, March 3rd, 2023. An 'Opening Night Costume Party' ushers in filmmakers, movie goers, and excited community members, inside the Krasl Art Center in St. Joseph.
Fridays' Festivities begin at 6 p.m, and guests can feast on popcorn and Bit Of Swiss cupcakes during the evening, while enjoying the music stylings of Watervliet South Elementary First Grade Choir. "Come dressed as your favorite animated character, and you could win a prize for Most Creative Costume!" says CCFF. Kid Flicks One, a collection of short animated stories by one of the New York International Children's Film Festival winners, will hit the screen at 7 p.m.
"The films selected for this year speak positively to children and families, and include award-winning films that have been screened all over the globe," Coastline tells us. "Thirteen years ago, inspired by the 8 ½ Foundation founded by Tilda Swinton and Mark Cousins to make great films available to young people everywhere, we were inspired by their idea and it became our manifesto. For ten days, we provide countless sources of inspiration for young people in our communities."
Saturday, March 4th, you can catch Gather and Kid Flicks One at the Friends of New Troy Community Center at 11:30 a.m, with music by Brandon J. Woodcox beforehand. An entire day of film showings will be featured at New Buffalo Township Library, where two dozen short films by young filmmakers will fill the space with wonder, starting at 1 p.m., with doughnuts from Red Coach Donuts in Stevensville, and coffee from Red Arrow Roasters in Harbert. The St. Joe County Public Library Story House (in South Bend) will show Ron's Gone Wrong at 2 p.m, and Krasl Art Center wil show Kid Flicks Two at 2:30 p.m.
Audience members vote on the entries for the Coastline Children's Film Festival Young Filmmakers Competition, and awards are given to 1st, 2nd, and 3rd Places, as well as Honorable Mention, Audience Favorite, and Michigan's Best. You can view all twelve submissions on March 4th and March 8th. The CCFF has had over 500 film submissions since the very first Young Filmmakers Competition in 2013.
The next eight days are chock-full of screenings, events, and exhibitions, at multiple venues across Southwest Michigan and Northern Indiana, including: The Acorn Theatre in Three Oaks, Benton Harbor Public Library, CCFF Storefront in Sawyer, Friends of New Troy Community Center, Krasl Art Center in St. Joseph, New Buffalo Township Library, Oak Room at the Citadel, Sarett Nature Center in Benton Harbor, Three Oaks Township Public Library, the St. Joseph County Public Library Storyhouse in South Bend, and the SJCPL Western Branch.
Though film showings will occur every day from March 3rd through March 12th, the Red Carpet Awards will take place at 6 p.m on Friday, March 10th, in the Oak Room at the Citadel in Benton Harbor. Saturday, March 11th, the Benton Harbor Public Library welcomes you to their screening of Celebrating Black Stories at 10 a.m, and that evening, Sarett Nature Center will show Hoot at 7 p.m, followed by a Night Hike Owl Prowl on their beautiful grounds in Benton Harbor.
"This year, Dr. Larry Schanker will provide improvisational piano accompaniment to two silent films: one on March 10th, and one to close the festival on March 12th," says CCFF. "Our mission is to bring high-quality independent films and animation for children and young adults to the area and to present them – on the big screen – as shared theatrical experiences for the whole family and community."
Admission for films is free, but donations are most welcome. This festival would not be possible without the generous sponsors and grants CCFF acquires every year, and the support of the Michigan Council for the Arts. For a list of every film and its showing time, location, and all of the events planned during the 2023 festival, please visit coastlinechildrensfilmfestival.com.
By Jocelyne Tuszynski, MOTM Contributor