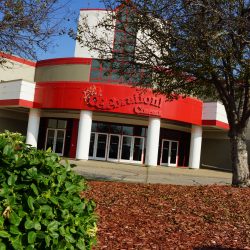 You've likely seen a number of Facebook solicitations in your online timeline seeking your vote for the Celebration! Cinema Celebrated Service Award for 2018. Balloting is underway for the coveted quality of customer service award in each of Celebration's markets across the state. In our market, there are 10 nominees in the running for the award, all hoping to follow in the footsteps of The Mason Jar, which won the top honor in 2017.
The popular theater chain operated by the Loeks family is joined in sponsorship of the balloting by MLive, Mercantile Bank of Michigan, Beene Garter, and Zing Train of Ann Arbor.
The Celebration! Cinema team says they produce the annual award for four core reasons:
RECOGNITION
To reignite a conversation about service throughout the company that leads to improving our own level of service to each other and to our guests.
VALUE
To communicate to the community the value that we place on providing great service, and that it is something we aspire to be great at (without being boastful about where we are today).
CONVERSATION
To reignite a conversation about service throughout the community that leads to meaningful change; building equity for all who live in and visit our communities.
VALUING SERVICE
While we do not always get it right, it's of a very high value to us. We'd like to engage the city in a clear simple message that great service should be valued.
In the Benton Harbor-St. Joseph marketplace this year seven of the ten nominees are food service places, an eighth is food related and the bracket is rounded out with a first class experiential hair styling salon and a tattoo studio. Here are the nominees, in alphabetical order, with their personal statement regarding the business they represent:
Arriba Taqueria -- We are a small family owned business that serves traditional Mexican food. Our mission is to provide our guests with home cooked meals made from scratch. We want our customers to walk away feeling like they came to our home for a visit.   Most of our customers are greeted by first name and we even remember "their usual!"
Coach's Bar & Grill -- We are a local business, that supports our community and our staff. At Coach's Bar & Grill, we recognize that every kind of coach is important whether they're coaching pro football players, little league stars, or a team of any kind.  We invite you to join us in celebrating the many ways in which coaches enrich our lives. We know most of our guests by name and what they like.  We have also gone above and beyond for many of our guests in their time of need.  We love our area and will continue to show it everyday!
Edible Arrangements Benton Harbor -- Our mission statement is to "Wow" each and every customer with our Fresh Fruit bouquets, chocolate dipped fruit and fresh fruit smoothies. We greet customers with a smile and exceptional knowledge from our fruit experts to make you leave the store saying "WOW!"
Full Circle Cafe & Espresso Bar -- We focus on treating each customer like our favorite (because they are!) and giving back to the community that's given us so much. We love what we do, and we're honored to have the opportunity to enjoy our work and share it with our customers. Customer service starts from within, by the way we create a positive workplace experience.  We hope that those things, all bundled together, mean an enjoyable experience for every person who walks through the door.
The Legacy House -- Legacy House was created with the intention of providing our amazing clients & friends with a cozy & comfortable, one of a kind tattoo studio they can be stoked to get tattooed at. Tattoos are a huge commitment, and we are fully aware of that and committed to making the best piece of art we possibly can for every single client, no matter how big or small. We are honored to be able to provide Southwest Michigan with beautiful art!
The Mark III Grille & Bar -- We are a locally owned and operated restaurant, established in 1972. We specialize in Tex-Mex, steaks and American comfort food. Whether you've been coming here for years or this is your first visit, we want everyone to feel at home in a cozy comfortable environment.   We have had some instances when a long time customer has fallen ill or was unable to come to see us & we happily prepared their favorite meals and personally deliver it to them!  Our customers are part of our Mark III family and we want them to feel that way. 
Mosaic On Main -- Mosaic on Main is a social enterprise, a business with primarily social objectives whose profits are reinvested in the community. Our daily training mission is to impart on our staff the skills and value of providing scratch cooking with local ingredients and caring service!
M Squared Modern Hair -- M Squared Modern hair is not just a hair salon, it's an experience. We ensure that each and every guest feels listened to, valued and, most importantly, welcome.  In the beauty industry it is essential to have high standards of cleanliness & professionalism.  Our goal is that every person that walks through our front door has their service expectations surpassed and leaves us with a confident smile. 
Tim's Too Asian Grill -- Tim's Too is a wonderful intimate dining celebration. We greatly value our guests and our employees are at the heart of our mission... providing opportunities, supporting growth and caring like we would our own family. Good service is just as important to a restaurant's success as the food it serves! Eating should be one of the great joys in life.   We want our guests to leave having had a wonderful dining experience...and wanting to come back.
VIVI'S italian garden -- Our business began with family and faith. It has grown over the years to be more than about just our family, and the families our staff…it's about all of the families that visit us at VIVI'S!  Sharing LOVE in even the smallest kindness...creating memories breaking bread together.  Come one or come many...we are committed to providing a memorable dining experience.  "We love to see happy diners!"
Here is the online link to each of those stories and the Celebration! Cinema team member's comments on why they were nominated. This link also affords you the opportunity to cast your ballot for your favorite from the list: