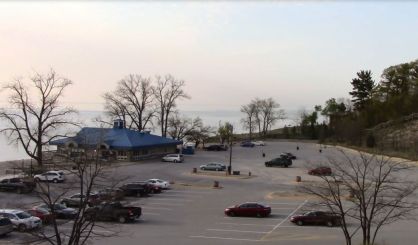 Work has been completed on a new retaining wall along the dune at Weko Beach in Bridgman. Crews spent weeks putting in a new wall along the wooden walkway that takes beach goers south to Tanner Creek. With the retaining wall finished and more work to stabilize the dunes coming, the city is welcoming the public to a opening ceremony and ribbon cutting on Friday.
The City of Bridgman was awarded the Michigan Coastal Management Grant. This grant agreement is made between the Michigan Department of Environment, Great Lakes, and Energy (EGLE), Water Resources Division (WRD), and the City of Bridgman for the project Weko Beach Dunes Restoration and Stabilization.
To support vibrant, healthy, and resilient communities, the City of Bridgman will, in accordance with the NOAA approved environmental protection plan, conduct restoration of critical dune habitat and protection of public infrastructure.
The public is invited to attend the opening ceremony and ribbon cutting for the new retaining wall on Friday, November 19, 2021 at 2:00 p.m. at Weko Beach & Campground 5301 Lake St. Bridgman, MI. The Greater Bridgman Area Chamber and Growth Alliance and the Southwest Michigan Regional Chamber will serve as hosts for the event.