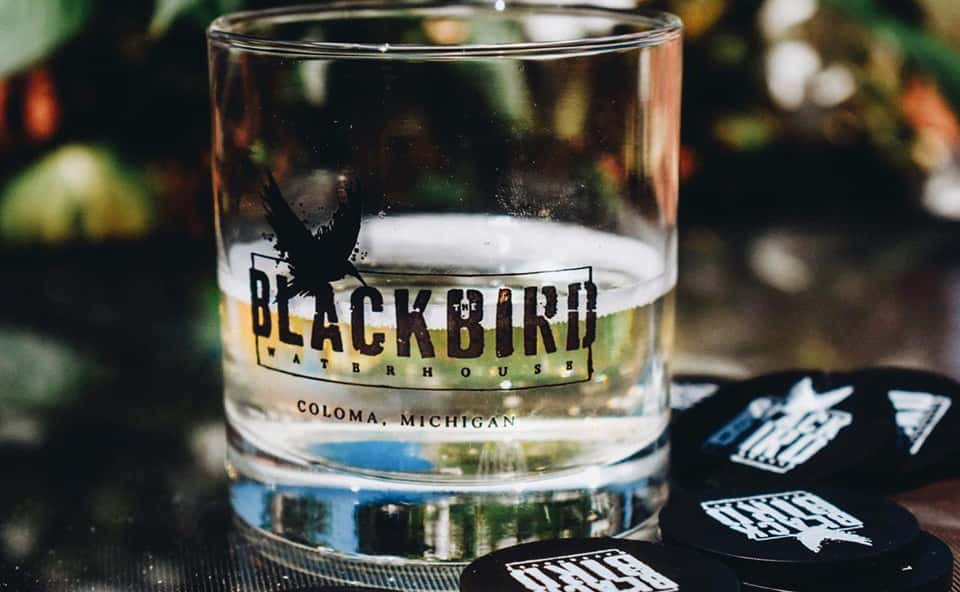 They've only been up and running for 16-weeks, but Coloma's striking new eatery, The Blackbird Waterhouse, is holding up their end of the bargain with the promise to local residents of delivering "something different" to the area all the time.
They finished up their amazing patio renovations around mid-July, and now the passionate team there is pulling that space together to launch their first ever Blackbird Waterhouse Cider Festival.
Lynzee Khrone, the effervescent Marketing & Events Director for Blackbird, says, "We are really excited about our upcoming CiderFest—it gives us an opportunity to celebrate our roots. The roots in our community, in the gluten-free menu items we embrace, and in Michigan overall."
Aside from the already-solidified farm partnerships that you see showcased on their seasonal food menus, the restaurant has also partnered with a few cider makers, wineries and apple farms in the area to help pull this new inaugural event off. Among them, Virtue Cider, Vineyard 2121, Crane's Pie Pantry, Jollay Farms and more have all been confirmed to attend the Festival and serve up a variety of local offerings for everyone who shows up on Sunday, August 18th.
Dan and Leah Peat of Peat's Original Cider will also be there as the lead partner and sponsor passing out their newest hand-crafted cider, made specifically for The Blackbird Waterhouse, titled The Birdwatcher.  Dan says, "It's been a pleasure working with the team at The Blackbird Waterhouse to come up with this new creation." He recalls, "Before they even opened, we were sitting in the restaurant together, bench-testing beakers of flavor combinations."
With a full list of hand-selected vendors in place for the upcoming event, The Blackbird Waterhouse is already promising an unforgettable experience. The restaurant prides itself on continually delivering something different and bringing a sense of community to the towns of Coloma and Watervliet. The Blackbird team believes that through partnerships and events like the new CiderFest, they can achieve that even more.
Dave Coyle, owner of Arclight Brewery in Watervliet says, "We're excited to welcome businesses like The Blackbird Waterhouse, and are eager to support them in anyway we can."
Aside from the new handcrafted cider they plan on launching at the event, CiderFest will also feature the artistic talent of local henna tattoo artist, Amy LaPorte, and non-alcoholic ciders from Jollay Orchards. As Marketing & Events Coordinator Katie Hobbs suggests, "We want this event to be something for everyone to enjoy. We want to celebrate different options in the area."
The Blackbird Waterhouse shares a passion for simple, elegant, farm food and drinks made with fresh, local ingredients from scratch, and asks, "What better way to celebrate those things than a community festival on our patio!?"
Krohne notes, "This event will expand our restaurant's events possibilities as well, and start to pave the way for more ideas from our original business plan. Through experienced team members, and a little trial and error, we've pulled off things we never dreamed were possible in this small town, all thanks to our dedicated staff and community."
As they are known so well to do, even in their short time span on the map, The Blackbird Waterhouse is also partnering with the Berrien Community Foundation to collect donated school supplies during the CiderFest event to support their Backpacks for Good fundraiser as well. You can save 50-percent on the price of tickets, and earn a complimentary logo'd glass, by pre-ordering in advance at the link below, ​or by calling or visiting The Blackbird Waterhouse on Facebook. Here's the link taking you directly to the ticket order form:
https://www.theblackbirdwaterhouse.com/events-1
For more information about The Blackbird Waterhouse, you can call 269.468.BIRD or visit online at www.theblackbirdwaterhouse.com. You can also stay informed with the most up-to-date details and events by following The Blackbird Waterhouse on Facebook and Instagram.