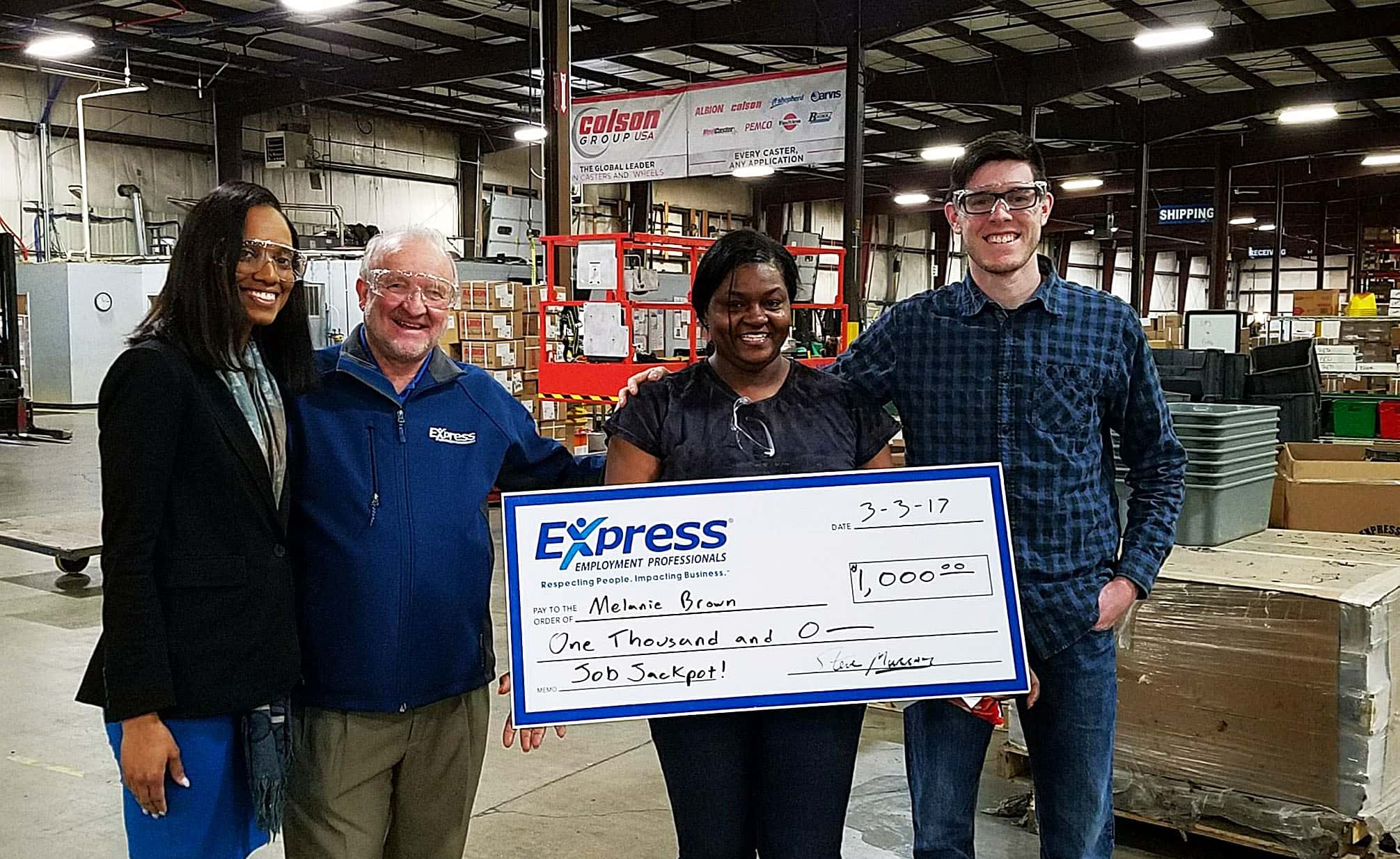 A small bonus for hard work turned into a nice jackpot for a Colson Group USA manufacturing associate this morning when the team at Express Employment Professionals in St. Joseph delivered a super-sized check in the amount of $1,000 to her plant.
Melanie Brown worked at Colson in south St. Joseph through Express Employment Professionals before being hired into Colson full-time last June. Steve Murray, owner and operator of the Express Pros local office, says that Melanie turned out to be a 4th quarter drawing winner in an ongoing campaign to reward hard work by employees of the team.
Recognizing the importance and value of rewarding hard work, the St. Joseph office regularly engages workers in their Job Jackpot program as one of the ways in which they value the hard work of their associates. Throughout the course of 2016, Murray says associates were given Job Jackpot lottery tickets to scratch off to see what they have won. Various gifts were awarded to those who held a winning ticket, while those who produced non-winning tickets were placed into a drawing each quarter along with all of the other Express International offices.
Melanie's name came up as the quarterly winner and earned a corporate check for $1,000 which Murray arranged to have presented to her on the shop floor at Colson Group in St. Joseph this morning as seen in the photo he provided to us to show the winning smile.
Once again this year the international staffing company will sponsor the Job Jackpot Sweepstakes with a total of $120,000 in cash prizes. That represents a 300-percent increase from the total jackpot this past year of $30,000.
Once again, the St. Joseph office will provide scratch-off tickets to its working associates, with winning tickets providing a gift card ranging from $5 to $50 each. Meanwhile, the practice of placing all non-winning tickets into the quarterly drawing for the bigger prizes will continue, as well.
Regarding the program, Murray says, "We understand how important it is to have great people working for us at our client companies, and we're excited to start this program again in 2017 to show them our appreciation." He adds, "Providing people with a paycheck and the hope that comes with a job is a reward we experience every day through the work we do. The Job Jackpot Sweepstakes is something extra we want to do to provide a few more smiles and a little more happiness to our great people."
Express Employment Professionals puts people to work. The local office is located at 4070 Red Arrow Highway and serves Berrien, Cass and Van Buren Counties. Local businesses and applicants are encouraged to stop by, visit online at the link below or call 269-408-1980. For additional information about the Job Jackpot Sweepstakes, or how you can find a job with Express Pros, contact them at your convenience in St. Joe. Here's the link: