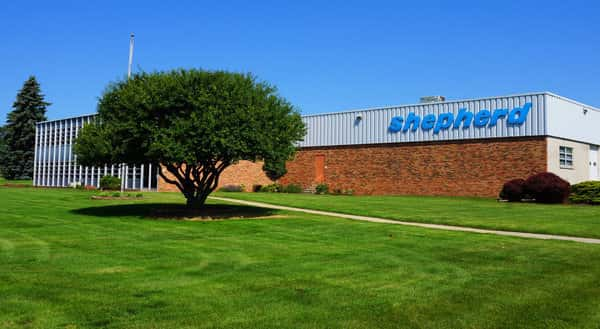 Manufacturing in Michigan has picked up a major boost in recent weeks thanks to the Colson Group USA team which owns and operates the Shepherd Caster brand operations in St. Joseph's Hawthorne Avenue Industrial Park. Colson's Albion brand, the leading heavy-duty caster brand in their line-up, has made a major new advancement, reinforcing its commitment to U.S. manufacturing.
After significant capital investments in both the Albion plant and at Shepherd, the Albion brand has unveiled a series of product advancements to its already popular 310 & 410 Kingpinless Series, which leverages the new investments to deliver added customer value and create still new opportunities.
Recent purchases and installations of a new laser cutter, CNC bender, multiple robotic welding cells and CNC machining equipment has paved the way at the two plants for a laser cut redesign of the 310 & 410 Series steel components and accessories. The team at Shepherd utilizes the new laser cutter to make components that the Albion plant then uses to assemble the new heavy duty casters.
The transition to USA-made also allows Albion to deliver and respond to the market needs faster than ever, reducing lead times by as much as 70-percent.
Scott Fisher is Heavy-Duty Product Director for the Albion brand. He tells us, "Investing in U.S. manufacturing to produce the quality heavy-duty products the industry has known us for is an important strategic initiative at Colson Group." He adds, "We have an aggressive heavy-duty growth plan, and we are excited to deliver the new product improvements on the USA-made 310 & 410 Series as the final step of our plans."
The new designs and technology allowed for a variety of product improvements, including 3/8-inch thick legs on the 310 Series, weld eliminations for a cleaner part, smoother edges for safety, an industry-leading zinc finish with clear coat and newly designed innovative brakes and toe guards — all backed by an upgraded three-year warranty. The 310 & 410 Series are constructed of high quality, heat-treated AISI 1045 laser cut steel in St. Joe and features a precision-machined raceway for improved ergonomics and superior strength in rugged and towed applications. The legs are fully welded inside and out to handle the shock impact and higher load capacities traditional casters might not withstand.
Tom Blashill is CEO for the Colson Group. He says, "We are committed to our initiatives to optimize our heavy-duty segment, including product portfolio and all support services. We are continuing to invest heavily in our USA heavy-duty team and manufacturing plants." He adds, "Through the combination of competitively manufacturing the best product close to our customers and providing world class support, we will continue to expand our value proposition to the market and generate growth with our strategic partners."
The Colson Group has been providing mobility solutions for virtually every sector of the economy. Locally, they have been solid employers of dozens of employees in the St. Joseph plant and were selected last winter by Cornerstone Alliance as winners of their Manufacturing/Distribution Large Business Award. The company added a new 170,000 square foot facility last January working in tandem with the St. Joseph and Albion manufacturing plants.