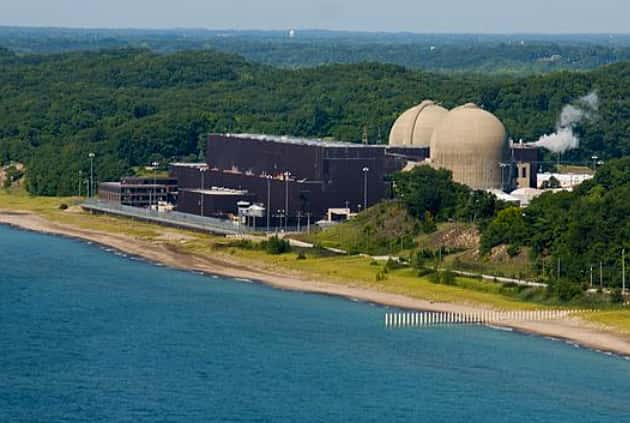 Parking lots at local hotels, motels, B&Bs, restaurants, bars and diners will begin filling up again this week with the arrival of nearly 2,000 special contract employees at the Cook Nuclear Plant in Bridgman. Their arrival signals the launch of another refueling outage at the plant's Unit 1 under the watchful eye of Indiana Michigan Power and the Nuclear Regulatory Commission.
The Cook Nuclear Plant's Unit 1 will begin its twenty-eighth refueling outage this Wednesday, March 6th, at 12:01 am. Power was reduced to 50-percent over the weekend for equipment testing prior to that outage. The unit will have operated for 463 consecutive days at a capacity factor of 102.2-percent, generating 11,727,171 megawatt-hours of electricity. This is the second straight cycle that Cook Unit 1 consistently remained online between refueling outages, also known as a breaker-to-breaker run.
Cook Unit 2 remains at 100-percent power, and also ran breaker-to-breaker before its most recent refueling last spring.
Shane Lies is Site Vice President at the Cook Plant. He says, "We're extremely pleased with the performance of both our units," adding, "This string of breaker-to-breaker online runs indicates the kind of reliability we strive for, and that our customers depend on. We are doing the right maintenance to keep the units reliable today, while also continuing our Life Cycle Management upgrades to keep the units safe and reliable for many years to come."
In addition to refueling the reactor and performing regular maintenance and testing work, the outage will be extended due to inspection and replacement of baffle bolts, which support internal components of the reactor vessel. Specific outage duration is considered proprietary information, and will not be released according to company officials. Other important work during this outage will include a main generator stator rewind, a reactor coolant pump motor and pump seal refurbishment, and various instrumentation and control system modernizations.
About 1,750 contracted workers will supplement the regular 1,100-member plant staff leading up to and during the outage. More than 12,000 maintenance, inspection and equipment modification job activities totaling 325,000 work-hours are scheduled for two daily 12-hour work shifts.
At full capacity, the 1,084-net MW Unit 1 and 1,194-net MW Unit 2 combined produce enough electricity for more than one and one half million average homes.
Indiana Michigan Power is a wholly owned subsidiary of American Electric Power.
The arrival of hundreds of additional workforce members is always a boost to the local economy, especially in the hospitality industry sector, but also in many retail and entertainment venues as well.