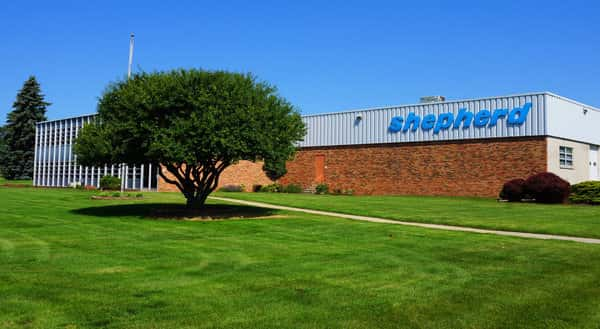 Businesses in virtually every sector of the economy in search of mobility have been counting on The Colson Group for decades, and one of the hottest properties in The Colson Group line-up has been tabbed by Cornerstone Alliance this morning as the economic development organization's top choice for its Manufacturing/Distribution Large Business Award winner in annual meeting proceedings at Lake Michigan College.
The Colson Group was singled out for the honor at the Business Recognition Breakfast this morning in the Mendel Center's Grand Upton Hall. Dr. Brian Long, Director of Supply Management Research at Grand Valley State University was the keynote speaker, presenting an update on the West Michigan Economy to more than 350 in attendance.
The Colson Group is the largest manufacturer of caster and wheel products in the world. The company has operations in 14 countries and consists of nine major global operating units of which Colson Group USA is the largest. Shepherd is one of the flagship brands in that group of some of the most trusted and highest quality in the industry. Others in the group include Albion, Colson, Jarvis, MedCaster, Pemco, Faultless and Bassick.
The company was recognized this morning for its massive expansion locally. They are nearing completion of the build-out of a new national distribution center in St. Joseph. The new 170,000 square foot facility opened last month and works in tandem with Colson Group USA's manufacturing facilities, which are located in Albion and St. Joe here in Michigan and in Jonesboro and Monette in Arkansas. Colson Group USA also has distribution facilities in Dallas, Texas and Chino, California.
There are 102 employees at the St. Joseph distribution center, with roles varying from sales & marketing to purchasing and assembly & distribution, and the company's Kevin Osborn said this morning there will be a lot more on the way. The goals of the new distribution center are to enhance customer service through faster and more reliable order fulfillment, increase dependability of inventory planning and provide for a single point to consolidate shipments of Colson Group USA's caster brands. Kevin Osborn is Vice President of Operations for Colson Group USA and accepted the award on behalf of the company.