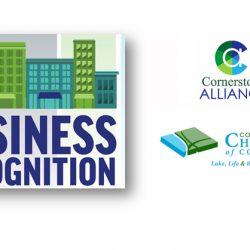 With nearly 30 nominations in hand representing a composite picture of the best of the local business community, Cornerstone Chamber of Commerce and Cornerstone Alliance will reprise its notable Business Recognition Breakfast next month with every business enterprise invited to be a part of the ceremonies at Lake Michigan College that morning.
On Thursday, February 15, 2018, the two signature business organizations in the community will jointly honor a few of the many achievements, innovations and the vision of outstanding Berrien County companies and individuals at the annual Business Recognition Breakfast.
Michigan Attorney General Bill Schuette is the keynote speaker. Schuette will highlight Michigan's business climate as he addresses the several hundred guests at the annual meeting of the two organizations.
The doors will open at 7:15am that day for breakfast at the Lake Michigan College Mendel Center's Grand Upton Hall at 2755 E. Napier Avenue in Benton Harbor, and the program starts at 8:00am. Tickets are now available online; individual seats are $25 and $200 for a table of ten. Click the link below to purchase tickets:
http://business.cornerstonechamber.com/events/details/business-recognition-breakfast-annual-meeting-awards-ceremony-4624
Cornerstone Chamber of Commerce President, Chris Heugel, says, "Once again this year, we received many quality nominations for the Chamber awards. It is an honor to have the opportunity to recognize our member organizations and people for their hard work and the value they bring to our local economy."
Rob Cleveland, President of Cornerstone Alliance, Berrien County's lead economic development agency, adds, "2017 has been a year of phenomenal growth for Berrien County businesses. These companies have chosen to invest more than $50 million and create over 100 high-skilled and high-paying jobs in Michigan's Great Southwest. We are delighted to celebrate these businesses and leaders who drive economic prosperity."
You can purchase a table today and join the celebration of this year's winners.
Cornerstone Alliance is Berrien County's lead economic development agency — a non-profit, investor-governed economic development organization primarily focused on increasing employment opportunities, private sector capital investments and the local tax base in Michigan's Great Southwest; with specialized business services offered in economically distressed areas.
Cornerstone Chamber of Commerce is a member-driven organization encouraging the growth of business through networking, advocacy, visibility and benefits for all its members. The Chamber represents more than 700 businesses that support 30,000 jobs in the community.