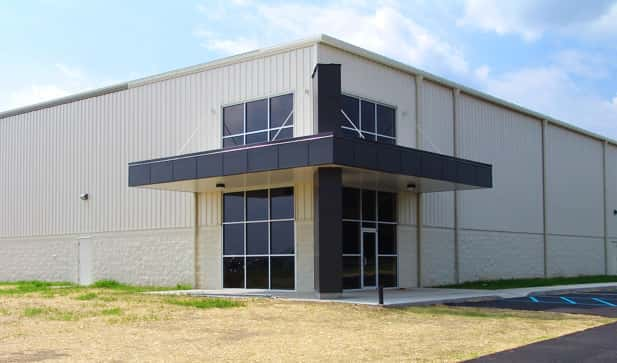 Berrien County's lead economic development agency is pressing ahead with plans for a spec building in order to be proactive in the face of possible attraction of new industry in Michigan's Great Southwest. Less than a month ago Indiana Michigan Power Company announced a grant to Cornerstone Alliance to help them to be not just shovel ready, but completely ready for new opportunities through creation of a spec building. Today, they are launching that process through requests for proposals from contractors.
Cornerstone Alliance announced today that they are seeking a developer to build a 30,000 to 40,000 square foot building in Berrien County. At a minimum, the building will create at least 10 new jobs and more than $5 million in new investment in Michigan's Great Southwest.
When I&M announced last month their grant to help that process, Cornerstone reminded everyone that today's businesses move quickly to stay ahead of the competition. When businesses weigh possible sites for relocation and expansion, a spec building offers businesses savings in time and money. I&M is providing support for site readiness activities required prior to construction of a spec building planned by Cornerstone Alliance.
Greg Vaughn, Cornerstone's Chief Operating Office and Vice President of Business Development says, "Our primary focus is to recruit new companies and work with existing companies to create new jobs." Vaughn points out, "This building is a tool to bring new companies and new leads to Berrien County that we otherwise would not have received."
Cornerstone Alliance has issued a Request for Proposals (RFP) for a development partner and is intended to recruit a new company to Berrien County. The RFP can be found on the Cornerstone Alliance web site by clicking the link below. The developer will construct a pre-engineered steel building with a minimum 28-foot ceiling height, a standing seam metal roof and column spacing of at least 50 feet. The photo accompanying this story is for illustration purposes only and is shared on the RFP page. Here's the link:
https://www.cstonealliance.org/index.php/business-development/spec-building-rfp
Developers interested in responding to the RFP must do so by Friday, April 26th at 5 pm (EDT). Cornerstone Alliance will hold a Project Overview Session for all interested developers on Tuesday, April 16th at 8:30 am (EDT) at the Cornerstone Alliance offices located at 80 W. Main Street in Benton Harbor. The meeting is not mandatory but recommended for developers with questions regarding the proposal.
Cornerstone President Rob Cleveland says, "In order to compete for new businesses, it's imperative that the community has available modern industrial space," and adds, "While the building is being constructed on a speculative basis, we're confident the market is strong enough to recruit a new employer within a year. Companies are looking for buildings to operate in, and talent to fill those buildings. We've had great success working with the MEDC and Kinexus to provide a team-oriented solution for every business need and they will be critical partners in finding a tenant."
Cornerstone Alliance has identified several suitable options for the building location including the Cornerstone Industrial Park, as well as other sites with great Interstate access. The building will be expandable and could easily be doubled in size, allowing for long-term growth. Building construction should start in the fall of 2019 and be ready for occupancy by the fall of 2020.
The spec building construction was identified as a key job creator by the Cornerstone Alliance Board of Directors in its current strategic plan which is shared at the link below. Cornerstone Alliance will work with the chosen developer to maximize incentive opportunities in order to mitigate risk in securing a sale or long-term lease.
Here's the link to Cornerstone's current strategic plan: