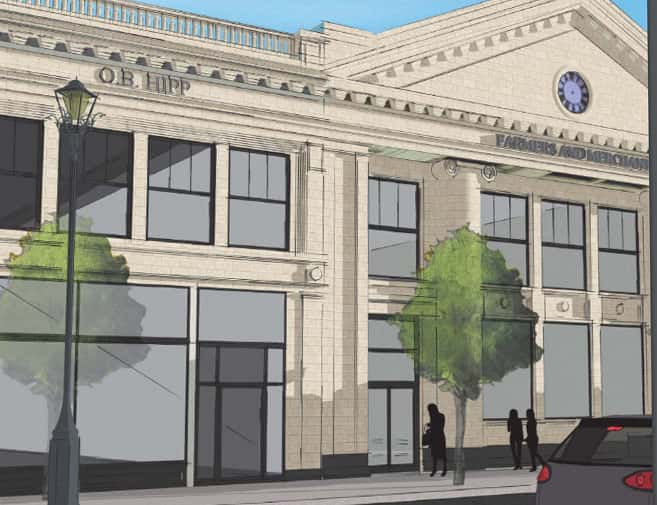 Do you have the perfect idea behind redevelopment of an historic building in the heart of Benton Harbor's central business district downtown? Are you the next highly successful developer ready to follow in the footsteps of those who have transformed other Main Street buildings into spaces like the Saranac Flats, the Hawks Nest and Sheffield Flats projects? If so, you could get a huge step up to the tune of more than $100,000 in cash and incentives to transform the iconic Farmers & Merchants Bank building just down the block from the headquarters of Cornerstone Alliance.
In fact, it is Cornerstone Alliance itself, Berrien County's lead economic development agency, that has issued the request for interested developers to submit proposals on redevelopment of the old F&M Bank building in downtown Benton Harbor, with the project that gets chosen for redevelopment eligible for over $100,000 in cash and incentives.
The former Farmers & Merchants building has been a noticeable presence in Benton Harbor since its opening in the late 1800s. The building has changed ownership several times in recent years and has received significant interest from developers throughout the region. Cornerstone Alliance recently purchased the historic building and will begin a $250,000 facade renovation project in June.
Stephanie Scott-Sims is Director of Entrepreneurship & Placemaking at Cornerstone Alliance. She tells us, "The F&M Bank Building is a prominent site on Main Street," and adds, "Creating a destination at the F&M Building will bring new people and dollars into the City of Benton Harbor. Redeveloping this building will support the diverse businesses in the Benton Harbor Arts District and create another destination for the community. We encourage all business owners and developers looking for a new opportunity to reach out to us with their ideas."
The former bank building is located at 92 West Main Street in downtown Benton Harbor. The two-story building has more than 12,500 square feet of available space and is zoned for commercial activity. It is just steps away from the Benton Harbor Arts District and the new mixed-use development at the Sheffield Building on Pipestone Street, as well as the planned $3 Million renovation of the Harbor Center mixed-use building at the corner of Pipestone and Main Streets. It's also just down the block from Cornerstone itself.
Greg Vaughn, Chief Operating Officer and Vice President of Business Development for Cornerstone Alliance, says "For many years, the F&M Building stood as a symbol of economic prosperity in Benton Harbor," and notes, "So much work has gone into restoring historic buildings on Main Street and we believe the F&M Bank Building is the next logical space to redevelop. Private developers have found success with projects like the Sheffield Flats, Saranac Flats, and the Hawks Nest, all redeveloped spaces in downtown Benton Harbor. We're looking to help the next developer execute a vision for new businesses on Main Street."
Interested parties can click the link below for full details prior to the submission deadline of Friday, June 14, 2019 at 5 pm (EDT). Preference will be given to developers looking to create a destination use that generates activity for resident and tourists, day and night, year-round, including but not limited to: the food and beverage industry, commercial retail, grocery, mixed use and for-profit ventures. Here's the link for more:
For additional information, you can contact Stephanie Scott-Sims at (269) 925-6100, extension 147.