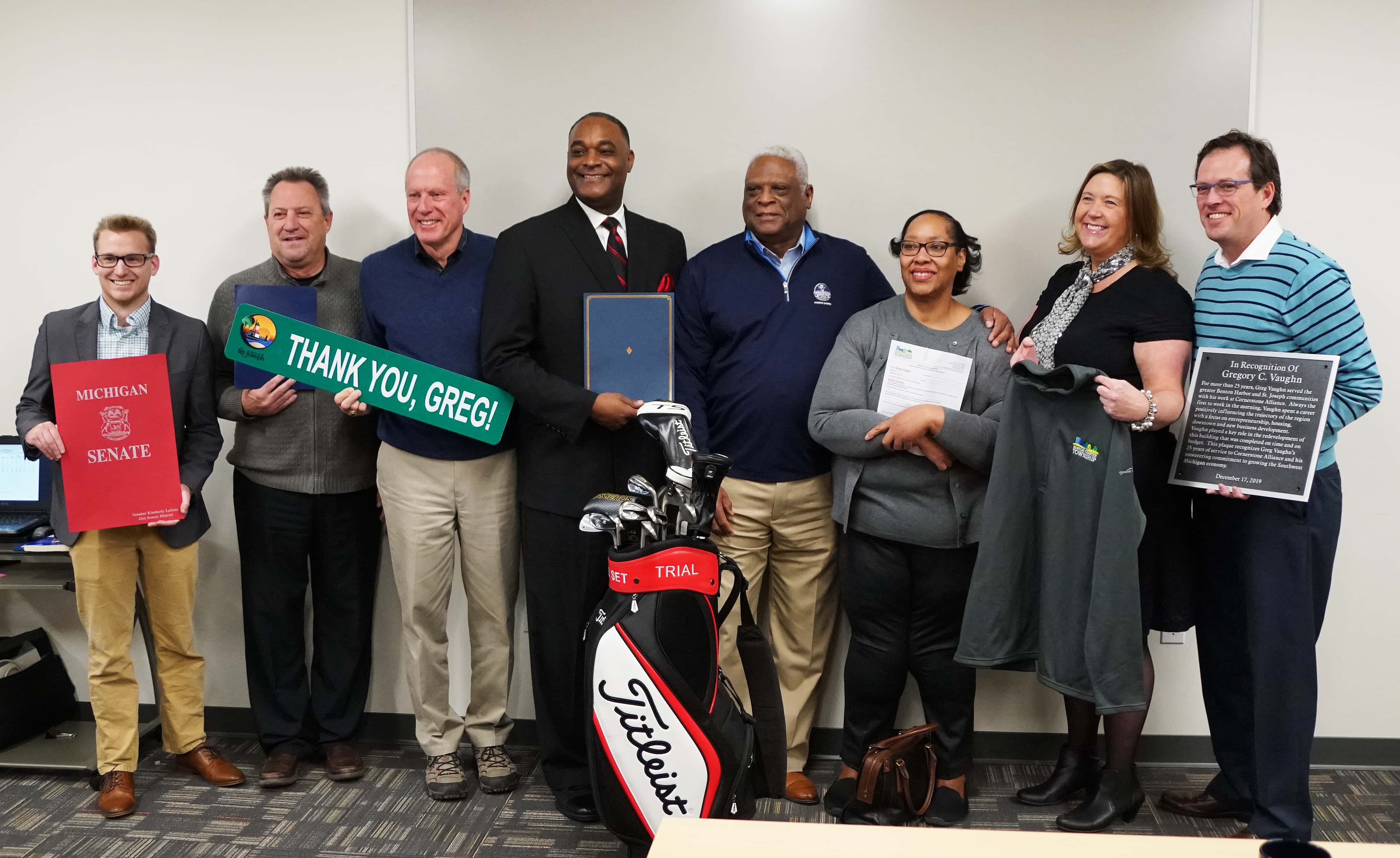 As the Board of Directors at Cornerstone Alliance wrapped up their final meeting of the calendar year this morning, retiring Chief Operating Officer Greg Vaughn sat in stunned silence when Board Chair John Janick turned the spotlight onto him and his 25 year career with Berrien County's lead economic development agency. He grew more stunned as a parade of local dignitaries streamed into the conference room with his wife and children in tow.
It was a grand surprise engineered by Cornerstone Alliance President Rob Cleveland and the rest of his team, as they kept Vaughn totally out of the loop on their plans for an impromptu send off for the popular man who has played a key role in the transformation of the region over the course of his two and a half decades working business development, economic development, community development and beyond.
Benton Harbor Mayor Marcus Muhammad was first up reading and sharing a city commission passed resolution singing Vaughn's praises, applauding his myriad accomplishments, thanking him for his role in literally dozens of community organizations, and making December 17, 2019 officially Gregory Vaughn Day in the City of Benton Harbor.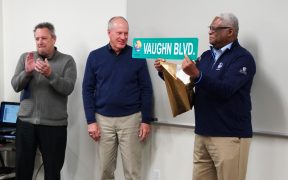 Up next, St. Joseph Mayor Mike Garey presented Vaughn with the city's coveted street sign award bearing his name on one side, reading: "Vaughn Blvd," and "Thank You Greg" on the opposite.
Representatives of Congressman Fred Upton and State Senator Kim LaSata followed with a personal letter from Upton and a state legislative tribute from the delegation in Lansing, before Benton Township Clerk Carolyn Phillips and Treasurer Debbie Boothby shared their gratitude and the gift of application forms for every committee in township government and an official employee pullover to go with the forms, joking that even if he didn't file the applications he could keep the shirt as a lifelong resident of the community.
Cornerstone President Rob Cleveland showcased a beautiful bronze plaque that will be displayed at the Cornerstone office building which reads:
In Recognition of Gregory C. Vaughn
For more than 25 years, Greg Vaughn served the greater Benton Harbor and St. Joseph communities with his work at Cornerstone Alliance. Always the first to work in the morning, Vaughn spent a career positively influencing the trajectory of the region with a focus on entrepreneurship, housing, downtown and new business development. Vaughn played a key role in the redevelopment of this building that was completed on time and on budget. This plaque recognizes Greg Vaughn's 25 years of service to Cornerstone Alliance and his unwavering commitment to growing the Southwest Michigan economy.
December 17, 2019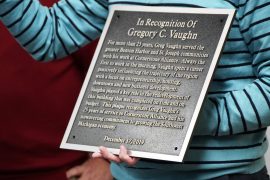 The final word came from Cornerstone Board Chair John Janick who said that board members had pooled their resources and selected the gift of a brand new set of golf clubs for him to enjoy in his upcoming retirement. The set presented was actually a stand-in for the real thing, inasmuch as he will be personally fitted for clubs designed for him by the team at Harbor Shores.
Vaughn, as is his legendary manner, was short, but extremely thankful to everyone involved and said he will long remember his time working in and for the community.