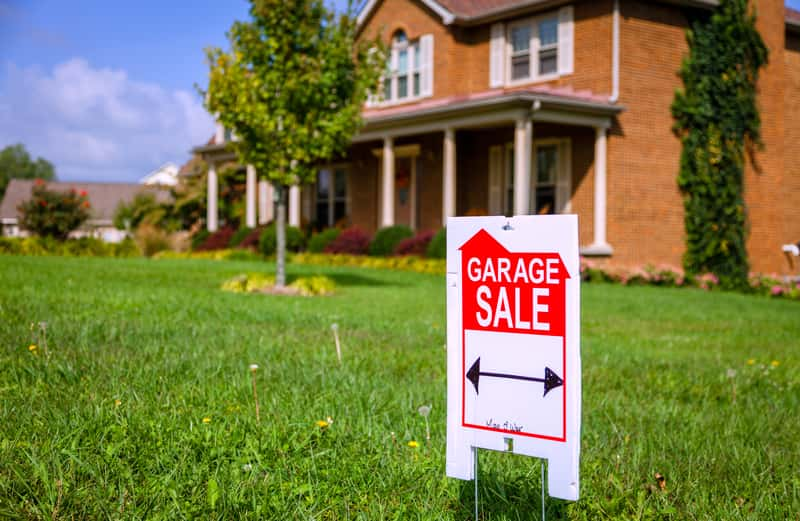 ---

---
With spring in the air, garage sale season is officially here!  At Napier Gold, we personally always enjoy finding a good deal at a garage sale, but we also continuously notice that jewelry is undervalued, sometimes by hundreds of dollars.  Unfortunately, we also see the same problem happening at estate sales.  As a family-owned business that has been assessing gold, silver, and platinum items for 40 years, we know there are a lot of factors to consider when valuing items that aren't commonly known.  We also understand that it takes a lot of effort to put a garage sale or an estate sale together, and it can be difficult to let go of an item that a loved one recently passed down to you or items you once treasured from your collection.  So, if you want to get the most money back for your jewelry, and you aren't sure what your collection is worth, we would love to help!  Below are some of the most common items we see undervalued at garage sales and estate sales:

#1 Inherited Jewelry
When a loved one passes away, family members are often left wondering what to do with their valuable items they've inherited.  Often, estate sale companies are hired to value items and coordinate an estate sale to sell many of these items.  However, keep in mind that often estate sale companies charge a significant commission just for conducting the sale.  On top of that, many estate sale companies don't have the focused expertise in jewelry and coins that comes with 40 years of experience, as we do at Napier Gold.  Having attended hundreds of estate sales over the years, we usually see jewelry collections are vastly underpriced.  At Napier Gold, we're happy to help you assess any jewelry you've inherited to give you an idea of its actual value.  Having assessed thousands of pieces of jewelry over the years, we can even give you some perspective about the lineage of the items in addition to their current value.  So before having a garage sale or an estate sale, stop by Napier Gold and make sure you're not leaving hundreds of dollars on the table by undervaluing your jewelry items.

#2 Broken Jewelry
Many people don't even attempt to sell broken pieces of jewelry at garage sales or estate sales because they don't think they're worth anything if they're not wearable.  However, every day, we buy broken necklaces, rings, bracelets, items with missing stones, and even single earrings, and our customers walk out with a considerable amount of money!  Gold, silver, and platinum jewelry still retain the same precious metal value even when broken.  Even if it's dirty and lacking the beautiful luster it once had, it's still valuable. On the other hand, if you have broken jewelry that you still value and would like to have repaired, we also do jewelry repairs and are happy to restore your items back to as they were when you first bought them.

#3 Wristwatches and Pocket Watches
The craft that goes into wristwatches and pocket watches is astounding – we always love assessing these items because of the innate detail put into making them, and there is no detail too small to consider when valuing watches.  Especially if you have an older vintage watch dating back to the 70's or before, you might be surprised how much your watch is worth.  Some older watches comprised of gold frequently are more valuable due to heavier weight in comparison to necklaces, rings, and bracelets.  Older watches can still be valuable if they aren't gold as well.  Some of the most valuable brands currently are Rolex, Omega, Bulova, Cartier, Waltham, Illinois, and Hamilton.  Once more, even if a watch you've considered selling is broken, it can still have value so don't throw it away! We would be happy to assess its value so you can get the most money out of your watch you no longer wear or a watch you've inherited.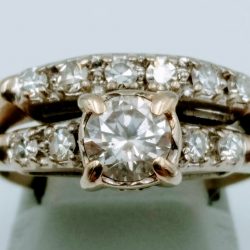 #4 Wedding Rings
With so many attributes to consider when pricing a wedding ring to sell at a garage sale or an estate sale, it's easy to see why wedding rings are often undervalued. At Napier Gold, when we assess the value of your ring, we consider several attributes.  As many people know, the value of a ring increases exponentially in proportion with the size of the diamond.  Another factor that can increase or decrease your ring's value is the clarity of the stone.  For instance if it's clarity is perfectly clear, your ring will be more valuable than a ring with a diamond that has  carbon spots or feather marks, which detract from the value.  Also, we consider the shape of the diamond.  Currently, the most desirable diamonds are round cuts so those are worth more than other styles.  Last but not least, when valuing wedding bands, some of them can be quite heavy and really add up.  With all of these factors considered, it never hurts to get an accurate assessment of your wedding ring from an expert before putting it up for sale!

#5 Sterling Silverware and Houseware
There have been countless times we've been to a garage sale or an estate sale and have seen sterling silverware and houseware priced well below their value.  Sterling silverware and houseware often hold more value than lighter sterling jewelry items because of the simple fact that they weigh more.  So if you have old sterling silverware, tea sets, platters, candlestick holders, serving bowls, salt and pepper shakers, brushes, combs, pitchers, or even ashtrays made of sterling silver, it's definitely worth your time to get them valued by a professional so you don't risk selling them for much less than they're worth.  If you do want to sell sterling items at Napier Gold, there's no need to clean and polish them before bringing them in for us to assess the value.  Even if the item is tarnished, it can be worth just as much as if it was pristine condition.

#6 Gold and Silver Coins
If you've recently inherited gold and silver coins and have no idea what they're worth, we commonly have customers come in with entire coin collections they would like assessed.  So before putting them for sale at an estate sale, we're happy to look through them to let you know what each coin is truly worth.  At Napier Gold, we buy everything from pennies to silver dollars.  We also buy gold and silver bullion that may have been purchased as an investment.  Dimes, quarters, and half dollars from 1964 and before are especially valuable right now since they have silver content.  Many times, we'll hear a customer was thinking of taking their coin collection to the bank, which is a big mistake because your coins could be worth several times their face value!  Some coins are worth well over $1,000 so let us help you value your coin collection so you can be certain you're getting the most money back possible.
#7 Turquoise Jewelry
Currently turquoise jewelry isn't as trendy as it used to be, which is why it's not unusual to see it at garage sales and estate sales.  While turquoise jewelry isn't as fashionable as it was in the 70's and 80's, it still can have immense value.  Most older turquoise jewelry is comprised of sterling silver.  However, many people don't realize this because it's often not marked as sterling silver, as many items were hand-made.  At Napier Gold, we pay more for turquoise jewelry than your average sterling silver item because these items are unique pieces of art, with distinctive one-of-a-kind details.  We've been buying turquoise jewelry for decades, and have seen thousands of turquoise valuables over years that we're honored to assess and purchase from our customers.
A note before you go…..
With so much time that goes into hosting a garage sale or an estate, it's completely justified to want to make as much money as you can.  So if you have any uncertainty about the value of an item comprised of gold, silver, or platinum, it only takes a few minutes to stop by one of our locations to set your mind at ease.  At Napier Gold, we've assessed thousands upon thousands of gold, silver, and platinum items, and our customers consistently tell us that we pay top dollar in the area.  Even if you have questions about items that we haven't included on this list, bring them to Napier Gold in Benton Harbor or St. Joseph, and we will give you a free assessment and let you know what they are and how much they're worth within minutes.
Locations:
Napier Gold – Benton Harbor
1261 E. Napier Ave.
Benton Harbor, MI 49022
(269) 927-4012
Napier Gold – St. Joseph
2415 Niles Ave.
St. Joseph, MI 49085
(269) 983-2500
---

---