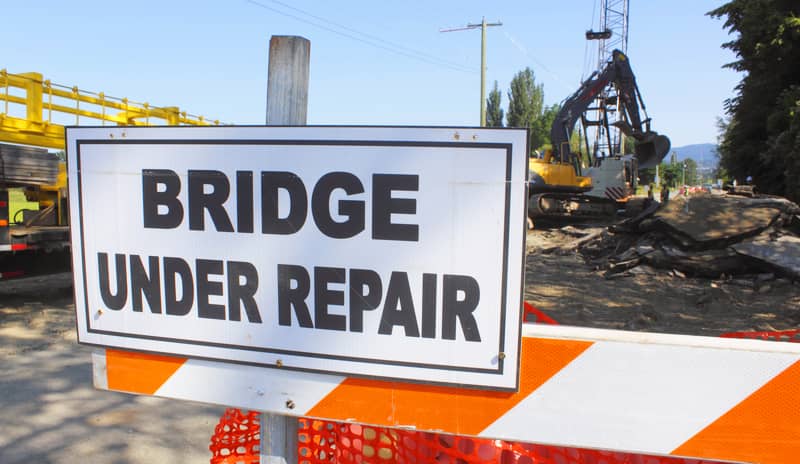 Calling it a unique opportunity to largely address looming local bridge problems across the state, the County Road Association of Michigan has gone on record urging the Michigan Legislature, and Governor Whitmer to utilize an historic opportunity to shore up local bridge funding.
As the state's FY 2022 budget and FY 2021 supplemental bills move into the home stretch, the County Road Association is calling for approval of the proposed total $526 million one-time local bridge funding as an historic step to address Michigan's $900 million local bridge problem.
CRA Executive Director Denise Donohue says, "Between the Governor-proposed, House-approved fiscal 2021 supplemental that would allocate $300 million in surplus General Funds to the Local Bridge Bundling Program and the House version of the fiscal 2022 transportation budget that includes another $226 million in General Funds for bridge and road bundling, Michigan has a unique opportunity to largely address our looming local bridge problem."
Donohue goes on to suggest, "If these two chamber-approved bills come out of the Legislature with $526 million for local bridges, Michigan will wisely invest its one-time surplus funds in a 'giant step' to resolve a one-time-catch-up problem where we didn't previously see a solution," and adds, "Michigan still needs the Phase 2 of $1.2 billion road funding discussed in 2015, but that wouldn't make much of a dent in the separate $900 million local bridge problem."
Michigan's 83 county road agencies and municipalities are responsible for almost 60-percent of Michigan's 11,100 bridges, of which 13-percent are structurally obsolete. Moreover, the state's Local Bridge Program – a mix of state and federal funds – had $50 million available in FY 2020 for local bridges in critical, serious or weight-restricted condition vs. $325 million in applications (limited to three per entity). Donohue contends that Michigan is losing ground in restoring its bridges, with 57 local bridges closed outright in 2019-2020.
Ed Noyola, County Road Association Deputy Director and Legislative Liaison, says, "Michigan has contributed ½-cent toward local bridges since 2003, and the revenue generated by that half-cent has decreased since then due to lower fuel consumption," while adding, "A new bridge will last on average 50 years, making them an excellent investment of one-time funds as identified in these budget and supplemental bills."
Donohue points out that, "Just last month, a major steel beam fracture was discovered on an I-40 bridge near Memphis, Tennessee, halting traffic indefinitely. Thankfully, a catastrophe was avoided," but warns, "There is no question that the bridge is the most expensive and perhaps most critical portion of a local roadway. Michigan should take this unique budget step to move the needle on bridge conditions here, so we don't experience the next 'Memphis crack' in our backyard."
Michigan county road agencies working with MDOT have already adopted the bridge bundling concept – which was pioneered on state bridges in Missouri – in a 19-bridge pilot project with $23 million of Highway Infrastructure Program funds. It should be noted that Michigan is the first to use the bundling concept on local bridges to achieve construction efficiencies. The first batch of this pilot local bridge bundle will be built this year and the balance in 2022.
The 83 members of the County Road Association of Michigan represent the unified voice for a safe and efficient county transportation infrastructure system in Michigan, including appropriate stewardship of the public's right-of-way in rural and urban Michigan. Collectively, Michigan's county road agencies manage 75-percent of all roads in the state, including 90,000 miles of roads and 5,700 bridges. County road agencies also maintain the state's highway system in 63 counties. Michigan has the nation's fourth-largest local road system and ranks 9th nationally for the highest percentage of bridges in poor condition.