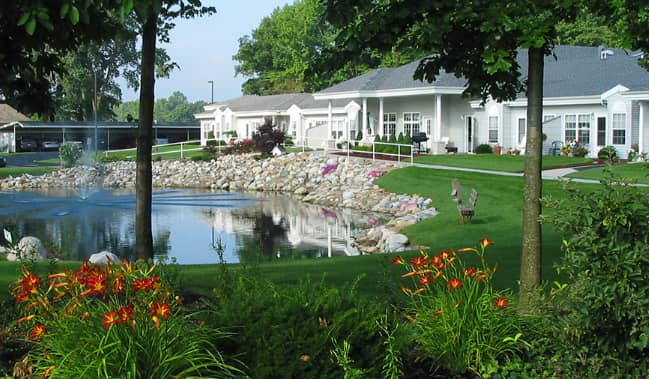 There isn't a person alive who hasn't found 2020 to be a remarkably different and often times challenging year. With the pandemic especially difficult on families, imagine the challenges that the senior living industry has experienced. Industry leaders will tell you of an entirely unique set of obstacles for residents, families and staff alike.
Dockerty Health Care System here in Michigan's Great Southwest is a prime example. They've had to juggle visitor restrictions, suspension of group activities and communal dining, new screening practices and more, all while working to say abreast of the ever-changing mandates dictated by Executive Orders and beyond.
The Dockerty system is a family-owned company, founded in Bridgman, and comprised of eight assisted living communities in Michigan, which include:
Woodland Terrace in Niles, Coloma and Bridgman
Beacon Pointe Memory Care in Portage
Traverse Manor in Traverse City
Beacon Pointe Assisted Living opening in Richland this fall
Heritage Assisted Living and Reflections Memory Care in Battle Creek
The Dockerty family, right from the beginning of the COVID-19 pandemic, has been on top of the situation wherein staff has been administering daily resident screenings, which include temperature checks, asking about typical COVID signs and symptoms, in addition to, overall conversations with residents to note any changes in habits and behaviors. Each community continues to screen each employee and all medical personnel entering the building every day.
The Dockerty family will be the first to tell you that they are fortunate to have incredible employees at each of their eight communities. Their days are spent ensuring the social and spiritual needs of each individual are met or exceeded. Residents who are physically able are encouraged to get out of their apartments and walk, whether it be throughout one of the buildings or outside as weather permits. The Life Enrichment departments have been providing one-on-one activities specific to what each resident enjoys, which have included daily devotions, setting up puzzle tables in apartments and hallways, crafts, bingo, theme days, such as, Grandparents Day, National Back to School Picture Day, and more.
Client families have always been reassured that the focus is on the mental well-being of each resident and that is something that has not been overlooked during the COVID pandemic – even with complicated restrictions involved.
For those wondering about placement of an elder parent or family member in the Dockerty Health Care System, officials point to another tremendous benefit for residents in an assisted living environment during the pandemic, in the form of many of the services which individuals traditionally have traveled for are now being brought to residents right in the building. Medications are being delivered and staff continue to facilitate communication with outside medical providers to set up telehealth options for residents who aren't able, or simply don't feel comfortable going out to a doctor's office. Additional medical services, such as, physical therapy, skilled nursing and hospice continue to happen in the community to ensure no resident falls behind on necessary medical treatments.
Naturally, another key in assisted living is the food, and the changes that have been made due to the pandemic. Three balanced and nutritional meals (and a snack) are provided daily to each individual right in his or her private apartment. While both residents and staff all say that they are anxious to once again enjoy communal dining – the focus will continue to be on safety and following the recommendations from the State of Michigan health experts until everyone can once again resume 'normal' life.
As fall and winter quickly approach, the team at Dockerty Health Care System welcome, and even encourage, anyone who is curious about an assisted living option to call one of the campuses today. The Dockerty staff can talk you through what moving in looks like – how the building's are operating currently, and what visitation options would be available for family and friends, as the pandemic wears on.
You can learn more online at this link: http://woodlandterrace.com/