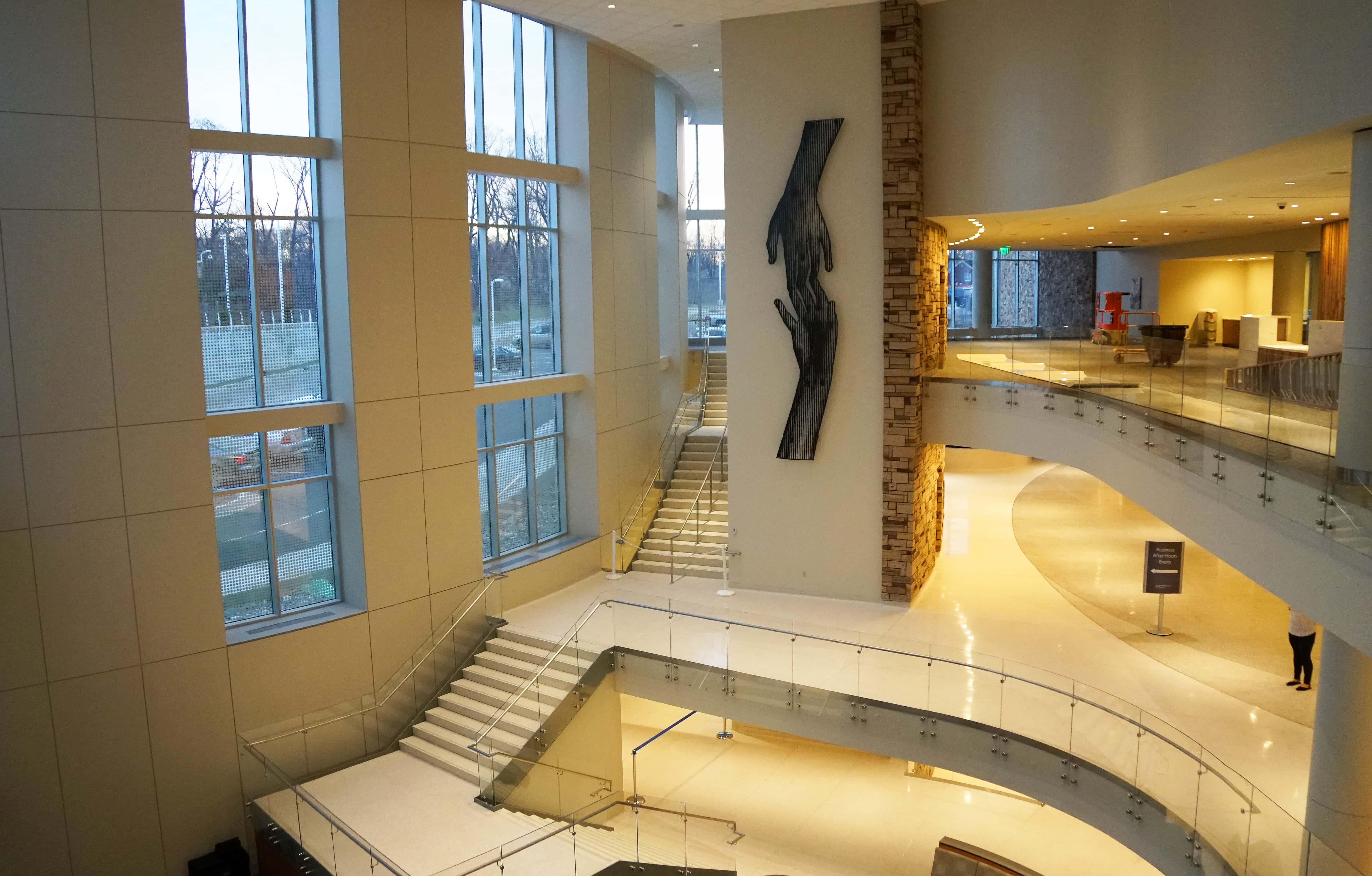 If, as they say, "membership has its privileges," then membership in the Southwest Michigan Regional Chamber of Commerce paid a handsome dividend to those members who wanted to be among the very first in the community to get a peek behind the curtain at the amazing new Spectrum Health Lakeland Pavilion coming online at the hospital in St. Joseph this evening.
Beyond the myriad construction workers and vendors hard at it over the last three years, staff members with need for access to the new spaces, and a collection of donors and supporters of the hospital's annual Gala last month, Chamber Members tonight are among the first to see the wide-open architecture with the bonus of being present for the dedication of a stellar new sculpture donated to the Pavilion by Mike & Lynn Todman called "Connection." More on that in a moment.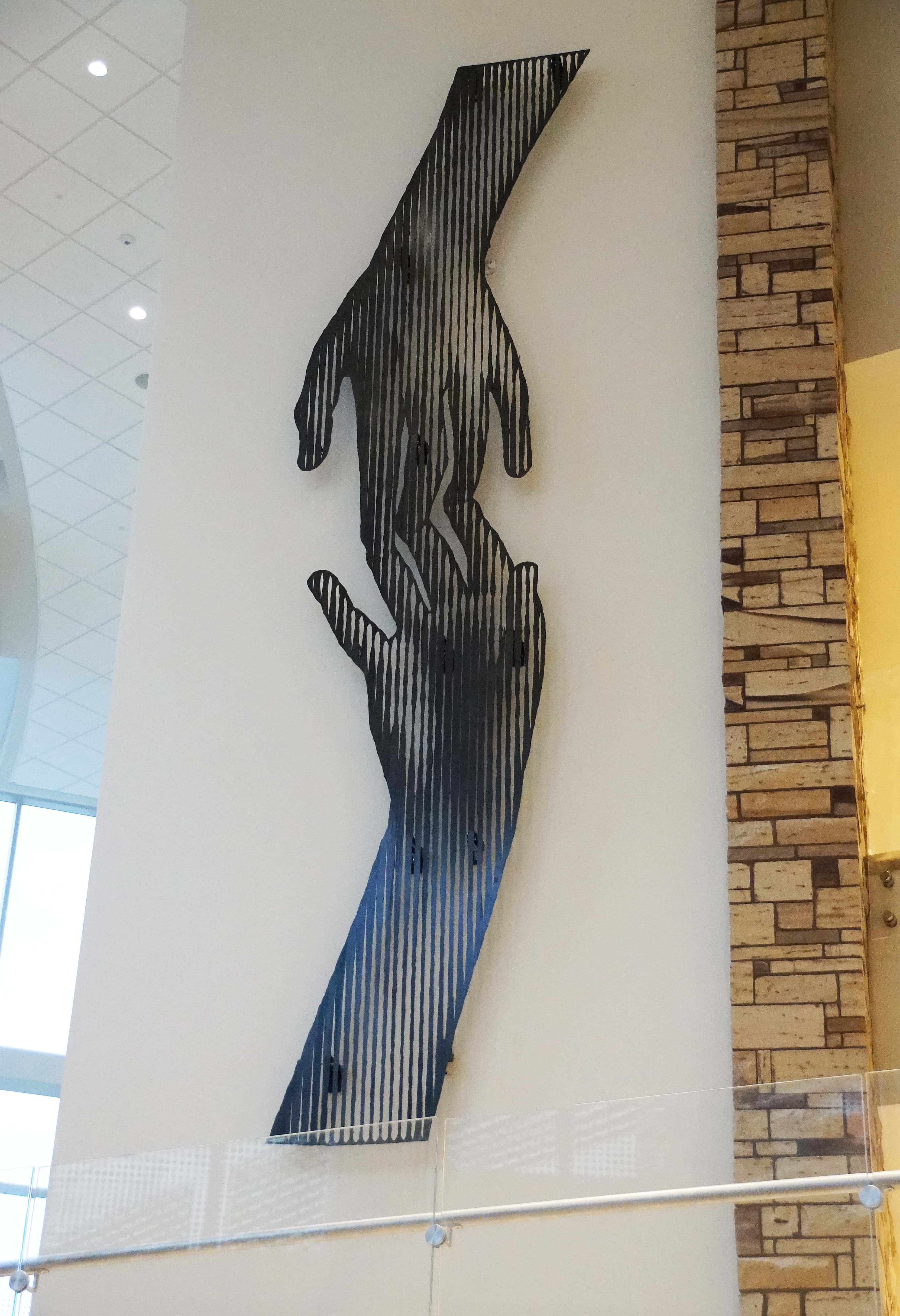 Dr. Lowell Hamel, who alluded to the striking resemblance between he and his brother, the hospital's CEO Dr. Loren Hamel, welcomed tonight's Business After Hours crowd and provided a thumbnail sketch of what has transpired. Sitting in for Loren, Lowell opened his comments saying, "This is our new house and I want to tell you just a little bit about it." He notes, "We started construction in 2016 in October – a little over three years ago – but the planning started well before that, and I would like to give a shout out to our very forward-thinking board, who over the years have saved the money for this project…to our foundation who raised money for this project…and to all of those who contributed to the scope of this project."
Standing in the expansive new Upton Center, which replaces a smaller unit by the same name elsewhere in the building, Hamel said, "This is where we create new ways of delivering health care…where we teach and learn…and it can be divided up in all kinds of different configurations, and is a pretty smart room. When you move the walls, all of the audio-visual system knows what you did and the projectors and screens change in accordance with that movement." The result he says, is that it takes a lot less hands-on moving of gear by the staff.
Dr. Hamel, who anchors his practice at University Medical Specialties in Berrien Springs, also offers up what he called, "Very special recognition to those who made magnificent donations to the project" Those cited include:
Merlin & Carolyn Hanson
The Hanson Family Foundation
Spectrum Health Lakeland Auxiliary
Whirlpool Corporation
American Electric Power Company Foundation
Spectrum Health Lakeland Foundation
Lou Gast
The Frederick S. Upton Foundation
Hamel noted that there is also a theater room in the new Pavilion, with two circles that can accommodate up to 40 people who all face each other in the round for other kinds of meetings, and adds, "We've been very pleased with a sort of 'hierarchy-free' table that senior leadership uses upstairs that seats about 20, and there's another down here that has two rows of seats to accommodate 40."
He then introduced a 3-minute video of his brother, Dr. Loren Hamel, racing through the infrastructure necessary to operate the new Pavilion. Here is what Hamel had to say in that video which chased through multi-levels of the building:
"To build a big building you need reliable power. I&M helped construct our new switch-yard, which went from 12,000 kilovolts to 69,000 kilovolts and comes in from two directions. We are so grateful for clean, reliable power. But, what happens if that power goes out? Let's go look."
"Just in case the power goes out, we have three massive generators, generating about 1.25 kilovolts of electricity and 1,675 horsepower each. We have a tank out back with 30,000 gallons of diesel fuel. That's about as big as a swimming pool, and these three beasts can suck that dry in just three days. So we make sure the lights always stay on. Let's go to the next spot."
"These are the chillers. We have four chillers in this room, two of which keep the whole place cool, one actually makes ice cubes, and the other one makes warm water. You ask me how a chiller makes warm water, they didn't teach me that in medical school. Let's go to the coldest place in the hospital."
"So this is the coldest place in the hospital right here. You see these great big tanks? These hold about 6 tons of ice. We use the chillers upstairs to make ice down here when the power is cheap at night, and then use these ice cubes to cool the facility during the day when power is more expensive. There are 24 of these tanks in the basement of the hospital. Let's go to the next stop."
"To the boiler room, which was built in 1975, and was big enough then and is big enough now. We have one boiler that is always fired up and working, we have another boiler that is always hot and waiting, we have a third boiler that is always off, and cool. That gives us the redundancy to make sure we never run out of heat. We ran a single high pressure steam header to the new pavilion. That's all it takes to heat another quarter million square feet. This is how that steam gets to the new pavilion, from the boilers, down the steam tunnel, to the rest of the facility."
"So we have a massive air handler for the pavilion so the boiler brings in hot water, the chillers send in cold water and they go to one of these giant, two-story air handlers. We have five like that. One of them is a very special one that serves the surgery center. It will send ultra pure hot air to the operating room and change the air every two to three minutes 24 hours a day, and seven days a week. We can add moisture to the air on one side, or if necessary, can dry the air out on the other, if that's what we need."
Back at the Upton Center, Lowell told the audience, "The clinical space includes some magnificent operating rooms, and we don't just do that for our staff, they are designed for lower infection rates, to improve access to patients, to move robots into all the rooms where we need them, for the best possible care for our community."
He also says, "We have tried diligently in this construction to include a healing environment not only in the rooms, not only in the O.R., but in the space and the connections. Instead of trying to have confusion and difficulty with way-finding, we tried to create spaces that are just as much healing as the O.R. or one of the medical beds."
Everyone then stepped into the atrium of the Pavilion where Dr. Lynn Todman shared the story of the sculpture they commissioned to the artist Casto Solano. She told everyone tonight the story of The Healing Power of Social Connection, saying, "We chose to name this sculpture 'Connection' because it speaks to the healing power of human connection and reinforces the important of relationships in our collective well-being. This new artwork reminds us of the need we all have to belong and to be included. It reminds us of the importance of community as we pursue the mission of Spectrum Health Lakeland – to improve health, inspire hope and save lives. We hope that this artwork will convey a deep sense of comfort, hope and belonging to all who view it." She and her husband Mike were applauded for their donation.
Artist Casto Solano provided a statement about his work as well, saying, "'Connection' depicts two hands meeting, their fingertips touching. The slight curve of each arm draws the distinctive helix structure of a strand of DNA. As one curves clockwise and the other counterclockwise, they represent two genetic codes meeting and the coming together of all human beings. And in their meeting, they also represent the healing touch of those who work in health care and those who reach out to seek treatment. For each and every person, 'Connection' brings us together. It is written in our DNA."
Tonight's Business After Hours event was still just a sneak peek at the Pavilion, where ongoing construction and finishing touches continue. One hospital official suggested tonight that it won't actually be officially opened and running until late winter or early spring.