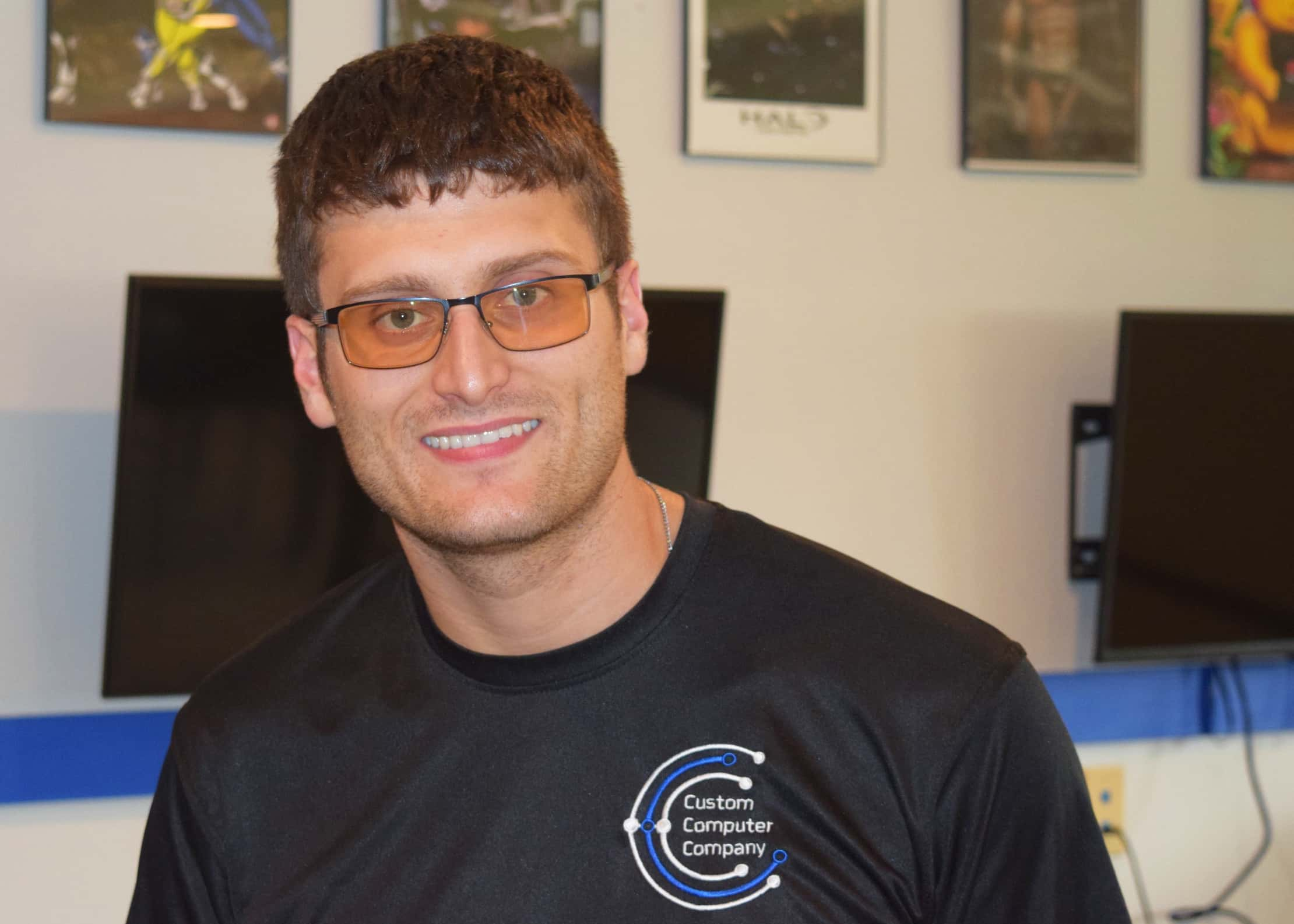 The following special feature for Moody on the Market was provided by John Eby, Senior Writer and Coordinator of Media Relations for Southwestern Michigan College, who also provided the photo accompanying this story. 
Michael Reed could have used a few Stamina Sticks his Custom Computer Co. (CCC) markets to keep his entrepreneurial spirit afloat during a watery three-month ordeal. The 5,000-square-foot building he opened January 9, 2017, fell victim to Niles' historic February flooding. Ten thousand jerky sticks in flavors such as alligator, boar, elk, venison and duck developed with Zick's Specialty Meats in Berrien Springs to market to gamers became unsellable overnight.
Gamers are a logical audience for Stamina Sticks because packaging can be peeled back so players' fingers stay clean.
CCC reopened June 4. What didn't kill it made it stronger. Even resident bearded dragon Charizard (named for a Pokemon species) survived after almost freezing in his tank from surging frigid water. In the spirit of making lemonade from lemons, recovering from the flood enhanced CCC's community component, a free public space for video gaming and movie watching, to include a July 12 hog roast in tandem with Four Flags Area Chamber of Commerce's re-opening ribbon-cutting.
As for why a business that installs video surveillance systems, designs web sites and wireless/LAN networks and repairs computers contains a community component, Reed, 27, explains, "I grew up with Wired downtown. It was just consoles — Xboxes and PlayStations. You paid five bucks an hour to play video games. Wired was awesome, but they had to charge because that was all they did. I didn't want that. I always said I was going to have a gaming center like what I grew up with. I don't charge for this because it's not what I do or what I want to get paid for. I don't need 5,000 square feet to do IT work because we mostly do commercial work on-site, but we had to have someone here to answer the phone and for residential computer repair walk-ins."
Reed's 10-year dream predates his 2009 Niles High School graduation. He attended Southwestern Michigan College in 2010-11 for a small business management/entrepreneurship certificate like the one which will be available in a FlexForward format at the Niles Campus this fall. The certificate helps students gain business acumen and essential skills like how to manage people, set and stay on budget and develop a marketing plan to effectively run a small business or move up in the workplace. The new FlexForward version of the program consists of evening and online-hybrid classes that meet just once a week for eight weeks.
After high school Reed managed his grandfather's two Niles Dairy Queens and Basic Communications, a former cell phone business, where he had worked since 10th grade.
"I started (CCC) in my basement," Reed said. "When I needed to get a computer, we'd meet at one of the Dairy Queens, I'd take it home, fix it and return it." He built his first computer in middle school.
Flooding delayed for a year Reed's spring plan to expand to a storefront he bought in Buchanan last November. He's exploring a third location for Edwardsburg/Granger. His small team includes Brandon Bielski, Mason Ehas, Shane Doyle and Bill Mammoser, with a sales position under consideration.
"We did not shut down even though the storefront closed," said Reed, who found himself back in his basement. "Literally the day after the flood, I had a 9 am job over on Niles-Buchanan Road. He was like, 'What are you doing here? Your building just flooded.' My truck didn't flood. It would have been the worst time to stop working because I needed to keep making money.
"We had insurance on the building but the new look is out of pocket because our inventory, computer lab and video games were gone," Reed said. "We filled three dumpsters eight feet high by 16 feet long. Once all the damage got thrown away and it was an empty building, I realized I could design it the way I wanted, like countertops and cabinets and a gaming chair for each set-up. This was my vision from the beginning, but I started with no money, cheap fold-up tables and futons to sit on."
Now CCC's Second Street home, which accommodates 56, resembles a cyber café. Sixty-eight feet of new countertops with high stools line windows facing Front Street Pizza Pub and the St. Joseph River beyond. One wall displays autographed Comic-Con artwork. The opposite wall serves as a sponsorship wall that will display the logos of business that sponsor the computer lab.
Niles art students painted video-game icons such as Mario and Zelda across his side-lot fence. Honor Credit Union donated computers. Abonmarche contributed servers. A GoFundMe crowdfunding platform chipped in $4,500.
Reed doesn't expect to experience such extensive flooding the rest of his life, but as a precaution he sloped the new parking lot away from the building toward the road, installed eight-foot catch basins and elevated electrical sockets to the interior four-foot blue stripe reminding where flood water crested before receding for almost two weeks.
Southwestern Michigan College is a public, residential and commuter community college founded in 1964. The college delivers above-average graduation/transfer rates compared to other community colleges nationally and student college-level course success that is consistently in the top 25 percent of two-year colleges nationally. SMC strives to be the college of first choice, to provide the programs and services that meet the needs of students and to serve our community. The college is accredited by The Higher Learning Commission of the North Central Association of Colleges and Schools and is a member of the American Association of Community Colleges.
Learn more at www.swmich.edu or email mediarelations@swmich.edu.