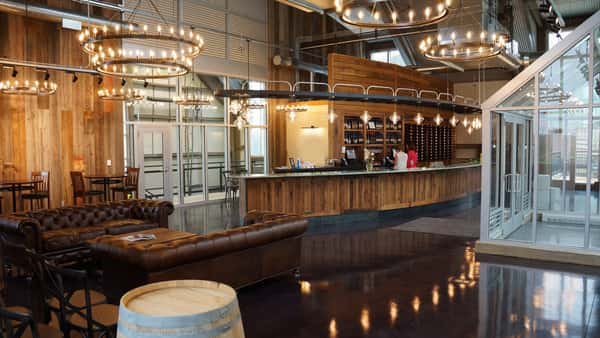 When the winery originally known as Moraine Vineyards re-branded to the new name of Dablon Winery & Vineyards two years ago, they burst onto the scene as one of the new gold standards for tasting rooms along the Lake Michigan Shore Wine Trail with a remarkable new presence in the heart of wine country and now they're gearing up for their second year anniversary in business.
Dablon Winery & Vineyards, located at 111 W. Shawnee Road in Baroda, officially opened their world-class tasting room on May 8th of 2015 and they haven't looked back once. Hosting all sorts of events in and around their elegant tasting room and hilltop vineyards, the Dablon team keeps staff and visitors alike very busy with something going on year round.
The winery and showcase tasting room is the culmination of hard work and dedication dating back to 2008 when the idea was first conceived as Moraine Vineyards. Chardonnay and Pinot Noir grapes were first planted in 2009 and Dablon winemakers crafted their first commercial batch of wine three years later in 2012.
Currently, Dablon boasts more than 30 acres of estate grown grapes and offers several unique varietals not commonly found on the Michigan scene.
The winery pays tribute to Claude Dablon, a French explorer and Jesuit priest, who was one of the first Europeans to arrive in Michigan when it was still a part of New France in the 1600's. History describes Father Dablon making wine from grapes he found in the New World, and the Dablon crew has a goal to marry European varietals with the unique terroir of Southwest Michigan to create extraordinary wine.
Dablon wines are all estate grown, produced and bottled, and they also produce and bottle Music Box wine, named after the winery's sister company in Chicago, which owns and operates one of the world's most beautiful cinemas and distributes some of the world's best films.
In 2011, the winery acquired an additional 13 acres of beautiful, rolling hills and opened their fabulous tasting room overlooking the vineyards and new production facility last year.
Dablon has received widespread recognition throughout southwest Michigan, as a place where world class wines can be made, enjoyed, and purchased.
Bill Schopf, owner of Dablon says, "I am so proud of the Dablon team; the vineyard workers who grow exceptional grapes under the guidance of our winemakers who turn them into fine wine, our tasting room staff who provide a sophisticated, adult atmosphere for our guests, and our sales and management team who are all an indispensable part of what makes Dablon so special."
The space is a great place to enjoy wines, a conversation with friends, and purchase wines for your personal cellar. Together, the Dablon team and their customers are taking important steps in changing and elevating the reputation of southwest Michigan wines and wineries.
You'll find Dablon Vineyards at 111 W Shawnee Road in Baroda. Happy Anniversary to my friend Amy Hemphill and the entire Dablon team as they gear up to celebrate.