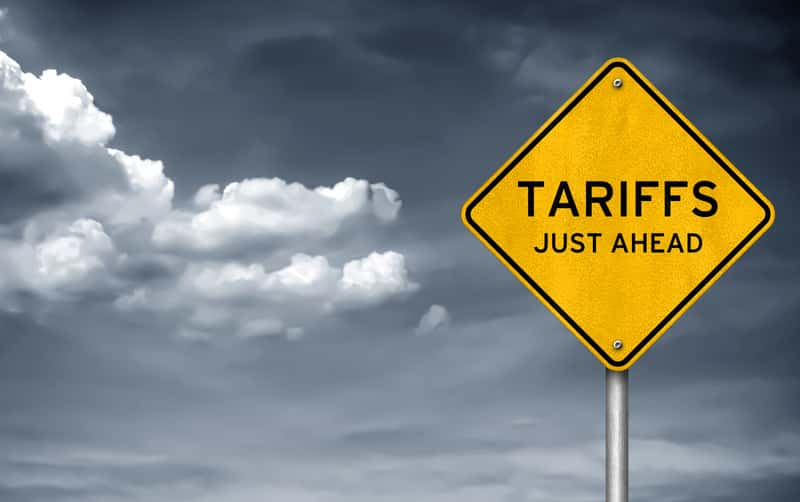 Many had cautioned that if anything would derail the smoothly running state of the economy it could be the trade war developing over tariffs and now Professor Brian Long at Grand Valley State University says that scenario is playing out...and tariffs are beginning to hurt the West Michigan Industrial Economy which had been sailing merrily along.
Dr. Long, who is the Director of Supply Management Research at Grand Valley State University in Grand Rapids is out with his latest business survey through the end of July, and he says it right up front: "The tariffs are starting to hurt."
Professor Long reminds us that tariffs had been threatened for months, but, "Now that they are actually being imposed, the West Michigan economy is beginning to feel the pinch." Long's July reports shows that, "After 18 months of solid growth, the New Orders Index, our closely-watched index of business improvement, has turned modestly negative at -3." That is a substantial nosedive from June's reading of +33, a huge downward swing.
Long's Production Index fared a little better, but also dropped significantly to a +23 reading from the robust +39 reported just last month. Meanwhile, activity in the purchasing offices, the Purchasing Index, dropped to +13 from +27. Long notes, "A plethora of comments from our survey participants deal with the uncertainty brought on by the tariffs, and cite rising prices and shortages for some of their 'big ticket' commodities."
Long tells us that although most firms still believe that the economy remains strong, "the actual tariff language is adding another layer of confusion." Hence, some suppliers are using the tariffs as an unjustified excuse for raising prices.
When the Professor turns his attention to individual industries in West Michigan he says, "Although our last report was quite strong, growth has slowed in almost every sector of the West Michigan economy. Business planners hate uncertainty, and many firms appear to be putting expansion plans on hold until they can see a clearer picture of where the trade war is taking us and exactly how much it will cost. With auto sales continuing to soften, this is especially true for our local auto parts suppliers."
Regarding capital equipment companies in the region, Dr. Long says they are still benefiting from the recently-passed tax advantages for new capital investments, "but rising costs are a major concern." He adds, "Many of our industrial distributors reported flat business conditions for July, some of which may be seasonal."
Despite the tariff concerns, Long's survey results show that long-term and short-term indexes of business confidence are still holding fairly steady.  He says so far, businesses are taking a wait-and-see attitude on the trade wars. The West Michigan index for the Short Term Business Index for June, which asks local firms about the perception for the next three to six months, returned to the April level of +33, down from +41. But the Long Term Business Outlook, which queries the perception for the next three five years, actually upticked
modestly to +33 from +31.
As he scans the horizon, Long notes higher interest rates and stricter lending requirements have slowed the auto industry. Industry-wide sales dropped 3.7-percent in July. However, there is no sign that the industry is about to tank.
However, the Professor warns, "A full-blown trade war could easily mark the end of the current expansion."
On a brighter note, Long says across the state, the June workforce grew by 38,000 workers compared to June 2017.
As is his custom, Dr. Long shares a number of verbatim anecdotal comments from various respondents to his survey. Here are some of those comments:
"We are in a typical downturn for this time of year, and are now waiting for an increase in new orders."
"Section 232 and 301 tariffs are creating substantial increased cost to the supply chain. How long can we continue to pass these costs on to customers? The complexity and uncertainty of these tariffs will continue to hurt many, especially mid-sized and smaller American manufacturing companies."
"Tariff concerns are causing anxiety among customers and suppliers. We are currently developing plans for the possible new tariffs in September."
"We are seeing a softening in the China auto market. Also, the tariff implementation has begun, and it has been an administrative nightmare!"
"It has been a struggle to get price increases passed along to customers."
"It's been a great summer so far..."
"Business is holding steady. We have many new projects we are working on that will result in new business next year. All suppliers are busy, and lead times are being stretched out. We are aggressively seeking alternate suppliers for components that we were purchasing from China."
"In late July we will start to see price increase coming from supply base from new tariffs."
"Section 232 tariffs are definitely having an impact; not a positive one for us."
"We are still very busy, and we currently have a significant backlog."
"Things just keep rolling with no signs of a downturn."
"Tariffs are hitting both directly on our imports, and indirectly in the prices of domestically sourced items."
"June was the weakest month of the quarter, but was still a good month. We had a very strong second quarter. The new tariffs on electric motors are going to be a problem. Most of the manufacturers we represent, have much of their product built in China. This is going to be a BIG problem. In addition, ALL the manufacturers we represent build motors from imported steel. I can see the manufacturers hitting us with the third price increase in a year."
"Business is a little slower than normal this month. We are busy, but not 'crazy busy' like we normally are this time of year."
"Tariffs are raising our costs. This means we will increase prices to our customers."
"Tariffs on electronic components are greatly impacting us."
"Office furniture is booming. We are the busiest we have ever been."
To read the full report from Long's office of Supply Chain Management Research, click the link below: