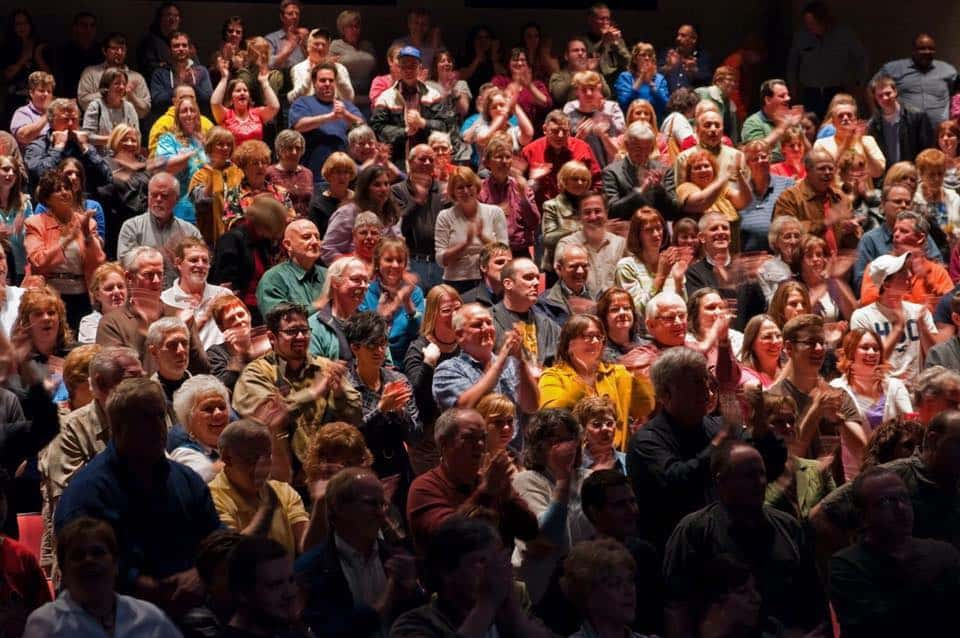 Theatre lovers who recognize the name Mason Street Warehouse know that there isn't a bad seat in the house, and with an intimate setting like the Mason Street venue offers, everybody feels like their virtually in the front row. Most notably, however, is the chance to see professional equity actors on stage in top notch shows for remarkable more affordable pricing and less traffic hassles than heading to larger cities for your shows. Whether you're a regular, or want to be a first timer, the Mason Street Warehouse has a dazzling line-up for their upcoming 15th Anniversary season at the Saugatuck Center for the Arts this summer.
The lakeshore's only professional Equity theatre, the Mason Street Warehouse is producing the Michigan premiere of Memphis The Musical; the hilarious comedy Fully Committed; and the fresh, modern musical comedy It Shoulda Been You, this season.
Mason Street Warehouse (MSW) performances are at the Saugatuck Center for the Arts, located at 400 Culver Street in Saugatuck. Season and individual tickets go on sale to the public on March 8 at sc4a.org or by phone at 269-857-2399. SCA Membe​​​​​​rs have pre-sale access for tickets  on March 6 & 7.
MSW Founder and Artistic Director Kurt Stamm held auditions in New York City, Chicago, and various Michigan locations – drawing more than 3,400 submissions in the Big Apple alone this year.  Stamm says the strength of Mason Street's brand means he's bringing outstanding professional talent back to West Michigan this summer.
Regarding the auditions, Stamm tells us, "Memphis is a huge song and dance show and we'll be putting up the Michigan premiere. We had truly phenomenal talent audition for the production as well as for Fully Committed and It Shoulda Been You."
Memphis: The Musical is the largest production Mason Street has produced in its 15-year history and was a very deliberate choice according to Stamm, who says, "We had a tremendously strong season last summer and this year we're celebrating our 15th anniversary. We're pulling out all the stops and giving the community a seriously dazzling lineup!"
Stamm noted that this summer's shows will feature professional actors making their Mason Street debuts as well as MSW "alumni".  He notes, "We're still nailing down our contracts, but I'm very excited about the possibility of welcoming back several fabulous actors who have been on the Mason Street stage before. It's always wonderful to bring these professionals back to West Michigan."
Individual and season tickets are now on sale, and season tickets to see all three shows can be purchased at a great discount. Mason Street also offers senior, student, and group discounts. Call the box office for more information: 269-857-2399.
Here's the line-up:
Memphis The Musical (June 23 – July 9)
The Associated Press trumpets, "This exhilarating new musical is the very essence of what a Broadway musical should be."
Tony Award-winning Memphis: The Musical bursts off the stage with explosive dancing, irresistible songs, and a thrilling tale of fame and forbidden love. Inspired by actual events, Memphis is set in the places where rock and roll was born… underground nightclubs, radio stations, and recording studios of the 1950's. Romance sparks between a white radio DJ who wants to change the world, and a black club singer who is ready for her big break. Memphis is filled with roof-raising rock 'n' roll and a love story that will thrill you and break your heart! If you liked Million Dollar Quartet, you'll love Memphis' story about how it all began!
Fully Committed (July 21 – August 6)
The New York Times calls Fully Committed, "Immensely entertaining! A richly comic affirmation of everything you've ever heard, or suspected, about the bad behavior that good food can inspire."
You think you're having a bad day? Meet Sam. He works the red‐hot reservation line at one of New York's trendiest restaurants, where the best food inspires the worst behavior. Coercion, petty threats, bribes, histrionics—a cast of desperate callers will stop at nothing to land a prime reservation or the right table. Amid the barrage, Sam has his own problems to deal with. While juggling scheming socialites, name‐dropping wannabes, fickle celebrities and egomaniacal bosses, can he still manage to look out for himself? Fully Committed serves up a delicious helping of juicy schemes and hilarious characters that will have you laughing out loud.
It Shoulda Been You (August 18 – September 3)
USA Today says, "This new musical is Broadway season's freshest and funniest to date, defies skepticism, both in its wacky humor and its big, buoyant heart!"
It Shoulda Been You invites you to a wedding day you'll never forget, where anything that can go wrong does, and love pops up in mysterious places.  The bride is Jewish. The groom is Catholic. Her mother is a force of nature; his mother is a tempest in a cocktail shaker. And when the bride's ex-boyfriend shows up, the perfect wedding starts to unravel faster than you can whistle "Here Comes the Bride." Plots are hatched, pacts are made, secrets exposed – and the sister of the bride is left to turn a tangled mess into happily ever after. Get ready to make a toast to the funniest wedding you've ever attended.
The Saugatuck Center for the Arts is a non-profit organization dedicated to creating a more vibrant lakeshore community in West Michigan and beyond. For more information about the SCA and upcoming events, visit www.sc4a.org or call 269-857-2399.