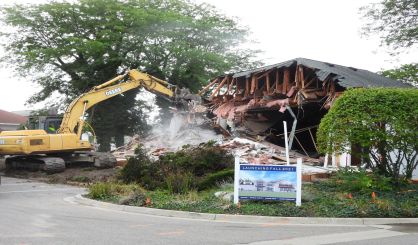 With the recent acquisition of adjoining property, the Michigan Maritime Museum is seizing a once-in-a-generation opportunity to double the size of its campus and expand programming. The $8 million Launching a Legacy Campaign is now underway.
Demolition of the old Michigan Maritime Museum building has started to make room for the construction of a new museum on its campus. The building was the information center at the Palisades nuclear power plant during its early years. With the advent of increased security at nuclear plants, the site was no longer accessible by the public. The building was donated for the evolving Michigan Maritime Museum and moved from its Covert Township location to its South Haven location. A challenge was getting it across the Dyckman Avenue bridge to its north side location so the building was cut into pieces and then reassembled.
You can find out more about the Michigan Maritime Museum's plans right here.