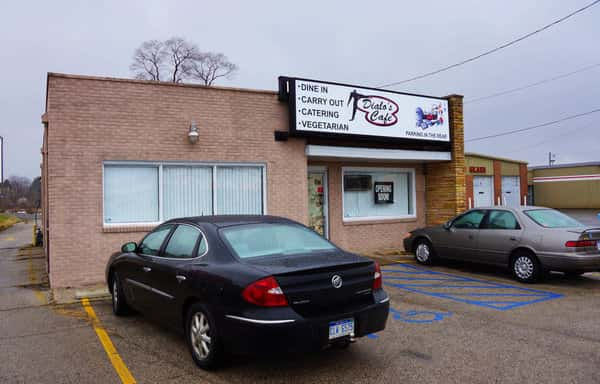 To soul food aficionados across the region, the name Harper strikes an instant chord of recognition, triggering mouth watering visions of some of the best in the business, and now those visions are about to become reality once again in Michigan's Great Southwest.
LaShun Harper has been stoking the fire for years in one form another, just as he and Kenny Harper did with the original Bud City BBQ wagon and eventually LaShun's own enterprise, Dialo's Cafe on Wall Street in downtown Benton Harbor. Now, LaShun and his cousin Sean Grey are busy putting the finishing touches on their forthcoming resurrection of the Dialo's brand on M-139 in Benton Charter Township coming soon.
Harper & Grey briefly reminisced with me this afternoon about the collective goodness that always resulted when their grandparents would convene family gatherings with true home made offerings that taught them at an early age to hand-craft culinary treats for an entire generation of family and friends.
That's exactly what they plan to deliver to customers every day at the new Dialo's Cafe at 1924 M-139 across from the Fairplain Plaza, alongside Pizza Hut.
Berrien County Health Inspectors are expected to deliver final approval later this week, paving the way for the cafe to officially open for business "within the next two weeks," according to Harper.
Dialo's first burst onto the scene just down the block from Cornerstone Chamber of Commerce over a four year run from 2000 to 2004. The cafe later departed for the hotel property that was once the Benton Harbor Holiday Inn at M-139 and I-94 for another four-year run until 2008. At that point Harper shifted his focus to his catering business and worked as a Sous Chef at the Point O'Woods Golf & Country Club in Benton Harbor. Now, he's ready to pour his heart and soul back into the Dialo's brand full time at the new diner.
Sean Grey, a culinary program graduate from the Lake Michigan College hospitality program brings a great depth of knowledge and experience to the kitchen in his own right having served as a Sous Chef at both The Grille at Harbor Shores and the Hilton Garden Inn of Benton Harbor before signing on with Harper to develop the new diner.
Both men say that thanks to the regular creation of a veritable feast with their grandparents growing up, "It's in our blood to do this, and do it well."
The new Dialo's Cafe will feature a little something for everyone according to Grey, and Harper adds there will always be daily specials on the card, including a nice full meal special for under $8 each day. Both men promised nothing but the freshest ingredients will be used, and everything in the house will be "house made," with the special Dialo's touch. Harkening back to the early days of his first cafe, Harper says "It will be like the original Dialo's with a twist."
The two promise a nice array of vegetarian options on the menu, as well as fish, chicken and barbecue. As the restaurant's tag line pledges, it will be "Food That's Good For the Soul!"
Look for Dialo's to be open within a couple of weeks and you should find them in the house from 11am until 8pm Tuesday through Saturday, 11am until 6pm on Sunday and they plan to be closed on Mondays.
Harper & Grey have nicely refurbished the small diner building with deep cleaning, fresh paint, a slight urban feel with corrugated steel accent panels on portions of the wall, and both table and booth space throughout. Meals will also be available for take out service at the new diner.
Harper calls it all "pure specialty cuisine," and plans to decorate with historical photographs from Benton Harbor, a community they are very proud to call home.
The two are looking forward to hiring new culinary students to help train them in the style of Dialo's in order to "pass on the knowledge that we have to kids who want to get into the business themselves."
Keep any eye out for the neon "Open" sign to be lit soon at the new Dialo's Cafe of Benton Harbor, rekindling a tradition of food that's good for the soul. The building most recently housed Wing Heaven which closed late last year.