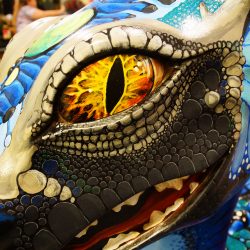 Musical fans won't be able to find any Knights in White Satin, but they will find a whole host of other offerings from days gone by in the latest St. Joseph Public Art project taking to the streets this weekend, just in time for summer visitors in search of the 15th Annual offering of whimsical artworks peppered across the central business district landscape.
There are more than a dozen new public sculptures hitting the district for the Friday night kick-off of "The Magical Kingdom of St. Joseph," starting at 5:30pm.
Local artists labored through the late winter season to transform the blank canvas of dragons and knights on their steeds into a colorful array of oversized public art pieces that will populate street corners and business venues from the Silver Beach Carousel below the bluff to Old City Hall at State and Broad.
The whole knights of the realm scenario will be capped off by a miniature castle perfect for kids to clamber around in anchoring the entire show from the corner of State & Broad alongside the Hot Dog Kart.
Live music and a family-oriented "Lego of My Castle," constructed by the Young Professionals crew at Cornerstone Chamber of Commerce. That will be in front of the St. Joseph Today Welcome Center located at 301 State Street in downtown St. Joseph.
As has become tradition, Abonmarche Artist Bucks will be distributed free of charge to the first 300 adults who show up downtown Friday night. Those "dollars" can be redeemed at face value at retailers and other businesses that are members of St. Joseph Today. To accommodate the crowds, many retailers will be open late on Friday evening and they will host sidewalk sales both Friday and Saturday downtown.
If your family happens upon one of the dragons or knights on horseback and simply can't live without it, you'll want to make plans to return downtown on September 22nd for the Roots & Brews Festival and Public Art Auction when each sculpture will be sold to the highest bidder.
Another tradition tied to the annual Public Art display is the Kid's Coloring Contest sponsored by Pizza Hut, with place mat coloring options throughout the summer season. All entries in that contest are due by September 18th.
Get ready for another summer of photo ops all around downtown as fire-breathing dragons and jousting knights venture onto the brick-lined streets of downtown St. Joe.