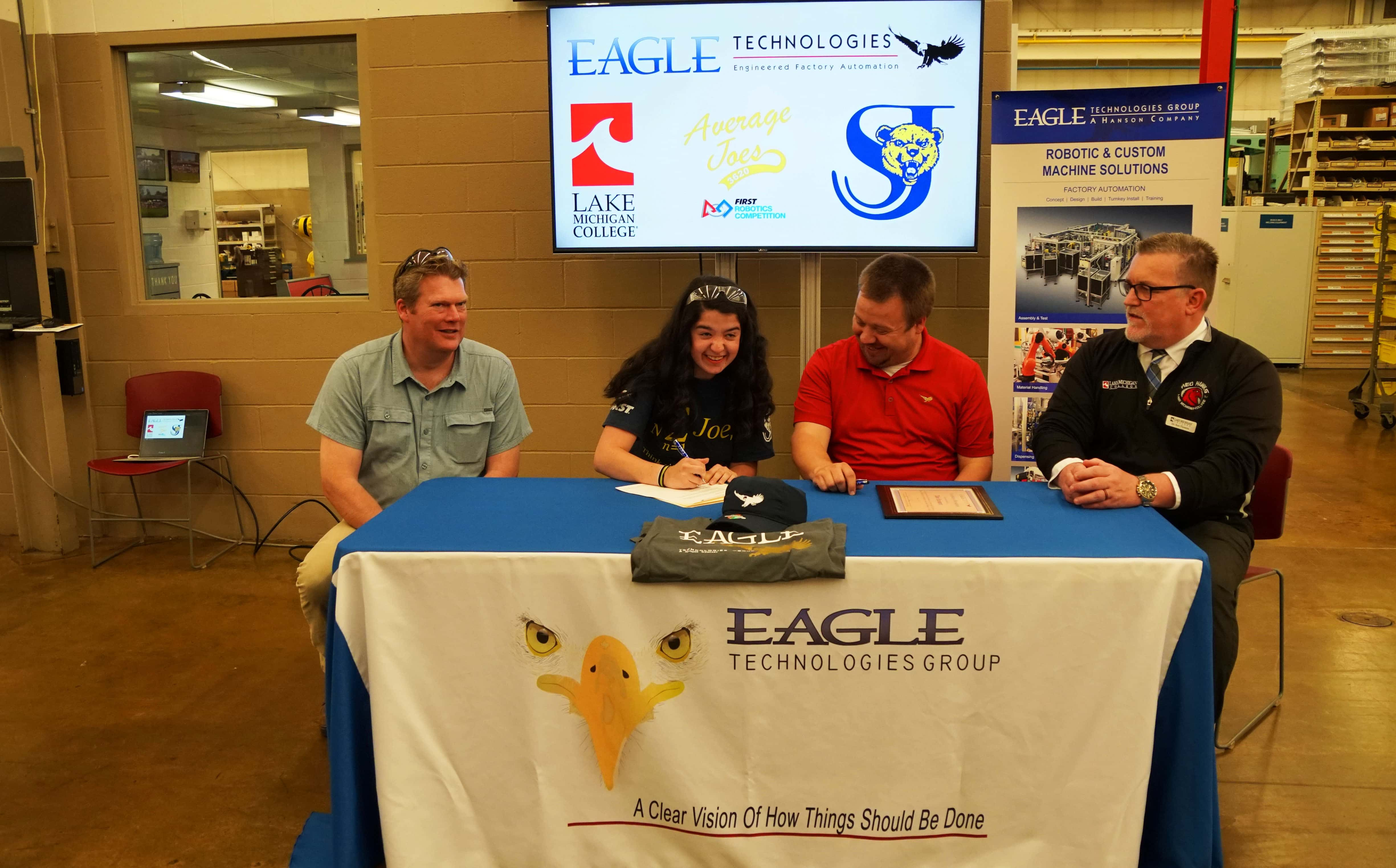 As the manufacturing community in Michigan's Great Southwest continues its ongoing campaign to fill the growing void and demand for skilled trades people to take the jobs of retiring baby boomers and others, they're beginning to borrow a page from sports marketers in America. We've all seen the popular "Signing Day" staging for top athletes who sign on for collegiate scholarships with schools across the state and nation, and the team at Eagle Technologies decided that academic stars need to share in that spotlight to, when they commit to business and industry.
Jason Cleveland is Vice President of Engineering at the Bridgman campus for Eagle Technologies, which also has operations on Red Arrow Highway in Stevensville. While headed to a taping of WNIT Public Television's Economic Outlook with Lakeshore School's Superintendent Phil Freeman and Kinexus President & CEO Todd Gustafson recently on the subject of Career & Technical Education, Cleveland got to thinking about opportunities to expand participation in his company's apprenticeship training programs for manufacturing and engineering.
Following the recording session Cleveland says, "I threw out the idea of this whole signing day phenomenon and how it could be cool to do the same with apprentice applicants signing on at Eagle." He says, "It's no different than a kid going on to play collegiate sports, and they were all over it, and said,'absolutely,' so we started the ball rolling, right after that." Unfortunately, that was right at the height of robotics season, and so his signer, Abby Kuespert, and his whole team were busy at the time, so they simply moved the date off to a more convenient one for everybody. That date was yesterday.
Cleveland says, "Every year we enroll between 10 and 15 apprentices through our manufacturing side, but last year we worked with Ken Flowers at Lake Michigan College to emulate that on the engineering side and set up a program that the engineering kids could go through in the apprenticeship process." His HR person has been working with the Department of Labor trying to drive toward successfully getting a certificate authorized, just like those awarded to manufacturing apprentices. In the interim, Eagle has three students currently enrolled and going through the LMC engineering apprenticeship program.
Yesterday, Tuesday, May 21st, 2019, the team at Eagle welcomed the entire Average Joes Robotics Team to their Bridgman campus for a formal signing ceremony with Abby Kuespert. Eagle sponsored eight robotics teams this year and as each team got a tour of the facilities, they were told about the engineering apprenticeship program. Jason says, "We tell them about the opportunities from manufacturing to engineering, and Abby reached back out to us and said she was interested in joining Eagle."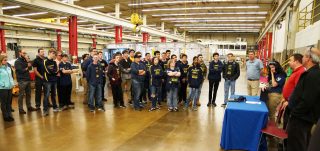 Cleveland said that the three apprentices in the system now for Eagle are all on the mechanical side, but Abby wants to get into the control side of things, which he characterized as "Super appealing to us because we hadn't had anybody that wanted to enroll on that side of things yet, so she reached out to us, we went through the interview process, she is a fit, and we'd already extended her an offer." To dramatize the opportunity, they followed through with a formal signing ceremony at the plant on Red Arrow Highway in Bridgman.
Lake Michigan College's Ken Flowers was on hand for the signing, too, and says, "We're gearing up for the apprentice program which is our fifth year in the process, and we've been maxed out each year between 15 and 18 students." He adds, "We actually had six go through the engineering program last year, with three on their own and three coming from Eagle Technologies. We're ready to go on to help a lot of the students get started and this is always exciting and apprenticeships are at the core of our planning as you know." Flowers likes dealing with Eagle, because a lot of their apprentices are going at an accelerated pace, and almost done already with a lot of their course work, and adds, "That's what we're trying to get Abby into and get her accelerated, because Eagle's doing a great job of working around their schedule to get it in also at work so they're doing it during the work day as well."
Abby's father, Ken Kuespert, who is President of TPC Technologies, Inc, watched the signing with pride saying afterward, "Mom and dad are pretty happy. The funny story is, I started my career here, in this building, in 1984. I worked here for 12 years in controls engineering, so it's kind of funny. There are still people here that worked here back then, too." At that time the plant was known as Weldun Tool transitioning to Bosch.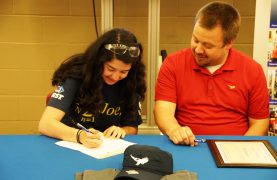 For Abby's part, she says, "I'm so excited! I've been on the high school robotics team for four years and have been focusing on the electrical side, and actually I've been lead electric for the last two. I just want to broaden my spectrum, I guess, into controls, because my dad is also a controls engineer, so he knows this stuff really well and I just want to follow his lead, but not be exactly what he became." I asked what she hopes to do in the future and she replied, "I don't know. I want to see what LMC and electrical engineering have in store for me, but I'm also a theater tech kid, too, so maybe I can use that to go onto theatrical work as well."
The reward for signing on with Eagle Technologies is huge. Jason Cleveland says, "Over about a two year span, Abby will finish an associates degree in engineering from Lake Michigan College, and during that time she will work about 20 hours a week in all paid work time, but beyond that we cover 100-percent of her tuition while she's at LMC, and then, based upon grades for the classes, we'll cover up to 100-percent of the cost of her books, as well. So, in the end she has the potential to be 100-percent debt-free, as well as being paid during that entire time, with a full time job afterwards at Eagle Technologies." He notes, "Just the college portion of it alone you're looking at roughly $16,000 covered, so it's a very sweet deal indeed for Abby Kuespert."