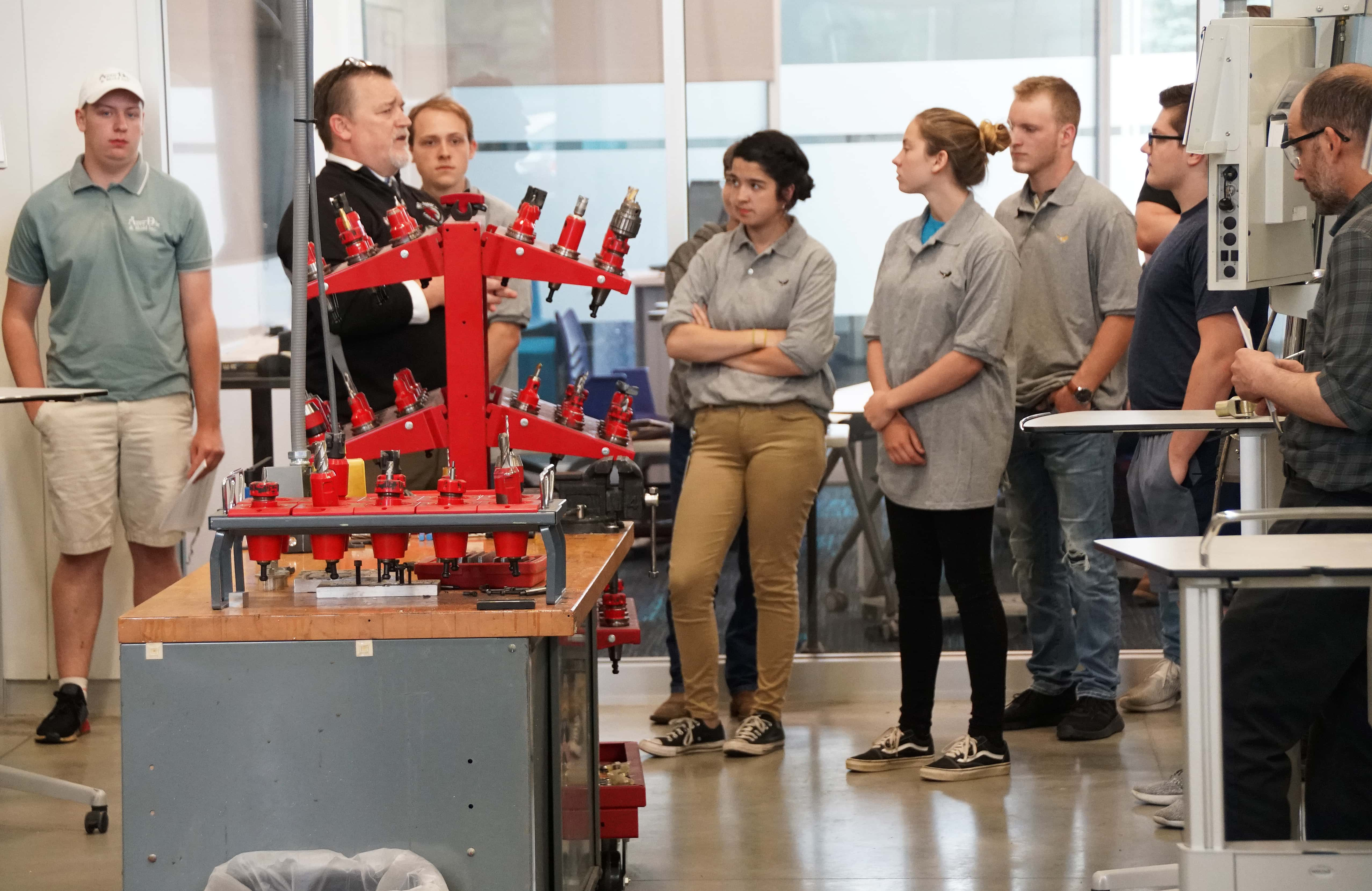 When Eagle Technologies in Bridgman hosted a formal signing ceremony for a new apprentice last month it was a big deal, shining the spotlight on the work underway to fill the skilled trades gap for manufacturers across Michigan's Great Southwest.
If that was an All-Star opportunity, tonight's affair at Lake Michigan College's Hanson Technology Center can only be classified as the World Series of pre-apprentice programming as fully eleven new apprentices signed on with four local companies in the launch to the hard work they will undertake over the next seven weeks, preparatory to their apprenticeship training and future jobs in the local marketplace.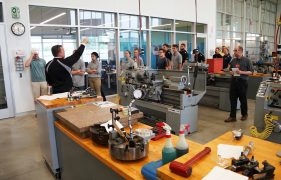 The event was hosted by the partnership created between Lake Michigan College and Kinexus as four people signed at Hanson Mold in Benton Harbor, five at Eagle Technologies in Bridgman and Stevensville, and one each at Accu Die & Mold in Stevensville and Maximum Mold in Benton Harbor.
The partnership brings students and employers together as they collaborate to close the skills gap for local manufacturers. Tonight's signing ceremonies celebrate the students from the LMC Apprenticeship Program and honor their commitment to working at local employers in Southwest Michigan.
Jeff Hannan, Director of Business Solutions for Kinexus says, "We've had 11 pre-apprentice candidates start with four plants locally, Accu Die & Mold, Maximum Mold, Eagle Technologies and Hanson Mold." He notes,  "All have started pre-apprenticeship programs tonight, marking our fourth year of giving students the opportunity to get hands-on learning at the employer they are with, coupled with classroom training at the Hanson Technology Center on the Benton Harbor Campus of Lake Michigan College. The program exposes them to careers and the training for them, and it's a very successful program."
Addressing the proliferation of student athlete signing ceremonies for collegiate acceptance, Hannan notes, "What tonight is all about is trying to create more awareness about the careers in our community and show that there are opportunities right here at home," adding, "We hope that the images of students formally signing apprenticeship contracts that will provide them with jobs in the future becomes an enticement to others who might not be as aware as these young people have been."
Hannan points out, "This is just one component of what we do at Kinexus. Between the pre-apprenticeship programs, the Going Pro elements in the fall and more, we're 'all-in' with what we do for the business community to help them find people to fill the vacancies that they have."
As the students underwent their introduction to the program tonight, Kinexus Talent Development Manager Rick VanIttersum walked them through the processes and paperwork before LMC's Ken Flowers, Dean of Career & Workforce Education gave them a tour of the high tech facilities on hand at the Hanson Technology Center on the Napier Campus.
VanIttersum says, "These students are from most of the manufacturing sectors, some will be going to tool & die, some will go to electrical, some in engineering, but it basically gives them a background of 14 credit hours in a seven week time span, so it gets people a little bit further ahead in the apprenticeship program then the more traditional route of the past."
VanIttersum adds, "They'll be learning a broad cross section of things from welding to CNC operations, tool & die, safety precautions, OSHA, and things like that, so that when they get onto the shop floor in August, they already have a good pathway into their chosen field."
The fast track pre-apprentice training will be extremely helpful in kick-starting the manufacturing careers of nearly a dozen new students getting underway to help fill the jobs currently going unfilled, with a lot more still needed going forward.
Others interested in becoming involved in such programming can contact Lake Michigan College, Kinexus, or the manufacturer they would like to land a job with across the region of Southwest Michigan to learn more.
Click this link to see signing ceremony photos from each of the four local manufacturers at LMC tonight: