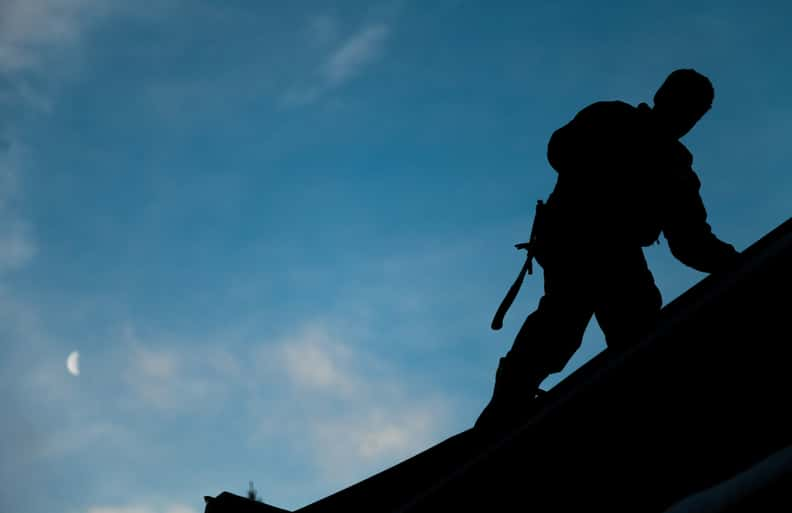 An unlicensed Dowagiac roofing contractor accused of ripping off customers in two different states has been shut down and sentenced to probation in the case.
Jeffrey Burks operated All Tech Repair and Roof Sealants out of Dowagiac, but following a criminal case against him, the business is done. On Friday, August 9th, Burks was sentenced in Cass County Circuit court to 3 years probation after pleading guilty to one count of False Pretenses of between $1,000 and $20,000. A second count of the same charge was dismissed as part of Burks' plea agreement with prosecutors. As part of his probation, Burks is not allowed to reopen his roofing business, which was accused of taking money from customers and then not doing the agreed upon work.
Phil Catlett, President of the Better Business Bureau Serving Western Michigan says, "The Better Business Bureau has expressed concerns about this business for some time now," and adds, "We have received a number of complaints about poor workmanship and customers who paid the company for work that was never performed."
All Tech has an "F" rating with the Better Business Bureau due, in part, to the complaints which have largely gone unanswered.
In one of the criminal cases, according to a police report obtained by BBB investigators, Burks is accused of agreeing to do a roofing job in Dowagiac, in September of 2018. The victim tells police she paid Burks $1,500 as a down payment, but he never showed up to do the work. That story is similar to other complaints and civil lawsuits filed against Burks and his company in both Southwest Michigan and Northern Indiana. It's also similar to previous criminal charges filed against Burks in 1996, 1997 and 1999. Those previous charges include False Pretenses and Contractor Fraud. In 1997 and 1999 Burks was also charged with operating without a license, in violation of Michigan law, which requires roofers to be licensed by the State of Michigan. Despite those charges, Burks was still operating without a license 20 years later.
Catlett says, "The Better Business Bureau informed Mr. Burks that the State of Michigan required him to be licensed," but notes, "Despite our warnings, and those of criminal prosecutors more than 20 years ago, Mr. Burks continued to accept roofing jobs. Unfortunately for customers, it appears that work was, at times, substandard or not performed at all."
In 2016 Burks told both a St. Joseph County, Indiana court and the Better Business Bureau that he had filed bankruptcy and closed his business. However, the company continued to solicit and accept roofing jobs under a slightly different name.
The Better Business Bureau has the following advice for consumers when hiring a roofer or contractor:
Get multiple bids: Speak to several companies about the job, the cost and the timeline. Speaking to multiple companies will help consumers know exactly what the job requires, and how much it should cost.
Do your research: Learn about a company's reputation ahead of time. BBB.ORG lets consumers see reviews and complaints filed with the BBB. One of the requirements to become a Better Business Bureau Accredited Business is that the company have all required licensing. Using accredited businesses can give consumers confidence the company meets both State standards and the standards set by the BBB.
Don't pay the full price up front: Unscrupulous companies will sometimes be paid up front and never return to do the work. Make a reasonable down payment on the project, and pay for the rest when certain benchmarks are achieved or when the job is finished to everyone's satisfaction. This will limit your loss if the company fails to perform the required work.