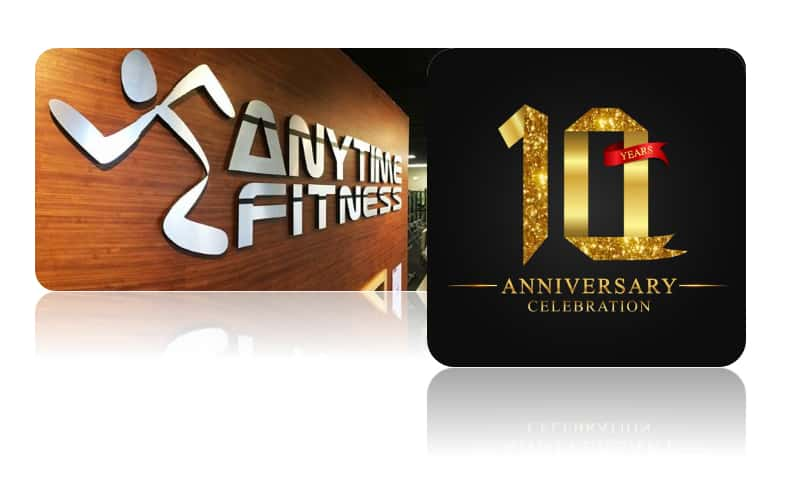 The year was 2008…and we all know what the financial climate was like back then. Nevertheless, a single mom raising four young sons saw a considerable gap in her home market of Stevensville. She saw the need for a gym that would be open 24-hours a day, 7-days a week to help those with the busiest of lifestyles to get in a solid workout. Clearly she was right, because today, that single mom is prepping to celebrate 10 years in business at her Anytime Fitness facility in Stevensville on Monday, October 22nd.
For Katherine Meek it was the launch point of her new adventure. Having grown up in the area, Katherine was then, and is now, passionate about helping to make the community a healthier place to live. That passion carries over to every staff member who knows each member of the Anytime Fitness family by name and works diligently to help those members facilitate a healthier lifestyle in whatever way they can.
Not one to simply rest on her laurels, either, at the five-year mark of her run with Anytime Fitness, she did it all over again, launching Anytime Fitness Mattawan which is now celebrating five years in business as well. Driven by the success of Anytime Fitness Stevensville, Katherine and her teams continue to deliver on the passion that has put them into the winner's circle with fans across the region.
As they mark the 10th anniversary milestone, Katherine and her team are saying thank you to the amazing members who have continued to work out at Anytime Fitness year after year. To exhibit that gratitude, Anytime Fitness of both Stevensville and Mattawan are hosting anniversary celebrations at both sites next Monday, October 22nd through
Wednesday, October 24th wherein they will actually pay you to join Anytime Fitness with a $25 gift card good towards any service in the house, and they will waive enrollment fees for new members as part of that celebration on those days.
On Monday, October 22nd, at the Stevensville location only, a 10-year anniversary celebration will take place from 10am until 7pm where visitors can win big by spinning the Wheel of Fitness for prizes such as specialty apparel, training sessions, tanning time, or to Challenge a Trainer.
On that day, Chef Rodger will be providing healthy food-prep demos…Shawn & Chris Martin will showcase all the latest products from Thrive, and Herbalife Grayson Ford will supply smoothie samples all morning long.
Katherine and her colleagues hope you'll take time to drop by and say Hi as Anytime Fitness celebrates, and gives you the chance to take advantage of awesome specials in the house for their Anniversary Sale at both locations Monday through Wednesday next week only.
Anytime Fitness in Stevensville is located at 5643 Cleveland Avenue in the complex alongside Martin's Super Market, and in Mattawan you will find them at 56098 S. Main Street.