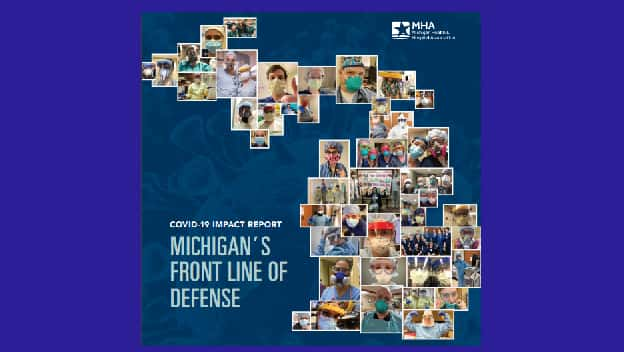 Financial losses for Michigan hospitals from the coronavirus pandemic have topped $3-billion, and while they garnered help from federal CARES Act funding, the deficit still tops $1-billion through June and continues to rise.
Unable to perform elective surgeries and other non-essential medical procedures for several months has lead to the collective financial impact according to a new report from the Michigan Health & Hospital Association.
The new MHA COVID-19 Impact ReportMichigan reports that hospitals across the state have collectively sustained financial losses of nearly $3.2 billion as a result of the pandemic.
Based on data voluntarily submitted by member hospitals from March through mid-June, the 2020 COVID-19 Impact Report, Michigan's Front Line of Defense, highlights how hospitals across the state are responding to the COVID-19 pandemic and the significant financial impact it has had on every hospital or health system. Since the pandemic began:
Lost patient volume, canceled and delayed medical procedures, and unbudgeted expenses related to staffing and personal protective equipment have contributed to $2.7 billion in lost revenue and an additional $440 million in emergency expenses. Even with $2.1 billion in Coronavirus Aid, Relief, and Economic Security (CARES) Act funding, Michigan hospitals have a total deficit of nearly $1.1 billion as of June.
Michigan hospital labs have been vital in the state's efforts to provide widespread testing, accounting for over 400,000 COVID-19 polymerise chain reaction (PCR) diagnostic tests as of July 12th, with an average of 7,000 tests conducted by hospital labs per day.
COVID-19 created global demand for personal protective equipment (PPE) that has never been seen before. To protect patients and staff, hospitals purchased PPE at exponentially higher rates at a total cost exceeding $93 million and counting.
Hospitals increased general and intensive care unit (ICU) bed capacity, developed COVID-19-only units and refurbished existing facilities to improve infection prevention and treatment. Overall thousands of beds were added by hospitals statewide. During the peak surge, Michigan hospitals cared for 4,700 COVID-19 patients on April 10, including 1,700 COVID-19 patients in ICUs. During the study's time frame, more than 16,000 COVID-19 patients have been discharged from Michigan hospitals.
The report also addresses the uncompensated cost of care, which during normal circumstances approaches $2.6 billion in Michigan. Due to historic unemployment rates and fewer patients on employer-sponsored coverage, hospitals anticipate that number to only increase as more patients move to Medicaid or are uninsured. According to the National Center for Coverage Innovation, Michigan had the sixth highest increase in newly uninsured adults, with 222,000 individuals becoming uninsured due to job losses; that is a 46-percent increase from 2018 levels.
Brian Peters is CEO of the Michigan Health & Hospital Association. He says, "When COVID-19 arrived in Michigan, hospitals became the front line of defense against the highly contagious and dangerous disease," and notes, "As this report demonstrates, responding to the COVID-19 pandemic has come at a steep price. Now more than ever, support is needed for the hospitals and healthcare providers that have been serving on the front lines of the pandemic."
In Southwest Michigan, just last month Spectrum Health Lakeland reported an operating loss of some $4.7-million on operating revenues of $137.2-million. They had budgeted for $5.3-million in operating income for the first quarter of the year.
A full copy of the 2020 COVID-19 Impact Report, Michigan's Front Line of Defense, is available online by clicking this link: Michigans_Frontline_of_Defense