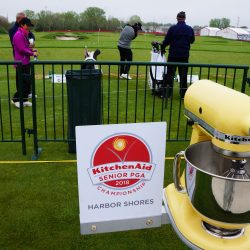 As official play gets underway today in the 79th KitchenAid Senior PGA Championship at Harbor Shores, you're going to hear a lot more about golf and how the game is being used on multiple fronts for an increasingly diverse population across not only the state of Michigan, but all across the nation.
An excellent example of that comes from PGA REACH, which is the 501(c)(3) charitable foundation of the PGA of America. In conjunction with the Michigan PGA Section, they have selected Hannah Marcusse, a recent graduate of Central Michigan University in Mount Pleasant, to serve as the first PGA WORKS Fellow in the Michigan Section's office. The PGA WORKS Fellowship program aspires to be the most valuable entry-level opportunity for individuals from diverse backgrounds to gain experience in all facets of the golf industry.
Ryan Cannon is Senior Director of PGA REACH. He says, "All career paths start with awareness and opportunity, and providing individuals from diverse backgrounds entry into the golf industry is a priority for PGA REACH." He adds, "PGA WORKS is an important initiative, and we're thrilled to have Hannah join the Michigan PGA Section."
In her new role, Marcusse will support Michigan PGA Section foundational activities, as well as PGA REACH program initiatives in the youth, military, and diversity and inclusion pillars. Specific efforts Marcusse will work on include PGA Jr. League, Drive, Chip & Putt, the Boys and Girls Michigan Junior PGA Championship and the Michigan PGA Section Player Development grant program.
Kevin Helm, Executive Director of the Michigan PGA Section, says, "On behalf of the entire Michigan PGA Section, we are looking forward to having Hannah as our first PGA WORKS Fellow." As Helm points out, "Her education and passion for diversity and inclusion align with our Section's commitment to making an intentional effort to increase awareness and diversify the workforce in the golf industry."
Marcusse graduated from Central Michigan University last year with a bachelor's degree in applied arts, sports and fitness administration/management. Prior to joining the PGA WORKS Fellowship, she worked with Your Future Sport LLC in Mount Pleasant. In that role, she gained experience applying research to expand business insight and improve communication skills. Originally from Lake City, she now resides in mid-Michigan.
Hannas says, "I'm thrilled to join the PGA WORKS Fellowship in the Michigan PGA Section." She adds, "Golf is a universal sport and has the ability to reach a variety of individuals. During my fellowship term, I hope to help youth and adults of all genders, ages and backgrounds experience golf — some for the first time — while sharing my passion for the sport. I'm excited to apply my education and passion for diversity and inclusion to help expand the horizons of the golf industry through the PGA WORKS Fellowship."
The PGA of America recognizes that it will be defined by how its commitment to diversity and inclusion resonates throughout its programs and practices. This commitment is critical to the health and relevance of the Association's business and the game overall.
This year, the Fellowship will host 10 fellows in the following PGA Sections: Carolinas, Connecticut, Gateway, Michigan, Middle Atlantic, Metropolitan New York, New Jersey, Northern Ohio, Southern Ohio and South Florida. The long-term goal of the program is to have Fellows in all 41 PGA Sections nationwide.
For more information on PGA REACH, you can visit pgareach.org.
PGA WORKS is the umbrella brand for all workforce diversification programs that are part of the PGA of America's commitment to diversity and inclusion, one of the organization's foundational principles. PGA WORKS is an intentional effort to evolve the demographic composition of the golf industry's workforce through a variety of programmatic efforts, including leadership development, fellowships, internships, scholarships, the PGA Business of Golf Career Expo and PGA Minority Collegiate Championship. PGA WORKS programs are designed to appeal to, recruit and retain diverse talent who are prepared to ascend into key employment positions across all lines of business within the golf industry and specifically the PGA of America.