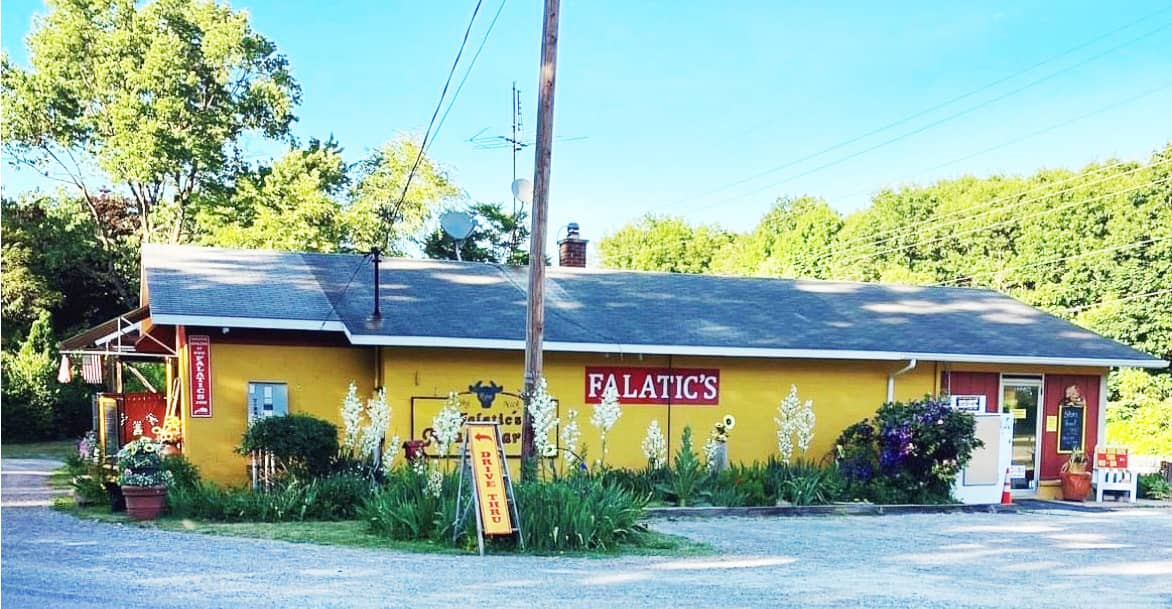 ---

---
There's a brilliant yellow building on Red Arrow Highway, between Sawyer and Browntown roads, that stands out like a beacon of sunshine as you drive through Harbor Country. The name on the sign has been drawing in customers, new and old, since 1976, and if you ask local residents where to high quality, cut to order, authentic, specialty meats, they will all tell you the same name: Falatic's!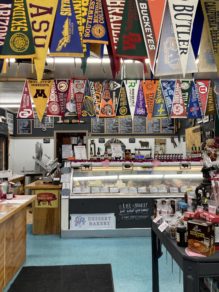 Pam, Valerie, Nick, and Joe, children of Ron and Peg Falatic, greet every customer that enters the market, most by name, and converse with them like old friends. Each welcome is warm and inviting, and if the colorful decor, inside and out, doesn't put a smile on your face, these friendly faces absolutely will.
"We want our customers to feel like they are all that matters, because it's true!" they say in agreement. "It is all about our customers. We offer the best quality meats, exactly how you want them," Pam says.
A family-owned business since the beginning, Falatic's Meat Market provides a large variety of deliciously fresh products that range from hand cut steaks (their most popular item), to amish chickens, house-made sausages, fish, deli meats, and even desserts. The pickled herring is out of this world, and the fresh meats are cut right in front of you.
"We customize everything," Pam says. "If you're a single person, you can simply buy just one. You do not have to buy in bulk here– we are not a commercial store." With no order minimums, an online ordering option, and day-of order fulfillment, Falatic's is truly a hometown, homegrown business.
Business itself has changed with the times, since the late 80s, when Ron Falatic transitioned the building from Schuch's Market to his own future family legacy, to 1997 when Nick began learning the ropes of the market. Nick worked side by side with Ron, through the patriarch's heart surgery, and had Joe's expertise during summers, before he started his career in law enforcement. In 2017, Pam and Valerie returned to Falatic's for good, to lend support to the family business. In the last six years, Falatic's has expanded their menu, adding new products requested by customers, and implemented more efficient and precise ordering methods. This sibling superteam has been working around the clock to further solidify the foundation of Falatic's.
"During the pandemic, we had the idea to add the drive-through," Pam says. "We were so blessed to be able to keep serving customers," Valerie adds. "We completed about 23,000 orders during Covid, and with an online presence already, our drive-through was packed every day."
Falatic's now has a free VIP Loyalty Program that offers monthly perks and seasonal specials, with the ease of joining via text message (Text FALATIC to 833-249-0460). Their website is easy to navigate, with a Create Your Own Account page where you can place orders, view previous orders, and receive very exciting, holiday-themed deals and specials.
JR Bakery out of Chicago, family-owned and longtime Falatic's customers, supplies decadent sweets and treats to the meat market, regularly delivering tarts, pies, cheesecakes, and more. If you are placing an order online, you'll find a Desserts tab on the website, and you can add pastries to your order with ease.
The ding of the front door is steady, even on a rainy Thursday afternoon in winter, and each patron that enters already knows what they'd like. "This gentleman is one of our best customers!" Valerie says, directing me to the smiling face at the counter. "They have the best salmon, salami, and hot pepper cheese!" he exclaims.
Customers of Falatic's are frequent, loyal, and dedicated to the high quality products they have come to know and love. "Mom still comes in from time to time to cut and grind meat," Valerie says. Even in her eighties, Peg proves that the personalized experience found at Falatic's, the love and passion this family has for their business, only grows with time.
Even with 100 different options, Falatic's is always excited to try out new products. They've added tri-tip, skirt steak, and salmon burgers, to name a few, and their Swedish Market items showcase Bond-ost, potato sausage, and pickled herring.
"Falatic's makes life easy," Valerie adds. "Our customers are wonderful chefs." The many cuts and portions of high quality beef, lamb, veal, seafood, poultry, and pork at Falatic's are stand-alone specialties, but can be highlighted by a multitude of other delicious offerings. Cheeses, sauces, spices and rubs, marinades, jams, and deli meats keep customers coming back for more.
Falatic's Meat Market, at 12236 Red Arrow Highway in Sawyer, is open Wednesday through Sunday, 10 a.m to 5 p.m, all year round. The brightly painted sign, and building, will guide you into the parking lot and drive-thru in pristine, icy winter, and in the full bloom of summer. The storefront is open for walk-ins from 12 p.m – 4 p.m, and they are always ready to answer questions by phone.
This authentic butcher shop is run by authentic people, with the customers' happiness in mind.  "We want people to know we're here– you don't have to shop at the big box supermarkets," says Pam. "We have exactly what you're looking for."
By Jocelyne Tuszynski, MOTM Contributor
---

---