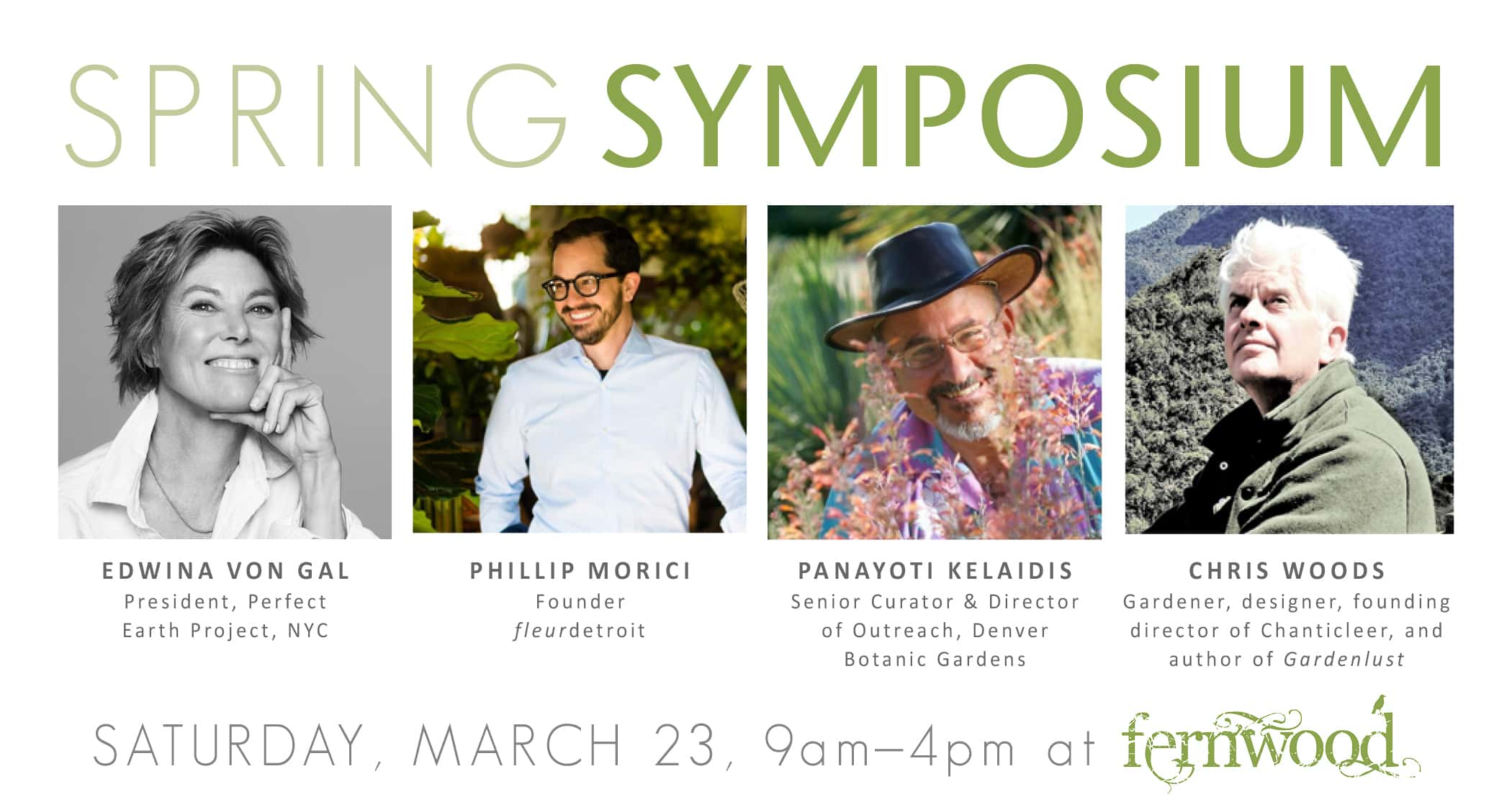 Just as hope springs eternal, the hope for spring surges when the Spring Equinox arrives. That date is rapidly approaching despite the recent bitter cold of winter's lingering grasp, and the best place you can get a full-on measure of the spring season is Fernwood Botanical Gardens right here in Berrien County.
On Saturday, March 23, 2019, just three days after the Spring Equinox, Fernwood will host an exceptional group of guest experts at the 2019 Spring Symposium including:
Edwina von Gal, President of the Perfect Earth Project in NYC
Phillip Morici, Founder of fleurdetroit in Detroit
Panayoti Kelaidis, Senior Curator & Director of Outreach at Denver Botanic Gardens
Chris Woods, founding director of Chanticleer in Pennsylvania, and world garden traveler from California and author of Gardenlust.
The event will take place in the Sims Education Center, opened last year in October (2018). Carol Line is Executive Director at Fernwood. She says, "On one special Saturday each March, Fernwood welcomes to our region experts who present on subjects ranging from sustainable practice and cutting-edge design to garden art and exceptional world gardens. This year once again we will hear from the greatest in our field."
The daylong symposium will explore a variety of topics, including Eco Anxiety and how you can kick the landscape chemical habit, art and architecture in the garden, lessons from garden masters, and a botanical tour of the world's best new gardens. Lunch will be included, as well as a guided tour of Fernwood. Speakers will also be available to sign their books that will be on sale in Fernwood's gift shop.
An early registration special is now running through March 15th. Tickets are $100 ($80 for Fernwood members). Registration between March 16−March 22 will be $115 (Members $92).
VIP Symposium tickets include reserved seating and a special private lunch with Symposium speakers. VIP tickets are $126 (Members $105), with a registration deadline of March 15th. Registrations can be taken online at www.fernwoodbotanical.org or by phone at 269.695.6491.
The Spring Symposium is presented in partnership with Chicagoland Gardening, Inovateus Solar, Stonehouse Nursery, and Vite Greenhouses.
Guest Speakers and topics:
PRFCT
In this time of increasing Eco Anxiety, there is something you can actually do, for free, at home, work, or play. Try being PRFCT. Edwina von Gal will speak on the multiple health and environmental benefits of kicking the landscape chemical habit and how to get fantastic results without chemicals.
Principal of her eponymous landscape design firm since 1984, Edwina von Gal creates landscapes with a focus on simplicity and sustainability for private and public clients around the world. She has collaborated with architects such as Frank Gehry, Annabelle Selldorf, Maya Lin, and Richard Meier, on projects for Calvin Klein, Ralph Lauren, Richard Serra, Larry Gagosian, and many others in the design and art community. Her book, Fresh Cuts, won the Quill and Trowel award for garden writing.
Art and Architecture in the Garden
Phillip Morici will discuss Art and Architecture in the garden, focusing on successful installations and using large scale plantings to create major bones in the garden to showcase sculptures.
Phillip Morici has been active in the green industry for most of his life. His passion for the green world is rivaled only by his pursuits in the art world. Phillip brought his passions for art, design, and plants together when he founded fleurdetroit. Phillip also currently sits on the Cranbrook Board for the Art Museum Academy and just finished his services on the Art Advisory Board for the Beaumont Health system. Over the past year, he has also been working with an intimate team, The Grounds Crew, to bring to Belle Isle Piet Oudolf's genius in the form of a nearly 3-acre Oudolf garden.
Lessons from Garden Masters: Four Great Gardens and Lessons They Teach Us
In the course of his travels, Panayoti Kelaidis has been lucky to visit some of the great gardens of the world. The variety of styles and techniques that gardeners use to create and maintain gardens of year-round beauty are of special interest to him. Panayoti will share visits he's made to a garden in the Czech Republic that's built on a steep slope with cliffs, a tiny urban garden in the Netherlands, an expansive suburban garden in Michigan, and his favorite English garden. Each of these gardens has utterly distinct style, plant palette, and scope—but all have take-away lessons for any gardener—beginner and expert alike.
Panayoti Kelaidis is a plant explorer, gardener and public garden administrator associated with Denver Botanic Gardens where he is now Senior Curator and Director of Outreach. He has designed plantings for many of the gardens at DBG, and he is particularly noted for the plantings of the Rock Alpine Garden. He has introduced hundreds of native ornamentals from throughout the Western United States to general horticulture. He has taken seven collecting trips to Southern Africa, researching the high mountain flora there, as well as travels to the Andes, Central Asia (Kazakhstan and Mongolia), the Himalaya (from both Pakistan and China) as well as travels throughout much of Europe from Spain to Turkey and most recently, New Zealand.
Gardenlust: A Botanical Tour of the World's Best New Gardens.
For three years, Chris Woods traveled the world seeking out contemporary gardens and found 50 of the best. With wit and humor, he describes the most arresting features in public parks in exotic locations like New Delhi and Dubai, mission-redefining botanic gardens in Chile and Australia, and the most enviable details of lavish private estates and gemlike city yards. Throughout, he reveals the fascinating people, plants, and stories that make these gardens so lust-worthy.
Born in London, England, Chris Woods, has lived in the United States since 1981. He has worked in the garden world as gardener, director, and designer for 45 years. He is best known for his work at Chanticleer in Wayne, Pennsylvania, where he worked for 20 years.
Established in 1964, Fernwood is a unique property located near Lake Michigan in southwest Michigan on 105 acres of cultivated gardens and natural areas with woodlands, ravines, wetlands, and river frontage on the St. Joseph River. The garden opened its new Sims Education Center last October. Fernwood follows its mission to enrich people's lives by awakening and deepening their appreciation of nature and the possibilities of harmony between people, plants, gardens, and wildlife. Fernwood is a member of the American Public Gardens Association and the American Alliance of Museums. The garden is open year-round, and is located in Buchanan Township at 13988 Range Line Rd., Niles, Michigan. For more information, visit www.fernwoodbotanical.org or call 269.695.6491.