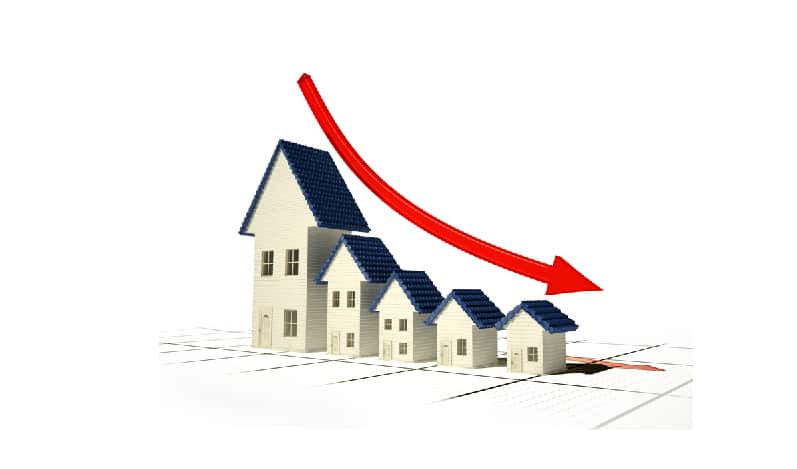 While the volume of home sales in Michigan's Great Southwest continues to be exacerbated by a 34-percent decline in inventory over the past five years, the price of the houses that do sell continues to climb at record rates.
The downturn in number of homes sold in the region continued last month according to Southwestern Michigan Association of Realtors Association Executive Alan Jeffries. He reports, "So far this year the Southwestern Michigan housing market has continued to witness fewer home sales with home selling prices climbing." He puts the blame squarely on the availability of houses to buy, saying, "The declining inventory of houses for sale has been the key factor."  Buyers across Berrien, Cass and the westerly 2/3rds of Van Buren counties have been searching for houses from an inventory that has dropped 34-percent in the last five years."
Jeffries tells us, "The number of houses sold in September 2018 was down 2-percent from September 2017 (360 vs. 367)," and adds, "Year-to-date, the number of houses sold was down 3-percent (2,732 vs. 2,813) from year to date numbers in 2017."
While the September 2018 average selling price decreased 3-percent to $245,447 from $252,211 in September 2017, the year-to-date, average selling price rose to a record selling price of $230,546 from the past record average selling price of $215,154 set in September 2017, for a 7-percent increase.
However, the median selling price increased 8-percent in September 2018 ($172,000 vs. $159,550), and year-to-date that median selling price was up 5-percent ($162,000 vs.$155,000). Both the monthly and year-to-date median selling prices were the highest on record in the year-over-year comparison since 2006.
The median price is the price at which 50% of the homes sold were above that price and 50% were below.
Those fewer home sales also resulted in lowered total dollar volume — 6-percent over September 2017 ($88,361,176 vs. $93,533,403), while year-to-date, total dollar volume was record-setting and was up 4-percent from September 2017 ($629,853,828 vs. $605,229,929).
Once again a major culprit in home sales volume was the inventory of houses for sale which decreased again by 3-percent from a year ago (1,886 vs. 1,954). At the end of September there was 6.2-months supply of houses for sale; down slightly from 6.3-months supply at the end of September a year ago.  By way of comparison, in September of 2010 the inventory of houses for sale was 3,574 or fully 17.3-months supply.
The number of bank-owned or foreclosed homes as a percentage of all transactions in September fell to 4-percent from 6-percent in August; matching the same percentage set in July.  That is the lowest recorded percentage in 2018. The highest percentage in any recent September was 37-percent, set back in 2009.
Locally, the mortgage rate increased to 4.827 from 4.625 in August. Last year in September, the rate was 3.93.  Nationally, the Freddie Mac mortgage rate in September was 4.72 up slightly from 4.52 in August for a 30-year conventional mortgage.
According to the National Association of Realtors existing-home sales declined in September on a national scale after a month of stagnation in August. All four major regions saw no gain in sales activity last month.
Total existing-home sales, which are completed transactions that include single-family homes, townhomes, condominiums and co-ops, fell 3.4-percent from August to a seasonally adjusted rate of 5.15 million in September. Sales are now down 4.1-percent from a year ago (5.37 million in September 2017).
Lawrence Yun is Chief Economist for the National Association of Realtors. He says rising interest rates have led to a decline in sales across all regions of the country, adding, "This is the lowest existing home sales level since November 2015." Yun notes, "A decade's high mortgage rates are preventing consumers from making quick decisions on home purchases. All the while, affordable home listings remain low, continuing to spur under-performing sales activity across the country."
The median existing-home price for all housing types in America in September was $258,100, up 4.2-percent from September 2017 ($247,600). September's price increase marks the 79th straight month of year-over-year gains.
Regionally, existing-home sales in the Midwest remained the same as last month at an annual rate of 1.28 million in September, but are still down 1.5-percent from a year ago. The median price in the Midwest was $200,200, up 1.9-percent from last year.
First-time buyers were 32-percent of sales in September, up from last month (31-percent) and up from a year ago (29-percent).  The National Association of Realtor's 2017 Profile of Home Buyers and Sellers revealed that the annual share of first-time buyers was 34-percent.
All-cash sales accounted for 21-percent of transactions in September, up from July and a year ago (both 20-percent). Individual investors, who account for many cash sales, purchased 13-percent of homes in August, unchanged from July and down from 15-percent a year ago.
Nationally, the total housing inventory at the end of September decreased from 1.91 million in August to 1.88 million existing homes available for sale, and is up from 1.86 million a year ago. Unsold inventory is at a 4.4-month supply at the current sales pace, up from 4.3 last month and 4.2 months a year ago.
Yun tells us, "There is a clear shift in the market with another month of rising inventory on a year over year basis, though seasonal factors are leading to a third straight month of declining inventory," and notes, "Homes will take a bit longer to sell compared to the super-heated fast pace seen earlier this year."
Additionally, Yun reports, "Rising interests rates coupled with increasing home prices are keeping first-time buyers out of the market, but consistent job gains could allow more Americans to enter the market with a steady and measurable rise in inventory."
Elizabeth Mendenhall, a 6th generation Realtor from Columbia University and the CEO of RE/MAX Boone Realty is President of the National Association of Realtors. She suggests, "Despite small month over month increases, the share of first-time buyers in the market continues to underwhelm because there are simply not enough listings in their price range." Mendenhall add, "Entry-level homes remain highly sought after, as prospective buyers are advised to contact a Realtor as early in the buying process as possible in order to ensure buyers can act fast on listings that catch their eye."
The numbers reported for local sales include residential property in Berrien, Cass and the westerly 2/3rds of Van Buren counties and should not be used to determine the market value of any individual property.  If you want to know the market value of your property, you should always contact your local Realtor.
The Southwestern Michigan Association of Realtors, Inc. is a professional trade association for real estate licensees who are members of the National Association of Realtors and ancillary service providers for the real estate industry in  Berrien, Cass and Van Buren Counties. The Association can be contacted at 269-983-6375 or through their website at www.swmar.com.