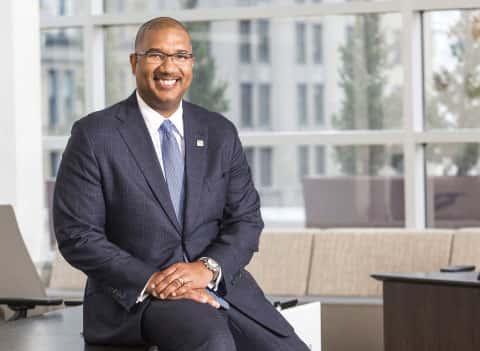 If you ascribe to the theory that timing is everything, you can likely appreciate the efforts being announced today by Fifth Third Bank to speed the process for business owners in search of loans and lines of credit.
Fifth Third Bank, National Association, has announced today that it is making it easier for small business owners to apply for loans and lines of credit utilizing what they call Fifth Third Fast Capital. That new option will offer a simple application and, in most cases, approvals will be made within minutes. Funding is available to customers in as little as one business day.
Kala Gibson is head of Business Banking for Fifth Third, which has branches around Michigan's Great Southwest. He says, "We understand that when small businesses need to purchase inventory or create a prototype, they can't wait or risk losing out on growth opportunities"
Gibson says that collaborating with Fundation to offer Fifth Third Fast Capital's expanded services to small businesses is another example of Fifth Third's digital innovation strategy of leveraging partnerships to provide a better customer experience. Fundation, a financial technology company serving the small business market, will offer its own products to customers that do not meet Fifth Third's loan eligibility guidelines, helping the bank serve more of its small business customers' credit needs.
Gibson adds, "Fifth Third Fast Capital can help get funds quickly, so they can move forward with their next opportunity. We are here to help you be successful."
More than a quarter of small business owners struggle to access the funds they need to grow according to a National Small Business Association report from 2017. Businesses that don't have access to capital have had to reduce the number of employees or are unable to expand operations.
With a focus of serving its customers and keeping them at the center of every decision, Fifth Third's partnership with Fundation allows the bank to provide a streamlined application process and faster access to funding. Fifth Third introduced Fast Capital to the Cincinnati market late last year and now is offering the service to all business banking customers in markets everywhere.
Sam Graziano is CEO of Fundation. He says, "At Fundation, our mission is to enable our banking clients to give their small business customers the best of both worlds – great products at great prices along with the modernized experience they expect in the digital era," and adds, "This collaboration does exactly that. The combination of Fifth Third Bank's renowned brand, customer reach and great products with our digital lending platform will allow us to collectively serve the Bank's customers with best-in-class products and a best-in-class customer experience."
For more information, visit online at this link: http://53.com/fastcapital
Fifth Third Bank, National Association, and Fundation Group, LLC are separate entities. Fifth Third has established a relationship with Fundation that allows for business owners to apply for an unsecured line of credit through Fundation.
All Business Loans and Lines of Credit are subject to credit review and approval. Business Term Loans must have a balance during the checking statement cycle being evaluated. Business Lines of Credit or Revolving Lines of Credit must have a balance or have been used during the checking statement cycle being evaluated. The business entity owning the Fifth Third Business Checking account must be the same business entity owning the Business Loan or Line of Credit.