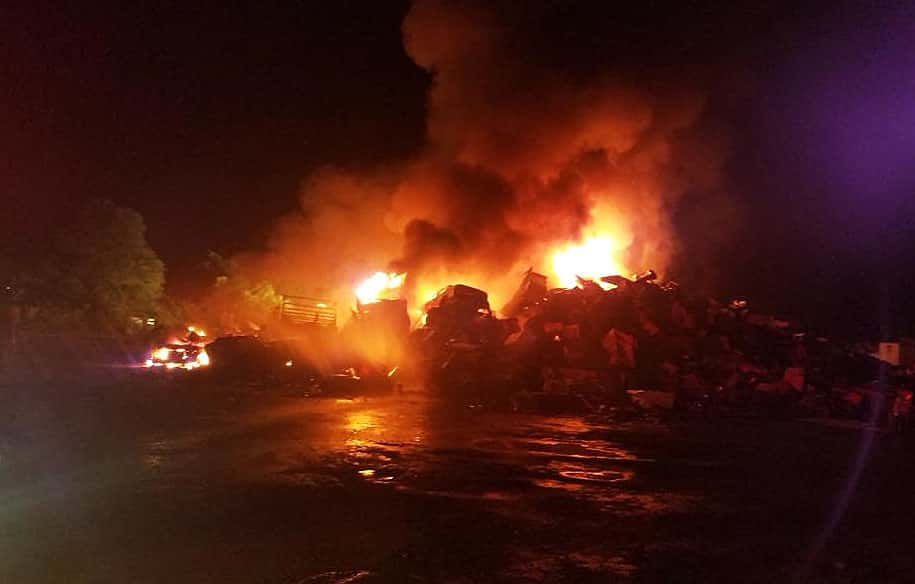 It took at least a dozen crews and reportedly more than 130,000 gallons of water to wear down a stubborn early morning fire today at a unit of Padnos Recycling in Dowagiac.
Authorities report that the blaze at Sustainable Recycling, Inc. — or simply SRI — at 30750 Edwards Street in Dowagiac was called in after midnight this morning when something at the center of the large pile of scrap metal ignited causing heavy smoke to emanate from the scrap yard for quite a while.
It took nine water tankers from seven different fire departments to finally extinguish the persistent fire which remains under investigation.
No SRI employees were on the scene at the time of the fire and nobody was injured in either the fire itself or the battle to put it out.
Sustainable Recycling is part of the Padnos family and is a full service recycling center which takes in aluminum, lead, brass, carbide steel, cast iron, copper, steel, and stainless as well as batteries, electric motors, insulate wire, auto bodies, appliances, radiators, electronics and circuit boards so it could have been almost anything that triggered the smokey blaze.
There was no immediate indication that the incident was anything other than purely accidental, but investigators will continue to work to determine how the fire started and why.
The photo accompanying this story on Moody on the Market is courtesy of the Dowagiac Fire Department.