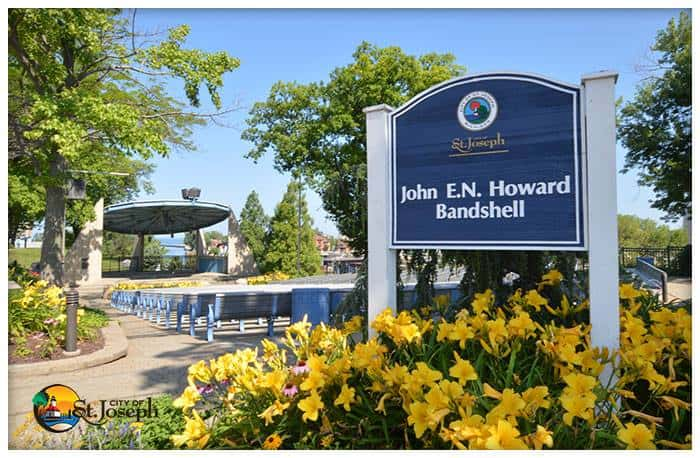 This summer will mark the first concert season without the man whose name is on the Lake Bluff Park Bandshell, and the first music of the season will be dedicated to his life, times and philanthropy. The City of St Joseph has announced its summer Municipal Band Concert Schedule.
Director, Dr. Donald K. Moely is inviting everyone to the summer series beginning on Sunday, June 30th, 2019 at the John E.N. Howard Band Shell in downtown St Joseph. The first concert will be dedicated to the late John E.N. Howard, who was the director of the municipal band for 40 years, and was also the St. Joseph High School band director and a philanthropist who made the band shell possible. Director Howard passed away in November, 2018 and the band will play a special program of his favorite selections in his honor. Concert times are 3:30 pm & 7:30 pm.
Dr. Moely himself is beginning his 31st season with the municipal band, and says, "It is a great honor to be the conductor of this fine group of musicians. Their dedication to serving the St. Joseph audiences with concerts each Sunday and holidays during the summer at the John E. N. Howard band shell is phenomenal." Moely adds, "I strive to keep the successful variety of programming and the high professional musical standards that were set for this community's tax-based band by my predecessor, John E. N. Howard."
Here are the dates when you can join Dr. Moely and the municipal band:
(All concerts are at 3:30pm & 7:30pm unless otherwise noted)
Sunday, June 30th
Thursday, July 4th
Sunday, July 7th
Sunday, July 14th- Big Band Concert @ 7:30 pm
Sunday, July 21st
Sunday, July 28th
Sunday, August 4th
Sunday, August 1th- Big Band Concert @ 7:30 pm
Sunday, August 18th
Sunday, August 25th
Sunday, September 1st
Monday, September 2nd
Please note that the City Calendar distributed last fall incorrectly indicated the first concerts would be on June 23rd; the correct date is June 30th.  The City apologizes for any inconvenience.  More information is available from the city website, at www.sjcity.com/band.