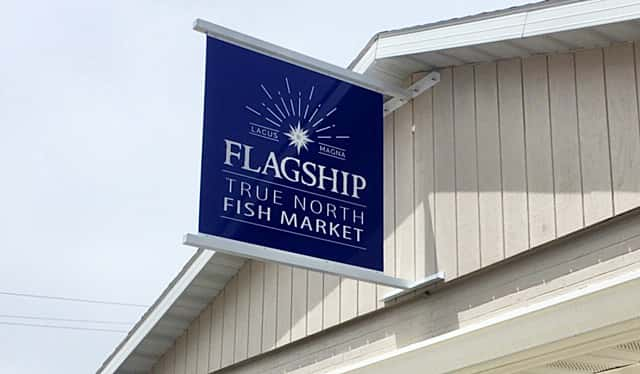 Less than six months after dropping anchor along Main Street in downtown Benton Harbor just days before Memorial Day, Rachel Collins has pulled up the anchor and will sail out of the harbor, returning to her original Flagship in Harbor Country as a sole site for the time being.
It turns out that Collins decision to lease the landmark diner with the soaring "Food" sign out front instead of buying the building was fortuitous, inasmuch as her Benton Harbor venture has ended just 167 days after setting up shop. Flagship True North Fish Market is permanently closed.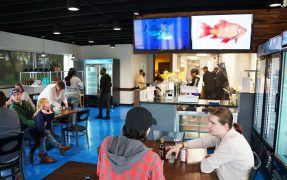 A letter was placed into the windows at 325 W. Main Street early Thursday, followed by public notice on Rachel's personal Facebook page, and later in the day on the officials Flagship True North Facebook fan page, telling of the decision to cease operations in Benton Harbor.
Here is what Rachel posted and shared yesterday:
"REGARDING FLAGSHIP TRUE NORTH — A PERSONAL LETTER FROM RACHEL COLLINS, PRINCIPAL AND CHEF, FLAGSHIP SPECIALTY FOODS
To all our beloved customers, it is with a heavy heart that I type this. As of yesterday, Flagship True North is permanently closed. All of the staff and I want to send out a HUGE thank you to everyone who made True North a success, even if our tenure was brief.
Please know that our original location in Lakeside, MI is only 20 minutes away, and we are 100% here for you at Flagship Specialty Foods & Fish Market. Although we only have casual outdoor seating in the summer, several items you've enjoyed from our menu are available here to-go, including Fish & Chips! The same premium-quality seafood is available, and we post on Facebook daily to let you know what's on-hand.
Again, please accept our heartfelt thanks for all the support we got while open in the Twin Cities, and we hope to be up there and available to you again in 202o, one way or another.
With gratitude, Rachel"
The outpouring response on Facebook was filled with sadness and chagrin from the fans that had taken to the fresh fish market and and Hampton's-style Clam Shack menu for ready-made options.
It's a sad ending for what Collins had hoped would be a grand adventure. Back in May she said, "We've had a wonderful experience since opening a fish market and gourmet to-go store in Lakeside, not far from New Buffalo, and we had a lovely group of people over the past three years coming in from Benton Harbor and St. Joseph —  a half hour each way just to get our fresh fish — so, I thought why not serve the local market?" She started the process last Labor Day, saying, "We looked around and finally found a really great place that seemed to be conducive to our set up, and thought, I'll just take the plunge." There was some negotiating that had to take place, because the building owners, Mosaic on Main, wanted to sell the property outright, but she wanted to make sure there would be a good market for her product first by leasing for a while.
Turns out to have been a smart option, because now, the experiment is over and Rachel returns to her original Flagship Specialty Foods & Fish Market in Lakeside which has been open since 2016 at 14939 Lakeside Road in Harbor Country. That enterprise will continue its great success of selling fresh fish from around the world to buyer's in Michigan's Great Southwest.
Rachel tells me that her team is considering becoming a vendor at the St. Joseph Farmers Market next summer, and leaves open the possibility for other future options in the local market place to continue to reach clients who have gained a taste for her broad array of offerings. She asked me to reiterate her thanks to those who patronized Flagship True North, and offers up a "Stay tuned," for the future.