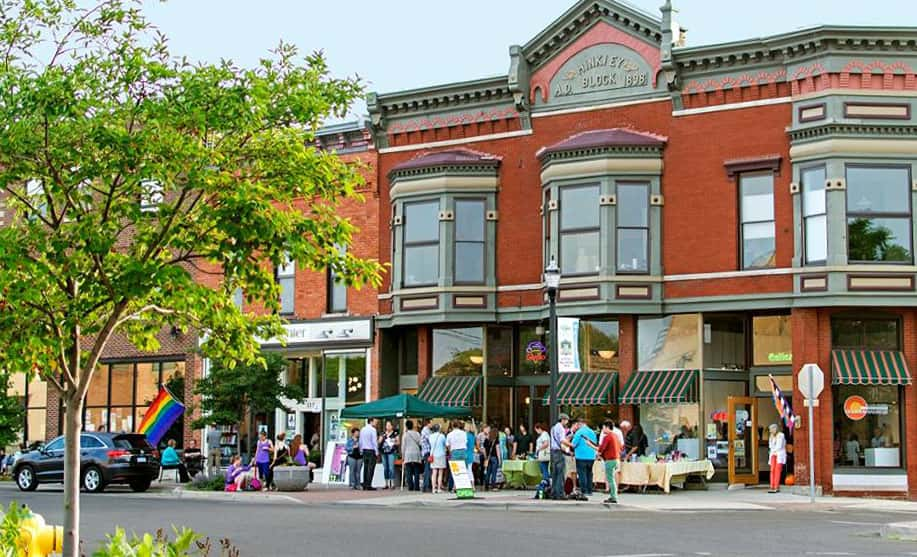 Just when you didn't think the district could pack much more into one of their iconic seasonal Art Hops, the New Territory Arts Association encourages you to get your calendar properly aligned to take in their amped up Summer Solstice Art Hop on Friday, June 21st in the Benton Harbor Arts District.
For three hours that night…and then during the after party into the night…the NTAA fully intends to kick off summer in great fashion with a night of art, live music, refreshments and food trucks.
Mark your calendars right now for the New Territory Arts Association Summer Art Hop followed by​ ​NTAA Art Hop After-Party featuring Last Gasp Collective at The Livery​, on the first official day of summer, the actual day of the Summer Solstice, June 21st.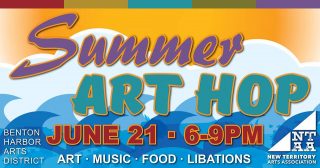 It's your chance to hop around your favorite Arts District venues and check out what's new for Summer at places like Water Street Glassworks​,​ ​The Phoenix Coffeeshop​,​ ​The GhostLight​ Theater,​ ​210 Art Space​,​ ​Anna Russo-Sieber Gallery​,​ ​The Livery​,​ ​3 Pillars Music​,​ ​Houndstooth Restaurant​,​ ​The OutCenter​,​ ​Benton Harbor Public Library​,​ ​The Collective​,​ ​The Hawks Nest​,​ ​Citadel Dance & Music Center​,​ ​FUN SQUAD​ and more.
As a bonus…there will be food trucks on site.  That's right, ​NTAA Summer Art Hop will feature food trucks including…​ ​Wood, Stock and Grill​ in front of 210 Art Space (​The Mason Jar Cafe building),​ ​Nosh Village​ truck in front of 3 Pillars Music and​ ​Sammy Arepas​ outside of the BH Public Library, so bring an appetite, as there will be something for everyone.
Here are a few of the Summer Art Hop highlights provided to us by the NTAA:
Fun Squad 4 Walls & Dance Party– An Art Exhibition by Fun Squad Artist Collective, as they are transforming a new space in the Benton Harbor Arts District with visual art, music, giant beach balls, dancing and creative mischief. Just look for the giant FUN letters next to Thayer at 225 5th Street, walk down the alley, and follow the sounds of Clement's demented laughter until you are overcome with ecstasy. Participating artists include Nate Anderson, Bill Boyce, Lea Bult, Ben Good, Marc Dombrosky, Shannon Eakins, Nathan Margoni, Joshua Mason, Ellen Nelson, Ramiro Rodriguez, Mark Rospenda, Clem Teo, Gabe Thompson, Jennifer Zona, David "Half Pint"Martin, Christian Webster
The OutCenter An Art Exhibition by Ashley Feagin, an artist and educator living in Battle Creek, whose artwork explores queer identity, queer family through photographs, installations, performances, and collaborations. Feagin received her MFA at Louisiana Tech University in Ruston, Louisiana in the spring of 2012. She is currently an Assistant Professor of Art at Albion College. Additionally, Feagin sits on the Board for Battle Creek Pride and on the LGBTQ Caucus Board for the Society for Photographic Education.
Water Street Glassworks Stop by Water Street Glassworks for the opening reception of their Annual Jewelry Trunk Show. The event features the work of seven area artists who are also instructors at WSG. Artists exhibiting their work include Jackie Baker, Lynne Clayton, Gina Edwards, Donna Sauers, Heather Seawright, Anna Strach, and Tina Tavolacci. Meet the artists, enjoy refreshments, and shop the gallery's new work that reflects the season. In addition, make your artistic mark in the Benton Harbor Arts District! WSG invites you and your family (ages 5 & up) to decorate glass squares to be "fused and used" in a future, public work of art in the Arts District Garden. Each miniature masterpiece will be a single tile in a collective installation of tiles. Take a "before" picture of your artwork so you can find it later in the garden.
Benton Harbor Public Library The Benton Harbor Public Library will be hosting musician Noah Privett for an outdoor concert in Dwight P. Mitchell City Center Park. Noah plays Americana and folk music. Sammy Arepas food truck will also be on hand serving Latin American food.
ARS Gallery ARS Gallery is proud to exhibit the works of Shanna Shearer. Join the opening reception on Friday, June 21, 6-9pm during the Art Hop, where you can meet the artist and enjoy small bites & refreshments and music.
The Citadel Music Center Open house format, live music by students & faculty, lite bites and sips.
Tell your friends and make a night of it in the Benton Harbor Arts District on the night of the Summer Solstice.
The Art Hop photo accompanying this story on Moody on the Market is courtesy of the New Territory Arts Association.