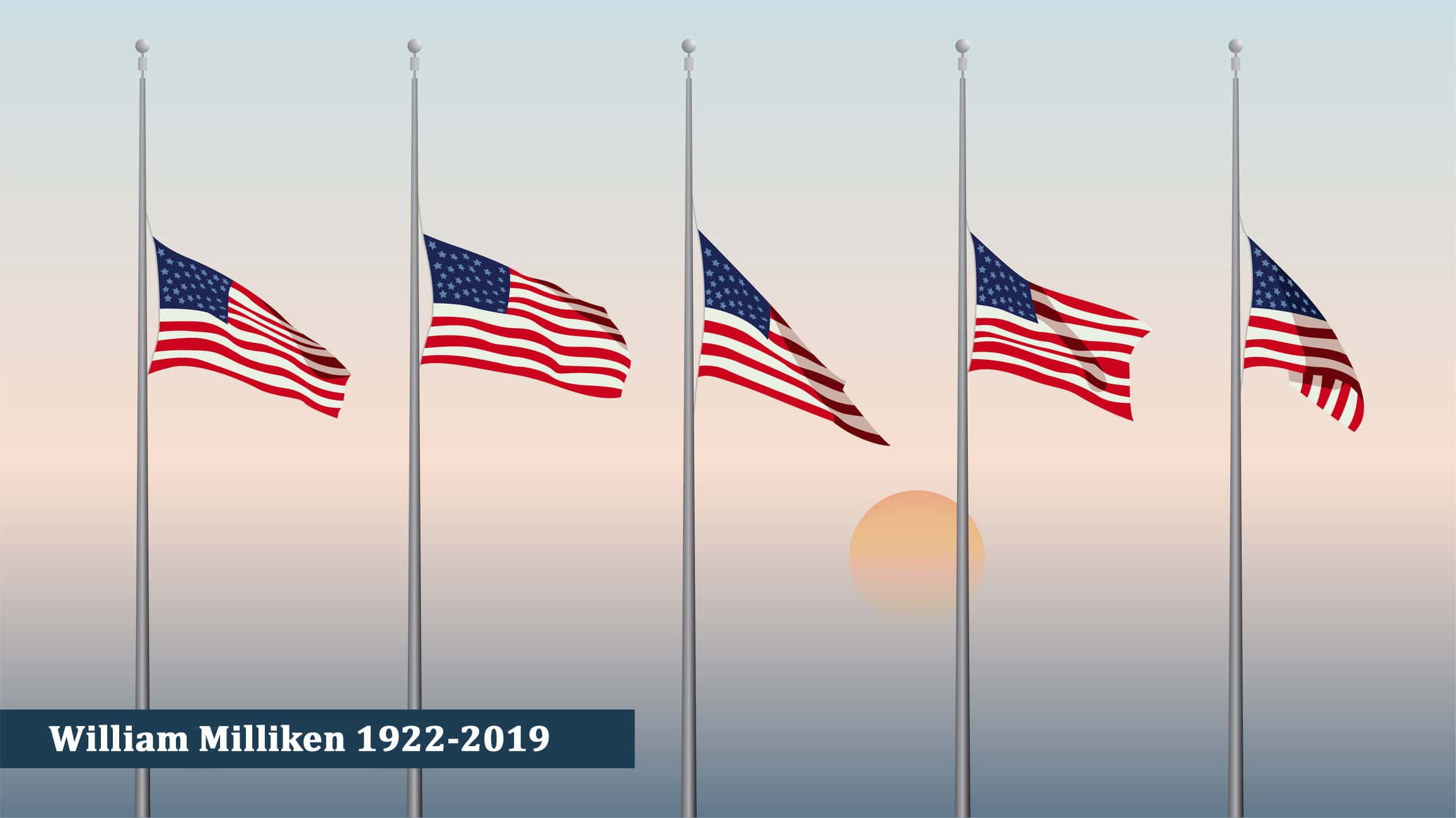 The longest serving Governor in Michigan history has died at the age of 97, and people all over the state are remembering him for his statesmanship and leadership to the Great Lakes State in a truly bipartisan manner.
Governor William Milliken is the longest-serving governor in Michigan history. He began his service as an air combat soldier in the U.S. Army during World War II, earning a Purple Heart. Milliken was elected to the state Senate in 1961 and served as the 52nd lieutenant governor until 1969. He became governor after George Romney resigned to join President Nixon's Administration and was elected for three additional terms in office. He passed away at home in Traverse City on Friday at the age of 97.
Milliken was born in Traverse City, the second child in a family familiar with the intricacies of public service. His father, James T. Milliken, served as mayor of Traverse City and as Michigan State Senator for the 27th District from 1941-to-50, and his mother Hildegarde had been elected to the Traverse City school board; she was the first woman elected to public office there. Milliken's paternal grandfather James W. Milliken also served as a Michigan state senator from the 27th District, from 1898-to-1900.
Upon graduating from high school, Milliken entered Yale University, where he met his future wife, Helen Wallbank. In 1942, he interrupted his studies to enlist in the Army Reserve Corps and, in early 1943, volunteered for the Army Air Corps. During World War II he flew 50 combat missions as a waist-gunner on B-24 bombers and survived two crash landings. He received seven military honors, including the Purple Heart and Air Medal.
On October 20, 1945, one month after he was discharged honorably, he and Helen were married. The couple had two children: a daughter, Elaine, a lawyer and feminist, who died of cancer in 1993, and a son, William, Jr. The following spring, Milliken graduated from Yale. William and Helen Milliken moved to Traverse City that year and he became president of J.W. Milliken, Inc., a department store founded by his grandfather, and later run by his father. Helen W. Milliken died at the age of 89, on November 16th, 2012 at her Traverse City home, following a battle with ovarian cancer.
Current Michigan Gov. Gretchen Whitmer has issued the following statement on the death of former Governor Milliken:
"Governor Milliken was a true statesman who led our state with integrity and honor. He had a unique ability to bring people from both sides of the aisle together for the betterment of Michigan. We are a stronger, safer, more sustainable state because of his leadership and dedication to the people who call it home. I've always looked up to Governor Milliken as a trusted, respected leader and I'm proud to have called him a friend of the family. I extend my deepest and most heartfelt condolences to Governor Milliken's family for their loss. May we all continue to learn from his lifetime of service as we work together to build a stronger Michigan for everyone."
Gov. Whitmer, meanwhile, has ordered U.S. and Michigan flags within the State Capitol Complex and on all public buildings and grounds throughout the state of Michigan, to be lowered to half-staff for 14 days — from today, Saturday, October 19th through Friday, November 1st — to honor each year Governor Milliken served in office.
The State of Michigan recognizes the duty, honor and selfless service of former Governor William Milliken by lowering flags to half-staff. Michigan residents, businesses, schools, local governments and other organizations also are encouraged to display the flag at half-staff.
To lower flags to half-staff, flags should be hoisted first to the peak for an instant and then lowered to the half-staff position. The process is reversed before the flag is lowered for the day.
Flags should be returned to full-staff on Saturday, November 2nd, 2019.
Other political leaders in Michigan shared similar condolences Friday evening and Saturday morning.
This is Congressman Fred Upton's statement on the passing of Gov. Milliken:
"Gov. Milliken was a friend, always. He encouraged me on many fronts and led a life with no regrets. His infectious smile charmed and disarmed all who knew him, and his bipartisan style served as a role model of days gone by and certainly needed today!"
Michigan Attorney General Dana Nessel issued the following statement on the death of former Gov. Milliken:
"Gov. Milliken had an innate ability to bring people together. He was a man who understood diplomacy and the importance of bipartisanship. Michigan is a stronger state because of his leadership and ability to reach across the aisle to make the lives of our residents better. His lifetime of service was appreciated by all who knew him. I extend my heart-felt condolences to his family – their loss is Michigan's loss."
U.S. Senator Gary Peters released this statement following the passing of Milliken:
"Governor Milliken's proud record of bipartisan problem-solving, exemplary public service and love for the Great Lakes defined a Michigan era, and his legacy will continue to inspire Michiganders for generations to come. Like so many, I sought his counsel and I was always grateful for his advice and support. Colleen and I send our deepest sympathies to the Milliken family; the entire State of Michigan mourns with you today."
U.S. Senator Debbie Stabenow released this statement on the passing of the former Governor: "Governor Bill Milliken was one of the most amazing public servants I've ever worked with. He set the bar for integrity, dedication, and kindness. His passion for Michigan and our Great Lakes was unsurpassed. I was honored to call him my friend."