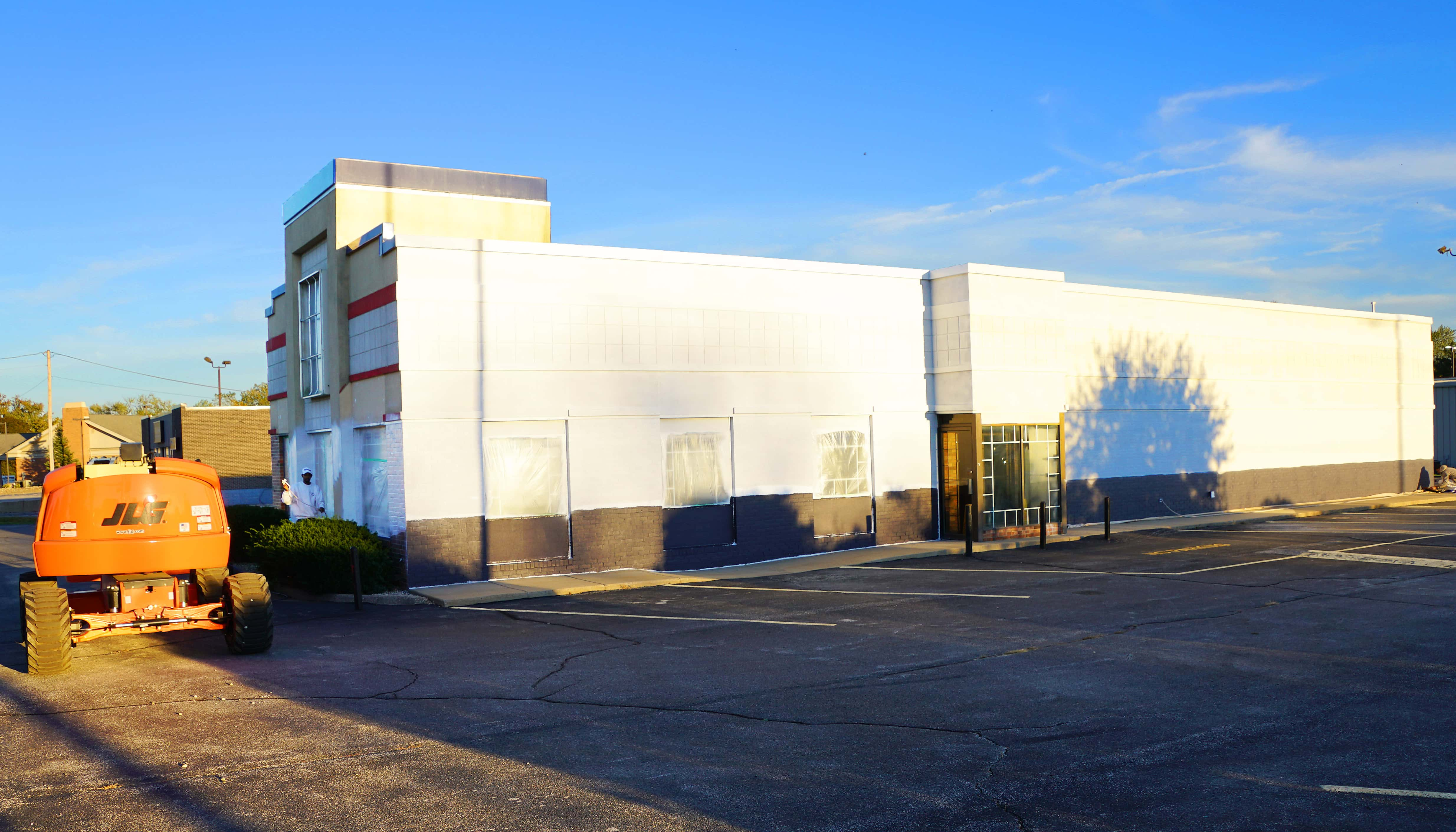 If your pulse was pounding with excitement this week when you saw contractors busy at work putting a fresh new coat of paint on the vacant KFC building at Hilltop and Cleveland, feel free to stand down. Yes, it is looking better than it has in years, but you won't be licking your fingers at that site anytime soon.
What you are witnessing is the decommissioning of the former restaurant site to freshen it up in a bid to boost the sale opportunity or help attract a new buyer for the property.
A crew from J. Pittman Painting Company of Battle Creek is applying a fresh new exterior to the empty building for property owner Richard Alford. Jake Pittman, the painting contractor who owns the Cereal City business says he's already done nearly a dozen stores for Alford who found him through a mutual friend a couple of years ago. At that time Alford hired Pittman's crew to renovate his KFC in Hastings, Michigan. He was so impressed with Pittman's work that he hired him on to do all of his interior and exterior painting.
Alford was having a difficult time finding painters capable of doing the red and white stripe motif that makes the KFC franchise instantly recognizable, while Pittman says his team has made such work a sort of hallmark, "because it's a lot of fun and makes the work considerably less monotonous for us."
Since hiring on with Alford, Pittman says he's probably completed some 14 KFC buildings for him and others. Jake says Alford "is a great guy to work for, and he's always taking good care of us." He adds, "I can't say enough good things about the guy. He really respects the people that work for him and takes good care of them, as well."
J. Pittman Painting does both interior and exterior work largely for the commercial market, although they have done some residential work along the way. Pittman's crew was the one who gave the KFC on M-139 in front of the Fairplain Plaza a fresh look inside and out this summer. He has also done remodels at KFC on Gull Road in Kalamazoo, at their restaurants in both South Bend and Granger, Indiana as well as in Albion, Coldwater and Sturgis in Southwest Michigan.
This particular job won't entail the legendary striping because the work is to decommission the building and leave no trace of the KFC history there. The restaurant closed in late January of 2016 and has been idle ever since. The signature striped canopies and other KFC imagery were removed within days of the shutdown, but the paint scheme had lingered and was not aging well.
The restaurant had been a presence at Hilltop and Cleveland in St. Joseph dating all the way back to 1976, but Alford said at the time of the closure, "We've remodeled that facility several times over the past few decades. Instead of undergoing another remodel on the current building, we felt it best to focus our future investment efforts on building a new state-of-the-art, KFC restaurant in St. Joseph in the future." In the more than two and a half years since that decision, Alford hasn't tipped his hand on where or when the return to St. Joe might come, but you can rest assured, the current paint work has nothing to do with that.
Pittman's handiwork is prevalent well beyond the KFC brand. He says his crews cover all of lower Michigan as well as parts of Illinois, Indiana and Ohio and he's done lots of jobs around Michigan's Great Southwest including, "Everything from PNC Bank to Toys R Us and Babies R Us to Burger King, Arby's, Little Caesars and SafeLite Repair facilities," adding, "You name it, we've pretty much been doing it, and we stay pretty busy." He has a team of ten painting contract professionals working interior and exterior for the commercial trades."
You can reach Pittman at 269-832-4472 if you've got a commercial job for him or learn more online at this link: http://www.jpittmanpainting.com
Meanwhile, the KFC Building at Hilltop and Cleveland remains available on the open market for anybody looking for commercial property at a high traffic location in St. Joseph Charter Township.