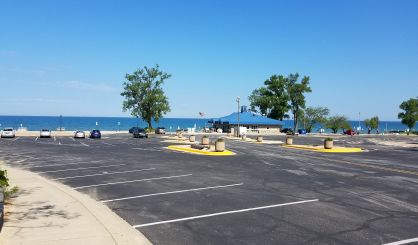 This Saturday, May 27, the Greater Bridgman Area Council for Growth & Advancement will officially launch the new Bridgman Beach Bus at Weko Beach. The CGS told us more:
The Greater Bridgman Area Council for Growth & Advancement (CGA) is excited to announce the launch of the Bridgman Beach Bus. The program, aimed at addressing the limited parking at Weko Beach & Campground while supporting local businesses, will be in operation from Memorial Day weekend through Labor Day weekend.
With the new public transit program, beachgoers can take advantage of the abundant, free parking downtown Bridgman and then hop on the Bridgman Beach Bus for a free and convenient ride to Weko Beach.
The Bridgman Beach Bus is more than a solution to the parking issue, it's an invitation to explore Bridgman's vibrant community. The bus will be available from 11AM to 10PM EST on Saturdays and Sundays, providing a loop service about every 20 minutes to key locations including:
Weko Beach & Campground
Sunset Dunes Vacation Rentals
Biggby Coffee
Sunset Dunes Inn & Suites
Bridgman Public Library
Sandpiper Gifts & Yarn
Get-A-Way Grill & Cubbie Bar
Riders can hop on and hop off the bus, making it easy to enjoy shopping, dining, drinks, and entertainment in town before, during or after their beach outing.
The Bridgman CGA has partnered with the City of Bridgman's Parks and Recreation Department and several local businesses to bring the Bridgman Beach Bus to life. Many purchased bus stops or ads and Sunset Dunes Inn & Suites generously donated the use of a new 14-passenger bus for the program.
"Seeing our community come together to make the Bridgman Beach Bus a reality has been incredibly rewarding," says Matt Schmidt, owner of Sunset Dunes Inn & Suites. "I'm delighted to contribute toward a program that will not only enhance the beach experience but also boost local businesses."
"The Bridgman Beach Bus program is a testament to the power of community collaboration. It's a win-win for everyone—beach visitors, local businesses, and our city," adds Sara Ball, parks and recreation director for the city of Bridgman.
John Bonkoske, president of the Bridgman CGA, shares, "The business community requested a free beach transit system to help drive economic growth. We are thrilled to be able to collaborate with business and community leaders to bring this program to life. Our goal is to make Bridgman a destination not just for its beautiful beach but also for its vibrant community and local businesses. The Bridgman Beach Bus is a significant step towards that vision."
The CGA is currently offering a unique advertising opportunity until the end of May. Local businesses can purchase ads to be rotated on a 32″ digital screen inside the bus. For more information on this opportunity, contact Tara Heiser at theiser@bridgmancga.org.