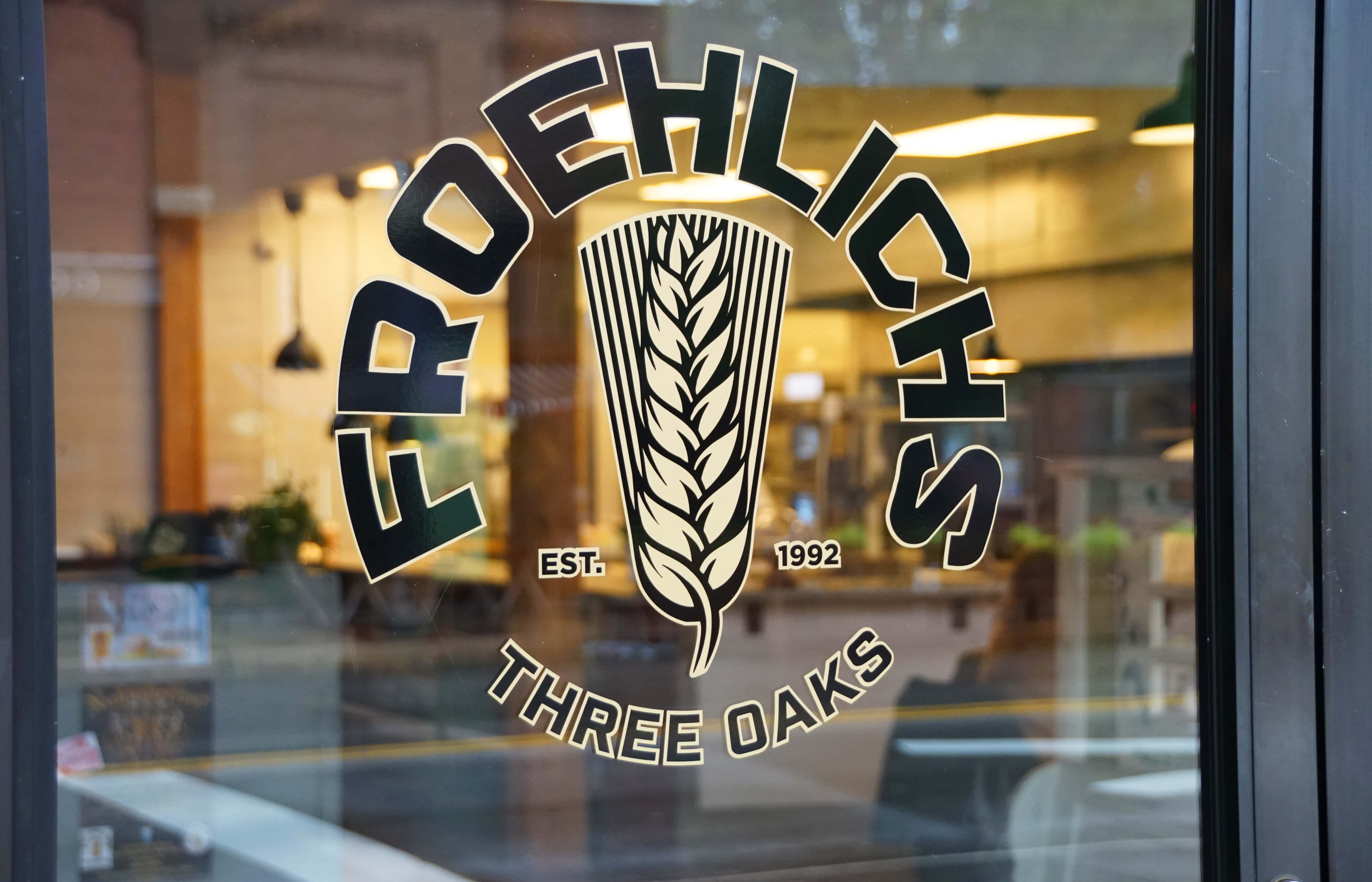 Visitors to the new Froehlich's Kitchen & Pantry in downtown Three Oaks will readily discover that Colleen Froehlich's formative years helping out in a mom and pop grocery store in St. Joseph have left fingerprints all over her eclectic menu. An avowed lover of good old home cooking options such as mac & cheese, grilled cheese, and other simple, yet timeless offerings comprise a large part of the menu, and Colleen loves that fact.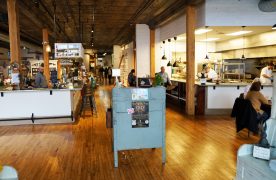 As the prolific baker, restaurateur, entrepreneur, and native of Michigan's Great Southwest tells it, "Things that I grew up with are my lifeline on the menu. Things that I first made like spaghetti, which was one of the first things I made after school." As she tells it, "Growing up in a mom & pop grocery, I would walk from school and help my dad and my grandparents at the grocery store in St. Joe, and so we have the After School Ham Sammy, which was one of the first things I did with my family, so it's really my life on this menu, and a lot of it is tried and true and expanded upon by Chef Jeffrey Johnston, who I'm also incredibly blessed to have on the team." Colleen says of her Chef, "He put a little flair into some of the dishes that I would do sometimes in an ordinary way, because it was things that I would cook for myself, so he would flair it up a little bit for the restaurant business. It's fun to see. It's great to work with him and see how he could make some of the simplest things I always believe are the best. Three ingredients dishes are the best. Some of our soups are just three ingredients and they are still our best sellers. Everything that's here was across the street on a much tinier scale."
Across the street, of course, refers to the original Froehlich's of Three Oaks…the bakery. After almost 30 years across the street, Froehlich says, "We outgrew, and outgrew, and outgrew and added on and added on, to the point where we literally built to the alley and couldn't go any further. We went up, we went back, and were just on top of each other, so each time there was an expansion it was beyond the time of need."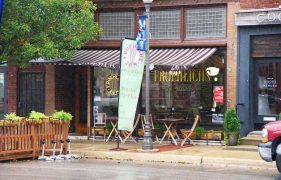 When it came time to make a move and add the Kitchen & Pantry to her collection with the Bakery and Deli, she didn't have to look far, but it did take a while. She tells me, "It was nearly a three year project. It's kind of ironic because the bakery project itself took me two years, but at that time I was sort of trying to keep one foot in one boat and wondering am I really gonna do this?" She notes that 30 years ago when she crafted the bakery there were 24 open store fronts on downtown Three Oaks, and everybody told her she was crazy, and she lose everything, but she says, "I just felt it was the right thing for me, having grown up in a mom and pop grocery store, this was my version of that. The bakery space was much smaller, and it was easy for me to see that it was the right thing for me at that time, and I felt like I was really filling a niche here in Harbor Country and I could see where it could lead, even though people were really skeptical of what I was doing. Now 30 years later I feel that I did the right thing." Indeed.
Finding the space on the opposite side of the street was seemingly pre-ordained, like much of her business life. In fact, Colleen says, "I was really fortunate to be blessed, and the doors would open at the right time, and things would happen, and the opportunity would be there to expand, and I guess it's been about ten years ago now that Amy Logan joined me as my baker's assistant and basically I handed over all of the baking to her, and we very quickly bonded and became the best of friends and I've literally never met anybody that was more of a 'mini-me!' We just had so much in common, and people would always say 'you need a clone,' and I found that in her, in more ways even than just work. Her husband is also really gifted and is an executive pastry chef."
Colleen says that Drew Logan had worked for years in corporate American and with resorts and the like, but he was ready for a change and she was again at a point where she could expand, and move on, and adds, "I realized at that point that I couldn't possibly do more myself. You have to finally realize for yourself that it's time to bring in people to help you, and I had said for years that I would never take partners, but when the right people come along, the door opens again for me, and it was really evident that they were the right people to help me do the work." It was very shortly after Drew joined the team that the opportunity with the building across the street presented itself. Colleen says, "I had kept saying 'I need more room, I need more room, but it has to be right here.' I had tried for years to get the building next door, and it just didn't work out, somebody joked that I should buy the county building and that didn't seem right, and then this happened."
Thanks to creation of Froehlich's Kitchen & Pantry, they now can offer sit down dining, with lunch and dinner, and an expanded deli area, and a grab-and-go section, so if you still like your soups and things that the Froehlich's team is really well known for you can get those to take on the road."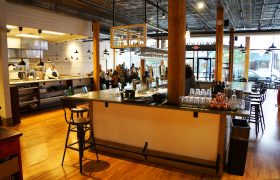 Colleen loves the expanded hours now offered, because, "The bakery closed earlier and had limited hours especially through the winter because we had limited offerings. This (The new Kitchen & Pantry) will be open year round, with a couple of weeks off in January to give everybody a break and recoup after the holidays. The hours of operations there run every day but Tuesdays and Wednesdays, 10am until 8pm, for lunch and dinner and then Friday and Saturday they're open until 9pm.
The new place offers opportunities for new adventures, too, as Colleen says, "Thursday nights we do 'Buns & Brews,' so you can come out on a Thursday night and we do some of our lunch menu and they actually expanded it a little bit because our pickled chicken was such a popular thing for dinner that we added it to the Buns & Brews menus as a chicken sandwich. We brine and pickle our own chicken. It's a lot of fun on Thursday nights."
With Froehlich's being a long time destination attraction, originality is still key. Colleen says, "We make all of our spices and condiments, and even our own chips. My mom is originally from the Gulf Coast, my dad is from St. Joe/Benton Harbor with his Froehlich's Little Super store, so I have a real advantage of a culinary background. Kind of a German background with Dad, Acadian background with mom, and the spicy variations pop in nicely." She notes, "Mac & Cheese and Grilled Cheese are staples that people love, but we offer lots of variations on even those basics."
Froehlich's Kitchen & Pantry opened up shop on June 17th, after she had been hoping for pre-Memorial Day, but waited to do it when everything was right and ready to go. She admits, "It was moving for me to see the incredible support on opening day from so many people. We filled the street, and offered tours to people on that opening day. We had to schedule them every 10 minutes, and it ran all day there were so many people."
You'll also find that Froehlich's does all of of their own salad dressings, and condiments, and it can be a challenge to provide those not only bottled, preserved and packaged for take home in the deli, but also as provisions for the restaurant and catering operations.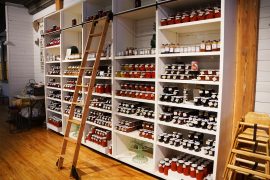 Colleen is adamant about waste and sustainability, saying, "We are huge recyclers. We have no food waste at either operation. All of our food waste goes to chickens and goats and pigs, or home with employees, we have time rules on everything in the house, and when time expires, it's out of here some way or another, but we're adamant about that. Growing up where I grew up, frugality was the rule, nothing went to waste, nothing went into the garbage, and that rule has stood true in my work life as well." She notes, "I've trained everybody at both locations, scrape everything down into those buckets and nothing goes into the drains. We have a farmer that comes twice and sometimes three times a week and we trade out a dozen buckets of food scrap for his empties, most of it is generated by the prep work. We're constantly training on how to reduce waste, and make a byproduct out of byproducts, and the like, because I don't want to see it go into dumpsters." Even used cooking oils are routinely picked up and sucked right out of the building and used in the creation of biofuels.
The new building is 23,000 square feet with 11,500 square feet on each of two levels.
Colleen is fascinated with the move, saying, "The cool thing about this space is that it was originally a department store, for the Warren Featherbone Factory, it was the Warren Featherbone Mercantile, and then after that it became Hunnerjager's, which people still talk about today because it was a really nice set up for a department store and all about service which is really where I come from and am really adamant about servicing the customer and teaching my staff that 'they are your boss, not me.' The customer is the one that needs to be taken care of. The people that come in now, especially the locals that grew up and remember Hunnerjager's, tell me that this is the closest feel to that era, and they appreciate that. It makes me feel good that we did a good job in restoring the history of the building, and what it was about."
Most previous to her purchase it was a drug store, the Three Oaks Pharmacy, owned by the same man who retained the one in New Buffalo, but ready to retire, and decided to hang onto the New Buffalo store a little longer, but shortly after sold that as well.
The move to create the new Kitchen & Pantry was, as Colleen calls it, '"Just sort of a natural transition from what we were already doing — just more of everything. Over the years with all of the catering, and a lot of the food that was going out the back door for event consumption that people didn't even realize that we did, people kept asking 'when are you going to do dinner, when are you gonna do sit down.' And they just kept asking, so for me it just felt like the natural thing to do. The next step.
There were those who wondered, however, given the scope of the building. Froehlich says, "Everybody who looked at this building remarked, 'it's such a big building,' and I felt, no, it's really not. When you realize everything that we do, which a lot of people didn't realize, all the preserving, everything we do in house, it really is not a lot of room. Actually, we're already out of space here, believe it or not. We're not going move again, we're not going to build again, but we're really in a hard place for office space, storage and that kind of stuff, and I even knocked the coolers and freezers out off the building when I drafted the floor plans for this, I said I will never make the mistake I did across the street when I put the freezers and coolers inside and it ate up half the kitchen. The expansion was for the kitchen and half the space disappeared into coolers and freezers. People don't realize what it takes to run something, especially of this size, so I put them outside and off the footprint of this building which is an awesome plan, but it's still a little challenging for space, but in a good way."
With her strong roots from the bakery, all of the breads and pastries and things for the new Kitchen and Pantry are made "in house" across the street at the bakery. Colleen says, "It gives our food a different twist, as in our hamburger which has a handmade potato roll, you just don't get that elsewhere, and you can tell that when you have the burger which is incredible."
It's also an expansion on a lot of her catering foods that were so popular, like the salmon that they provide all the time for catering, so that is on the new menu, and those things that she grew up with like the first things she made after school.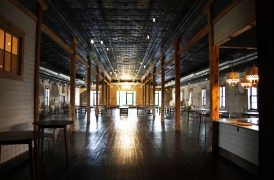 The upstairs at Froehlich's has a separate entrance at the rear and is the 19 North banquet space. Colleen says, "I had been to the drugstore many times when we would run out of something across the street, and run over. As a result, I found it no coincidence at all that once we were here and ripped off all of the front that had been boarded up, the front of the store turned out to be what I call the 'Papa Bear' version of the store across the street. When I bought that building it was all boarded up, too. It was ugly yellow brick and no windows whatsoever, and in the transition there I wanted it to look like its original building, like a turn of the century space. So I put in that storefront glass which I salvaged from a couple of different stores that had closed, and now the match is just amazing between the two."
She continues her story of discovery saying, "Upstairs, for years from across the street we saw the boarded up front, and I always wondered what it looked like underneath, and it turned out to be a veritable time capsule up there. Nobody had done anything for years! They left, put up fiberglass board over the windows which protected them, and once you got up there the light could come through the fiberglass unlike if they had been boarded up with plywood. Even when I first saw it, it was so beautiful, and I immediately had the vision of that giant chandelier, I knew that that would be the complete focal point for the banquet facility. I came up with an architect and said look at this with me and tell me if its doable. Are the bones good, is it a good structural fit. I knew I couldn't do it if it needed massive structural engineering to make it happen. But he assured it is so well built, you are good to go."
A major part of her three year project was that fact that there was virtually no infrastructure in place necessary to make her dream happen. In fact there was only a  tiny water line coming into the building, so what took a lot of time to get ready was the engineering of all of the HVAC, waterlines, and four kitchens in the building, and getting it all laid out.
Yet, she says, "I knew exactly what needed to be where as far as how much kitchen space, and was smart enough to know to keep all of the water supplies on one side, the only change to that was the deli, because we really wanted the deli to be its own entity on the backside, which has a second entrance so you can pull in and park and just hit the deli if you want, and we added a beverage boutique with beers, wines, spirits, and so forth to make it easy for those picking up for picnic items and they could also avoid having to run through the full restaurant and such, so we did it for convenience sake. There's even a smoothie bar there. It was popular across the street so we just expanded that menu and it's a very popular thing."
It's no small task to handle operations. Colleen says, "We push anywhere from 48 to 55 people on staff between the bakery and here, with a lot of part timers. We have some people that can only do a couple of days a week, and we found it was easier to try and accommodate people's schedules rather than dictate when they must work. Nobody works as hard as we do, for sure, but it's not really work. We do what we love to do, so it's not work."
At 19 North they can handle crowds up to 399 due to code and required emergency exits, and so on, but they try to keep it to around 350, because anything more becomes more logistically intense. Weddings, events, parties, fundraisers, corporate meetings and beyond are all fair game. There's a nice conference room up there that is used for internal meetings and office space, but it's available for smaller business meetings, and such. They also use it for the groom's quarters in wedding situations, and there's a beautiful bridal suite for the women. Several weddings have already been hosted on site along with a couple of major fundraising events.
Back across the street is still the original Froehlich's, an open retail bakery. That's also where all of the production baking for the restaurant takes place. The retail bakery goods will be available in the deli through the winter, when it makes less sense to have two retail operations across the street from one another. Colleen says, "We used to close for three months in the winter decades ago, but as the community has become more of a destination and people asked us to stay open, we did. So now we just take a two week break, and are open year round otherwise.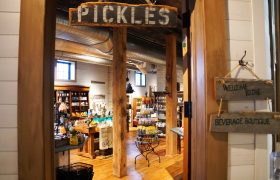 You'll find Froehlich's Kitchen & Pantry at 19 N. Elm Street in downtown Three Oaks, in a cool, expansive and soaring space that carries an awesome market vibe thanks to retail space at the center with home decor and more, the wide open peek into the main kitchen, the deli bar area, and a retail space stocked from floor to ceiling (complete with a rolling library ladder to reach the upper shelves) with preserves, jams, jellies, condiments and more, and the glassed-in Beverage Boutique with coolers, wine shelves and beyond.
Founder Colleen Froehlich is repeating history, following in the footsteps of her own groundbreaking bakery and deli nearly 30 years ago that turned around the fortunes for downtown Three Oaks, and now continues the renaissance that has filled virtually every storefront in town. Check it out for yourself, and prepare to be amazed.