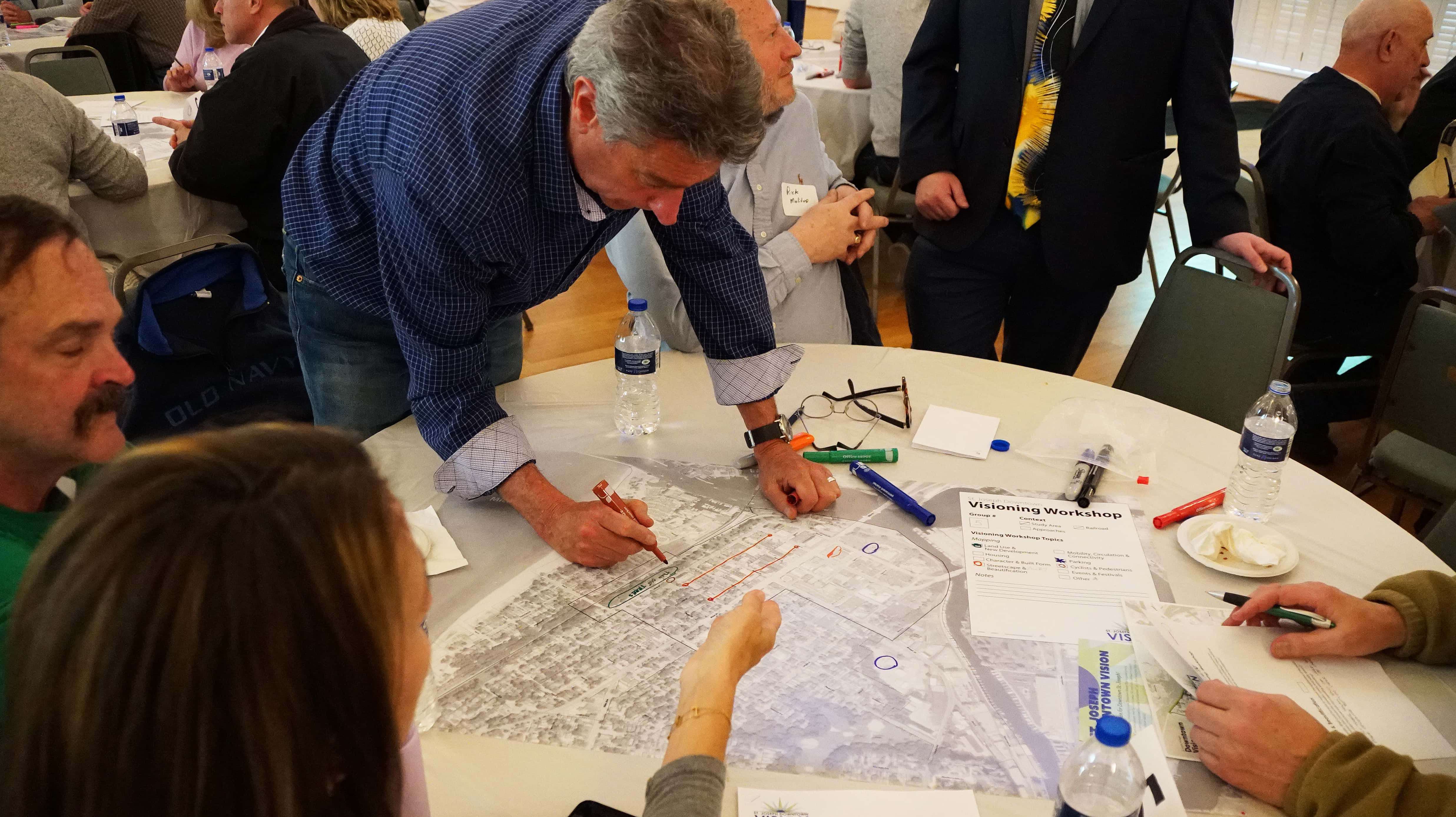 They played a giant version of "What If" tonight, Thursday, April 25th, at the Heritage Museum and Cultural Center near downtown St. Joseph. As in "what if" we were to terrace the side of the bluff that leads to Silver Beach, Whirlpool Centennial Park, the Compass Rose Fountain and the Silver Beach Carousel so that there were ramps and picnic tables at various levels instead of the lone set of stairs leading that way now? Or, "what if" we took a big idea page from Fremont Street in Las Vegas and created some sort of light and sound show throughout the central business district?
Those were just two of dozens of ideas contemplated by nearly 90 people who showed up tonight for the City of St. Joseph Visioning Workshop as the community works its way through the process of developing a new Master Plan for the downtown region.
City residents joined business owners, city commissioners, steering committee members, candidates for the city commission, planners, and facilitators on a two hour mission to sort through all types of things that they wold like to see, and things that they absolutely do not want to see in the central business district and ancillary neighborhoods above and below the bluff on both sides of Main Street in St. Joe.
John Houseal of Houseal Lavigne Associates in Chicago and his colleagues facilitated the two hour session which began with people individually placing multi-colored Post-It notes onto two large placard on the wall, "What I Want to See in Downtown St. Joseph," and "What I Don't Want to See in Downtown St. Joseph." After a brief presentation by Houseal on the project's scope and purpose, everyone in the room was assigned to one of the twelve round tables set up in the ballroom and given aerial maps of the downtown, magic markers, and discussion topics to focus on developing a vision for the downtown. After more than an hour of roundtable discussion, everyone was focused back together to share each table's concepts and findings.
Here's what Post-It Notes had to say people want in downtown:
City wide Internet
Public Art
Longer Free Parking
Golf Cart Taxis During Tourist Season
More Restrooms & More Parking
Gourmet Independent Grocery & Produce
Develop the Lot Across From Schu's (former YWCA site)
Curbed Bike Lanes
Parking
Pedestrian Only Areas
Bike Lanes
Pedestrian Bridge Over Main Street (BL I-94)
Bodega
Multi WebCams Like at Silver Beach
Long Term Parking in the Daytime
Thinking About Getting Around From a Pedestrian Point of View
Better Pedestrian Walkways
Pedestrian Activities
More Ethnic Restaurants
Speed Bumps &n Pedestrian Crosswalks on State Street
Diverse Retail Shops
Different Restaurants
Shops Open Later on Weekends and Evenings
Bed & Breakfast Inns
Bike Lanes & Places to Bike
Food Delivery
Year Round Farmers Market
Food Trucks
Multi-Level Parking Garage Below Ground
Free Parking for Residents if Paid Parking is Imposed
Super Fast Internet
Interesting Restaurants
Art Galleries
Move the Jailhouse and Court and Use the Riverfront for Shops Pedestrian Walkway and Restaurants
Grocery
Day Care and Great Opportunities for Learning
Permanent Farmers Market Pavilion & Beer Garden
Beautify Main & Port Streets
I Want to See Major Improvement in Streets, Alleys, and Parking Lots and Consider Parking Meters with Passes for Residents
Relocate Prison and Jail
Affordable Condo Development for Locals
More Entertainment Businesses to Attract Young Professionals
Recycling Trash Cans
Pedestrian Only Downtown Mid-Summer
On the opposite side of the equation, people posted these thoughts regarding what they don't want downtown:
No pay parking
No Commercial Businesses Like Plumbers/Dry Cleaners/Paint Stores
No Chain Stores
No Tacky Storefronts
No Seasonal Only Businesses
No High Rise Buildings
No Golf
No Big Box Stores
No Burger Joints
No Parking
No Cars
No More Parking
Can We Get a Moratorium on Boutique Clothing Shops?
No Franchise or Chain Stores or Dining
No Chain Restaurants
No CBD Stores
No Condos
No More Condos, and Take Back the YWCA Property and Develop it for the City and Parking
No Franchises or Chains
Houseal Lavigne Associates has worked with dozens of governmental units, with 90-percent of their clients being cities just like St. Joe, but of all sizes and geographic locations. He showed a surprising graphic detailing the fact that in the core business district of downtown over half of the land is either in parks and recreational use, government buildings and schools.
When he released the groups into table talk he suggested they concentrate on a variety of arenas including:
Land use and new development
Housing
Character and Built Form
Streetscapes & Beautification
Mobility, Circulation & Connectivity
Parking
Cyclists & Pedestrians
Events & Festivals
Other topics
He invited them to also consider questions like:
What should downtown look like in 10 to 20 years?
Where should redevelopment happen?
Where do you want to see bike & pedestrian improvements?
How tall should buildings be downtown?
What kind of housing do you want to see?
What kids of events and activities should happen downtown?
Following tonight's exercise, Houseal says three things will happen:
Based on the community outreach and existing conditions inventory and analysis, we will be formulating a unified Vision Statement & Framework for the downtown and surrounding area…
Building up the Vision Statement & Framework, we will then create the Vision, Goals, & Objectives for the downtown…
Using the Vision, Goals, & Objectives as a guide, we will form preliminary framework plans that will address land use and development, urban design and downtown aesthetics, entertainment, transportation and parking, pedestrian and bicycle circulation, code revisions, streetscape and beautification and more.
In addition to the Vegas style light show, and terracing of the face of the bluff, other "what if" suggestions emerged from the table talk, including:
A power trail for pedestrians, improvements at Court & State, handicapped access and conversion of the ramp by the Maids of the Mist Fountain to create walking trail access with a pedestrian bridge over the street to the Margaret B. Upton Arboretum on the St. Joe River…
Enhanced parking at the Berrien County Courthouse by providing a second deck beneath the surface lot at the courthouse by coming in from the side of the bluff overlooking the inner harbor…
More apartments, perhaps behind 221 Main by creating retail and restaurants on the ground level and residential living on the upper floors…Mixed use of multi-story buildings anywhere in the district…
Repurposing of the large amount of surface parking by moving it elsewhere giving prime real estate to higher and better uses…
Improvement of all downtown alleys to make them more beautiful and safer, finding ways to eliminate utility poles and lines from the sight lines in the central business district. Consider that "everything should be the front of the store," not necessarily with access from both the street and the alley, but curb appeal on all sides, making things more attractive and improving those sight lines…
A crosswalk/pedestrian bridge over Main Street to better connect State Street and the East of Main office districts for better circulation of pedestrians and cyclists and better use of parking on East of Main lots…
Converting the courthouse and jail to multi-purpose space, boat launches, dining, retail and even residential access…
Make sure the Michigan Department of Transportation is involved because they play a major part in all of this inasmuch as Main Street is a state trunkline and the designated Business Loop for I-94, and they are responsible for the maintenance of Main Street through the city. (There was an MDOT rep on hand and she has been a part of much of the ongoing discussions and visioning all along.)
Make the surface parking lots more attractive through screening, landscaping and such…
Consider spaces by the courthouse and the Boulevard Inn for new development including things like outdoor dining, and other potential uses…
Take back the YWCA property that has been sitting vacant for years and use it to the benefit of the community. (To his credit the owner of that lot, Tony Monte, was present and described a lot of the roadblocks thrown at his proposed development, not the least of which was the "requirement to put more concrete underground for parking then would be required to build the entire multi story building." Monte said despite all of the "stop signs" thrown in his path, he's willing to work with the city for the highest and best use of that property whether that's for apartments, green space, and mixed use options.
Houseal suggested that cooperation and partnership between the city and any proposed development is essential. "Developers are not the bad guys," he said, "and the city needs to encourage and guide private development, but the government must first articulate what the vision for the community is."
So…on to the next steps. Stay tuned.
To review the entire process, click the link below: