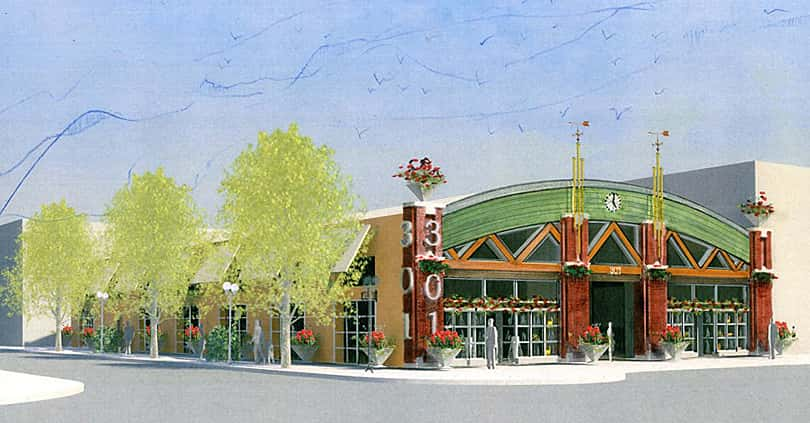 Anybody who knows Deb Sailor and her husband Rick Molitor from the days of their Jimmy John's empire in Michigan's Great Southwest or their service to the community on multiple fronts had to know that it was inevitable that the two would emerge their "self-imposed" retirement with something even bigger and better. They literally know no other way.
Well, it's happening. Their dream of a new enterprise encompassing a year-round, indoor marketplace at the center of St. Joseph is unofficially, officially underway. The Molitor's recently closed the deal to purchase the barrel-roofed building at 301 Main Street which for years was back of house operations for a banking institution, and more recently home to a small coffee shop and resale/consignment operation.
Last week, the fiery couple completed their purchase of a franchise called "The Cheese Lady." They are the 7th franchise in that small line up, from the original in Muskegon. There are other locations in Kalamazoo, Grand Rapids, Traverse City, Rochester and Farmington.
Clearly, the building at 301 Main is far too big for a simple cheese shop, so they are currently lining up leases for other food and market vendors. Thus far, they have a firm commitment for a Farm Stand offering fruits and vegetables, farm fresh milk, eggs and other products…and a wine store. Deb tells me that they are also working on getting a butcher, a bakery, a florist, "perhaps a fish monger," spice shop, and others.
There will also be prepared foods such as sushi, tacos, "perhaps even a hot dog cart." She also has an interesting lead on a unique product involving waffle mix, but stay-tuned on that front.
Deb says, "We're still working through exactly who will be in there, but…it will be a food lover's paradise!" The architectural rendering accompanying this story on Moody on the Market showcases the future of the building, as crafted by St. Joseph Architect John Allegretti.
Deb, Rick and their son Cameron are currently engaged in the tear-out process which she says is a huge undertaking, and they're still working out the kinks on the ideal layout and design for the interior spaces, leasing structure and more. As a result, they haven't fully approached all of their targeted vendors, but admits there are likely many options that even they are not aware of that would be perfect for the space.
At any rate, the ideal target for opening is late fall, but things will be both complicated and fluid for awhile as the process continues.
The Cheese Lady has an impressive selection of 150 artisan cheeses from all over the world, and availability varies from site to site, but there are some amazing things in the pipeline for downtown St. Joseph, a community the Molitors have grown to love deeply and love to give back to.
We'll all be anxious to see Deb in her official Cheese Monger gear, but for now it's still a hard hat and steel-toed shoes as the hard work of prep time continues unabated. Stay tuned.
If you'd like to reach out to the Molitors regarding a vendor space, you can reach her via email at debsailor@gmail.com.