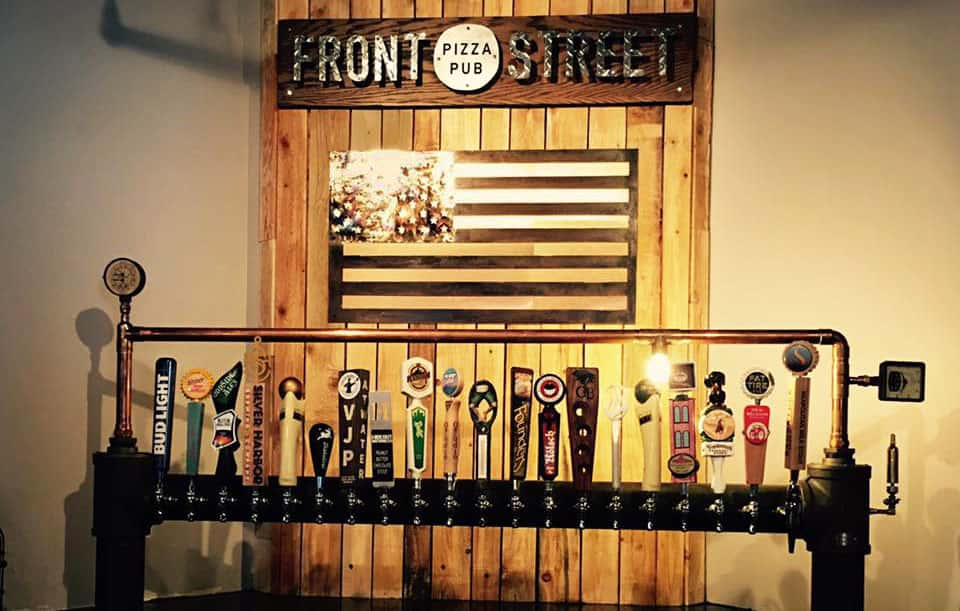 The party has been underway for more than two months now, but isn't that what life should be all about at a place known for great parties over the past eleven years? The Official Grand Opening and Ribbon Cutting for the Front Street Pizza Pub was conducted Friday evening, and everybody's loving it.
Cindy & Massimo Cataldo have been slinging pizzas and beer since 2006, but last year they decided that 10 years in the old place was taking a toll and they needed to make a change as they outgrew the building. They found a new space just up the river from their old location, and now hold court at 510 N. Front Street in Niles.
When the Cataldo's first opened Massimo's Pizzeria restaurant and Backside Bar at 20 E. Main Street in 2006, they quickly won over the taste buds of customers with a full menu of hearty portions and fresh ingredients. As business grew, they decided it was time to look for a new place to set up shop. With their new location on Front Street, the couple is already seeing an increase in business.
Cindy says that after they hosted a soft opening at the new place on January 4th, "Every night has been a packed house!" She adds, "Business is going great, we have more space, and we couldn't be happier with our decision to move."
Front Street Pizza Pub was joined by the Four Flags Area Chamber of Commerce Friday evening welcoming another packed house to a space that boasts a 108-inch projection HDTV, five other 42″ HDTVs, dartboards, and a stage equipped for live music performances to keep that tradition alive.
There's lots of room to sit and relax with friends in the dining room, at the bar, or outside on the spacious patio overlooking the picturesque St. Joseph River. With a full menu, there is something for everyone using fresh, locally sourced ingredients, blended with Italian traditions to make each dish a unique reflection of the Cataldo family favorites.
Guests can taste the tradition in homemade sauces, hearty subs, salads and Front Street's amazing deep-dish style pizza. Whether sipping one of their 70 different brews in stock or enjoying a family night in the dining room, Front Street Pizza Pub is a destination for food and drink lovers alike.
You can find the Cataldo clan in the house Monday through Wednesday from 2pm until midnight, Thursday through Saturday from 11am until 2am and Sundays from noon until 10pm. They have capacity for nearly 120 guests, so stop by and check them out. You can reach them by phone at 269-687-4992.